Here are some great finds – provided by a neighbor.
If you'd like to have your favorite places added, please send me an email in the format listed below; great job by one of our neighbors who put this together:   (another just came in today … )
New Posting 7/10/17 … Black Molly
Neighbor recommendation:   I recently had lunch at the Black Molly in Cobblestone shopping center —  Fantastic!    I am from NY and also love to cook, and am very critical of most of the food here.     I will say that this is up there with one of the best places I have eaten in St Augustine.   The service was great, happy hour all day long – two for one drinks can actually be different drinks and between two people.    I judge restaurants by their vegetables and let me tell you this place gets four stars from me.   Great value –  I had fish tacos and a cocktail and ice tea –  bill was about $15.  I would like to transport this place to a water side location! 
New Posting 4/6/16 … Benitos Italian Café & Pizzeria on CR210
Recently I stopped in at Benito's on CR210 after a visit at my dentist.  They are located at the eastern end (past Publics and McDonald's) … turn left by the Shell gas station.  We used to go there a lot for their lunch specials.  They gave me their dinner and lunch menus … I am putting a picture of them below (not the entire menu where they also have pizza, salads, dessert, etc.) … if you click on these they should open to a full size.  Basically you get a smaller meal for half the price.  You won't leave hungry … even with the lunch menu you get a choice of soup or salad, garlic bread or bread and butter.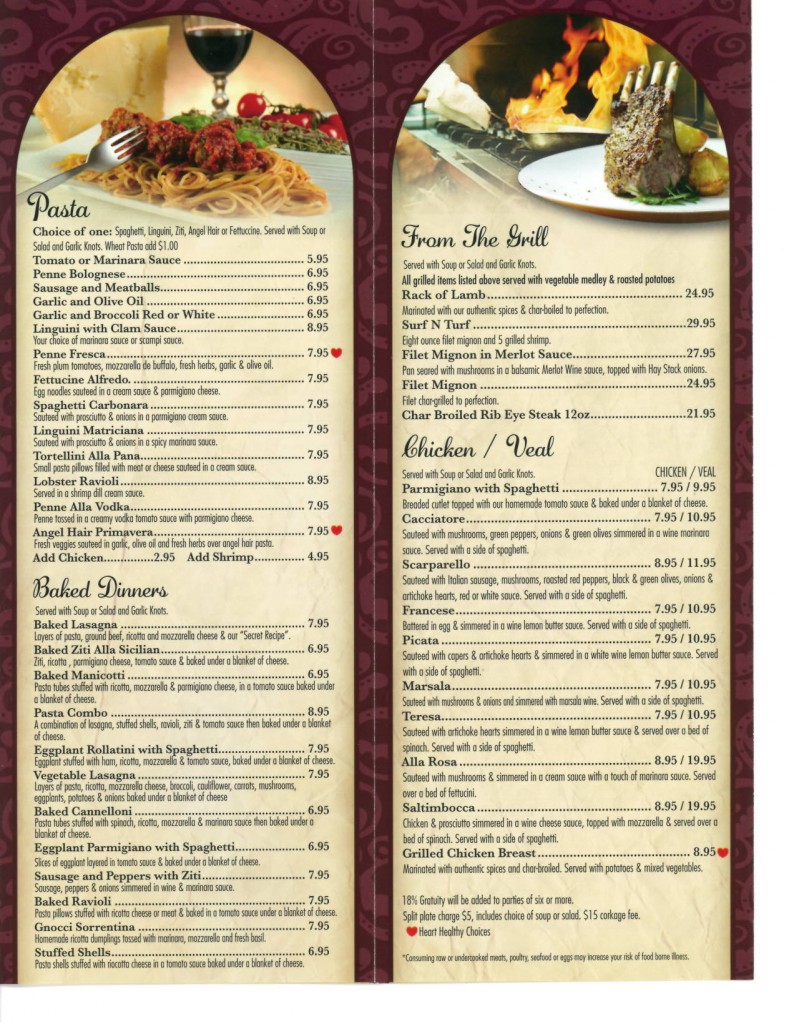 Dinner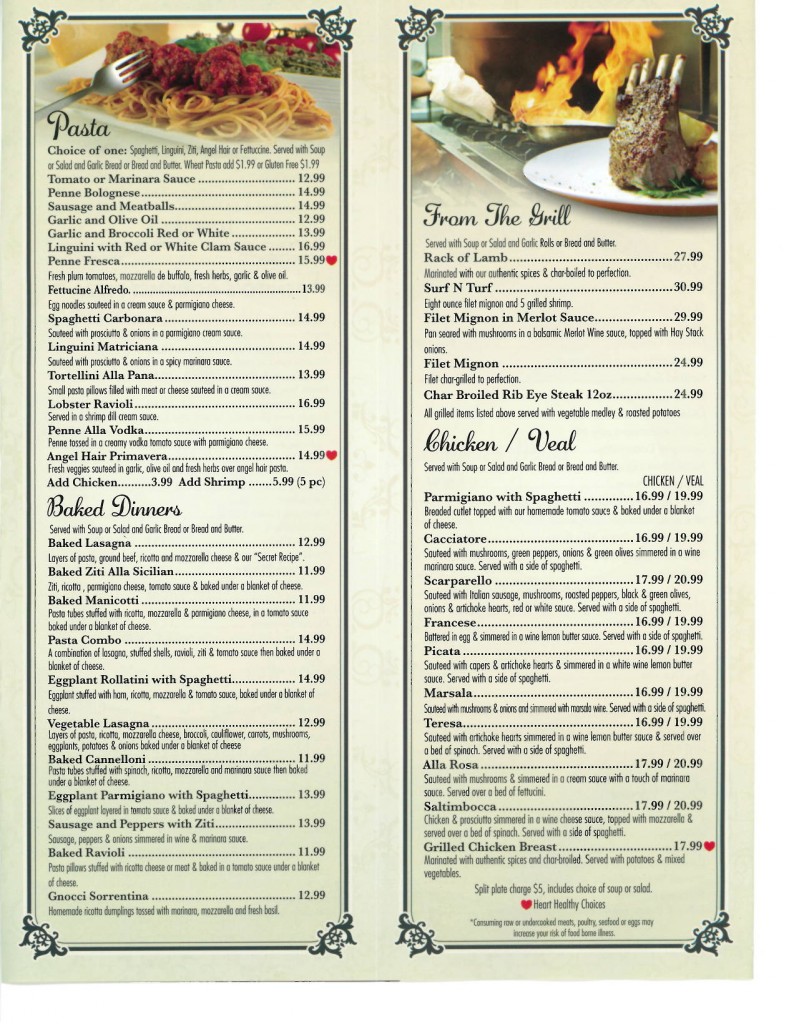 New Posting 7/8/15 … Recommendation from Leah Jenks
Nils Rowland, an award winning pastry chef and chocolatier, has recently opened Creme de la Cocoa which is in DOS coffee and wine bar, 300 San Marco Ave, St. Augustine, 904-466-9499,  He is a friend, and I have sampled many of his chocolates, cakes and desserts, so I can personally recommend them for their high quality and flavor, scrumptious!!  Website is   www.cremedelacocoa.com
New Posting 6-28-15 … Italian Restaurant –  Sophie from Turnberry recommended
Terra & Acqua Casual Modern Italian Dining and Pizzeria    (about a mile past Amici's on 312)  http://www.terraacquarestaurant.com
I thought you and our resident friends would want to know about this new Italian restaurant at 134 Sea Grove Main Street St Augustine 32080.
The restaurant is authentic modern Italian, the decor reflects that, and the food is exquisite. All pastas are handmade, the ingredients are all local and very fresh. They have a wood fire pizza oven and a large choice of pizzas.
The Owner Chef is not new to the restaurant business, he owns two similar  successful  restaurants in Denver, and has for the past 25 years. He is originally from Florence and the food reflects those unique flavors of Tuscany.
The fact that there is parking right in front is a plus. The prices we found to be very reasonable for the quality and generous portions.
I have included the website, please let everyone know and be sure to try it yourself. If you are lucky, Tim's Wine Market next door might have a wine sampling before your dinner, they also feature some good reasonably priced wines. All worth the trip.
New Posting 10-7-14 from Marcy … these places sound great!
1)  The Corazon Cinema and Cafe, 36 Granada Street, 679-5736, www.corazoncinemaandcafe.com
The old Pot Belly's Cinema has been totally gutted and renovated into a pleasant and open new space. There are two viewing areas with round tables and comfortable barrel chairs. They serve sandwiches, salads, wine, beer, coffee, etc. You can eat during the movies, and it's a very nice setting. It looks like the films will be a good mixture of old classics, new Sundance offerings and other movies you wouldn't see at a regular cinema. We really enjoyed The Trip to Italy, and it will be there through Oct. 16th. It was basically a road trip for two friends, and the scenery and food scenes were gorgeous. If you go to the website you can see the menu, the schedule and other details. It's $8 for adults and $7 for seniors. Parking is free on the side of the cinema. The movie showings are at 7 p.m. Monday-Saturday, and at 1 and 3 p.m. on Sundays. 
2) The Chocolate Turtle, 47 Cordova Street, 770-2344, www.thechocolateturtlestaug.com
This place has spectacular desserts! It's fun just to look at all the beautiful cakes and pastries. They also serve special coffees, wine and craft beers. I bought one dessert and split it with my husband. It was delicious!!
3) La Floridita Garden Cantina, 39 (and-a-half) Cordova Street, behind The Floridian, 829-0656
The food is Latin inspired, and we tried their empanadas — wonderful! They serve breakfast all day, smoothies, various empanadas, and bocadillos (sandwiches) plus other special dishes. There's outdoor seating, and it's a very pleasant place. They're closed on Tuesdays.
ANOTHER GOOD PLACE!
We've tried Black and Blue a few times, and we've been very happy each time. I know they had a rough start, but it seems that they've worked out the problems. It's so nice to have a good restaurant right in our backyard, and hopefully they'll have the community's support. Most of you know where it is — 705 Hortons Trace, behind the Shell and BP stations. Their number is 940-5500.
New Posting:  4/6/13  French Baker/Cafe
I wanted to pass on the details about a new French bakery/cafe that has recently opened.  I haven't eaten there yet, but I plan to very soon.  I did see some of their
pastries, and they look delicious!
The sign says French Bakery, and the name is Les Petits Pleasures.  It's
located at 35 San Marco Avenue # 3 in downtown St. Augustine, 904-342-2745.
It's just a bit north of Ripley's on the same side of the street.  The
hours are:  Wednesday – Sunday from 7 AM to 6 PM (closed Monday and Tuesday).  They serve breakfast all day, and they have an interesting lunch menu and impressive array of pastries.  The owners and chefs are Stephanie and Philippe Cahagne.
Thanks for posting this.  It looks like a very nice addition to our downtown.
Marcy Carreras
10/26 Neighbor's comments below – new restaurant called GAS
Just wanted to let you know about a great new restaurant we went to last night.
It's called GAS and its right off the Lions Bridge up about a block on the right
on the Anastasia side. It has parking and is kind of a upscale diner atmosphere
but boy oh boy the food was great. They use all local farm produce and fresh
grass fed beef, pork and chickens. Everything is free range from the local
ranches and as much produce as he can get locally. Food tasted home made and
super fresh. Prices were very reasonable ie $10 for a huge burger with veggies
and home made potato chips.
10/4 Update:  Neighbor JM's favorite find:
Olive Oil Purchases at the Ancient Olive to Benefit Flagler Health Care Foundation
The Ancient Olive is offering a special promotion during the month of October.  For each bottle of single-varietal olive oil purchased this month, $1 will be donated by
the shop to Flagler Health Care Foundation.  Eligible selections are indicated by the bright pink ribbon tied around the top of each metal fusti.  The
money will benefit the Joanne Arnett Tutschek Fund, which provides grants for important breast cancer diagnostic programs at FlaglerHospital for St. JohnsCounty patients who cannot otherwise afford them. 
The Ancient Olive is conveniently located at 47   King Street, close to the Casa Monica.  Hours are 11 a.m.  to 6 p.m. Monday through Wednesday; 11  a.m. to 7 p.m. on Thursday; 10 a.m. to  8 p.m. Friday and Saturday; and 11 a.m.  to 5 p.m. on Sunday.  The shop is open extended hours on Friday for the 1st Friday Night Artwalk.  For more information, call (904) 827-1899.
Wanted to let you know about a couple of new things inSt. Augustinethat my husband and I visited last night.  First we went to The Ancient Olive located onKing St.(near the Casa Monica)  It is an olive oil and balsamic vinegar venue.  You can sample the olive oils and vinegars, along with viewing many of the art pieces hanging on the wall.  We bought a few olive oils and vinegars.
We then went to dinner at Blackfly(formerly Zhanra's) located just over theBridgeofLionsonAnastasiaIsland.  We had a great meal.  They redid the interior as well as the exterior, and the food is wonderful.  It is the same owner as "Collage" restaurant, but less expensive.  Also it is more family friendly.  In addition to having appetizers, salads, main dishes, they also offer some unique pizzas.  (Cnote: Another neighbor emailed me about the Blackfly … will have to try!)
8/26 Post:  Business Cards
A neighbor recommnds using VistaPrints if you need to print business cards.  They say the cost is around $10or $12 for glossy.
7/23 Post:  Neighor DW's favorite find:
Putting Course – WGV – Just $5
Just down the Walk of Champions is the World Golf Hall of Fame Putting Course where you can leave your driver and wedge behind.  The putting course is an 18-hole, real grass championship putting course. We'll supply the balls and putters.
At $5 per person this is the best greens fee around! The putting course is a great activity for all ages and a great addition to your movie experience! Open daily, the putting course is available for group functions and special events.   The putting course is free all year if you purchase the annual pass.     www.wgv.com
7/21 Post: Neighbor DW's favorite find:
Sunset Moonrise
You can enjoy a Sunset and full Moonrise from the most unique perspective of all… Atop theSt. AugustineLighthouse!
This special event includes a champagne toast (provided by San Sebastian Winery) and light hors d'oeuvres (provided by The Reef).
Tickets are $25 for non-members ($20 for museum members), reservations are required and space is limited. For more information or to reserve call (904) 829-0745
6/14  Antonios Pizza & Grill
Neighbor recommended this place that's located on CR13 at 9155.  They have specials during the week and they have homemade sausage.  Here is the website … tell the owner Jack Antonio, that Billy told us about his place.  The website is www.antoniospizzagrill.com
6/13/12
1)  The Ancient Olive, 47 King Street, St. Augustine, 904-827-1899, at the CasaMonicaHotel, www.theancientolive.com
This store carries an incredible variety of specialty olive oils and balsamic vinegars.   All the oils and vinegars are in large stainless steel vats, and you can sample everything.  The staff gives great advice on which oils and vinegars go well together, and they have some good ideas for recipes.  This is a great place to go for a special gift.  It's also an art gallery.
2)  Art's Nursery and Arbor House Gift Shop, 2850 Race Track Road, St. Augustine, 904-829-2641, 904-377-9744 (cell), www.artsnurserystaugustinefl.com
This plant nursery is a hidden paradise!  It has a beautiful selection of plants as well as a gift shop with hand-painted gourds.  You can also stroll in the back to visit their goats, chickens and parakeets.  It's located off of route 16, one mile east of the Prime Outlet Mall.  As you're heading towards downtownSt. Augustineon route 16, you'll pass the mall, and then a mile after that you'll see a small sign forRace Track Road.  You won't see a sign for Art's on 16.  Go down the road a short way, and you'll see Art's on your left.  Deborah and Curtis will welcome you and will give good advice about plants.
3)  The Wildflower Cafe, 4320 A1A South, St. Augustine, 904-471-2691, www.wildflowercafefl.com
This attractive little restaurant is famous for its great breakfast menu.  The dinner menu is also very interesting, and the food is delicious!  Their specials every night feature dinner for two for a total of $27, including soup or salad, the main dish and dessert.  There are a couple of German specialties too.  If you go on your birthday your meal is free!  You can sign up to get their e-mail messages which detail the menu and special offers for the month.  The owner, Brian Helm, lives in Turnberry.  It's always nice to be able to support our neighbors!
4)  The Gifted Cork, 64-A Hypolita Street, St. Augustine, 904-810-1083, www.thegiftedcork.com
This is a great place for wine lovers, and wine tastings are offered every day of the week.  In addition to an interesting selection of wine, they have gourmet treats, wine accessories, unique gifts and great cards.  The staff is very helpful and can make suggestions for wine / food pairings.