If you are a professional and would like to include a business card on this site, please contact me at carnicel@bellsouth.net for advertising rates.   I am looking for services that would be helpful to the neighbors — preferably be a resident who lives here in the WGV /Palencia/ CR210 areas.    Insurance, Real Estate, Car Sales, Appliances, Phone Sales, Doctors, etc.  Extremely reasonable rates for neighbors.
This page format may include a scan of your business card (jpeg) or text with info that would be on a business card.  Include a link if you would like to link to your business website.   You will be listed here along with others, it is not a separate page per person.
Neighbors using professionals on this page — Caveat Emptor … let the buyer beware.  A posting is not an endorsement by me (unless I know them personally – I'll let you know to the best of my experience with them).  Ask for references.
It's my hope that we'll have many participants providing services for our neighbors listed
PLEASE SCROLL DOWN TO SEE ALL BIZ CARDS …
*  Cruising with Tom Bartimus * K Barnard – GRE Licensed RE Training  *  Wells Fargo Financial Advisor * Brian Fiori – Computer Consultation
Cruising with Tom Bartimus — When I joined Cruises Inc. as an independent vacation specialist I took my love of cruising to a new level.  I specialize in group & special occasion cruises.  I'm proud that I have earned the Top Producer Award for MSC Cruises for two years. Let me help you find the best cruise at the best price.
Tom and Linda Bartimus announce the opening of Bartimus Travel Group in World Golf Village. The new agency is part of World Travel Holdings, Inc.  an award winning company which is the largest seller of  cruises in the world and one of the largest travel agencies.  The Group offers both cruise and land vacations all over the world with the leading cruise lines and land travel companies. Tom and Linda will specialize in group vacations for special celebrations, holidays and families. Linda is added her 35-years experience with groups and fundraising to offer special help for non-profit organizations.Contact Bartimus Travel Group for information or to book you cruise, (904) 392-1703, or email:  LBartimus@CruiseOne.com, or go to our website:  www.BartimusTravelGroup.com
Update:  Welcome … Sharon Cofer about their new employee.
New adventure … River Cruise (and benefit the EMMA Concert Association)
See details … click on jpeg below …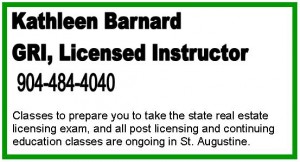 Florida Real Estate state exam preparedness, post licensing and continuing education classes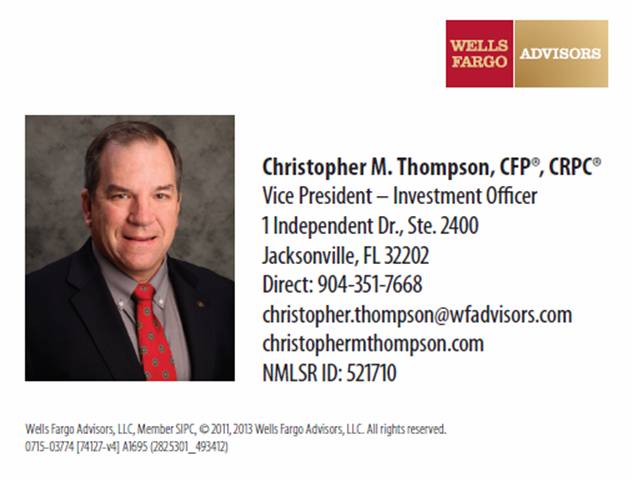 Chris Thompson has been a Financial Advisor serving our community for the last 24
years. He obtained his CERTIFIED FINANCIAL PLANNER™ practitioner certification
from the Certified Financial Planner Board of Standards in 2004 and the
CHARTERED RETIREMENT PLANNING COUNSELOR™ designation awarded by the College of Financial Planning in 2011.  From 2014-2017 as premier advisor and 25 years in business with Merrill Lynch for 19 years.
In 2012, Chris attained his NMLS mortgage license #521710.  In 2014 and 2015,
he attained Premier Advisor status with Wells Fargo Advisors.  The Premier
Advisors designation is held by a select group of Financial Advisors within
Wells Fargo Advisors and reflects a high level of standards as measured by one
or more of the firm's criteria for revenue generation, educational attainment
and client-service best practices.  From 2014-2017 as premier advisor and 25 years in business with Merrill Lynch for 19 years.
To read more about Chris on a personal note, i.e., US Navy Lieutenant, community
involvement, and more, please go to his website:  www.christophermthompson.com
Christopher Thompson – you can also see more about Chris on Linked In:
http://www.linkedin.com/pub/chris-thompson/41/552/951/
Brian Fiori – Computer Consultation
Email:  fioriconsulting@gmail.com
a WGV neighborhood favorite … including me!