(to get my weekly email updates, email me at carnicel@bellsouth.net)
Try to find the NextDoor blog for our area … very helpful info from neighbors. www.nextdoor.com  
(scroll down for Calendar events and activities – by date)  
Parking information in St. Augustine – PARKNOW card
There are no policy changes — the ParkNow card continues!  The City of St Augustine will be updating the meters to be more like the pay-stations … to take not only coin and the ParkNow card but also credit card and $1 and $5 bills.  New technology being reviewed.  Meters only accept coins at this time – no credit or debit cards.
… Click Here … Park Now, Metered Parking, maps, etc.   Find out about that Park Now card … you will be able to park at the downtown parking facility for just $3 with it —NOT JUST FOR St Johns County Residents! Anyone can apply in person (click on the ParkNow link below).   Parking  On street parking is available near the Plaza and is free throughout the city after 5:00pm and national holidays and Sundays, excpet for theCastillo de San Marcos which is enforced seven days a week. Parking is also available in the Historic Downtown Parking Facility map (HDPF), 10 S. Castillo Dr., located at the St. Augustine Visitors Information Center, a 10-minute walk along St. George St. from the Plaza. The cost for parking in the HDPF is $15 per entry or $3 with a ParkNow card info.  And the meters are just .50 vs $2.50! There is a brochure at this ParkNow site with more details.   Always check the websites – policies and fees are subject to changes.
IMAX at WGV:  –  Click here for show times, and future shows!   Adults $14, Seniors/Students/Military $13, and Children 3-12 $11. Visit the website for show times. One World Golf Place, St. Augustine. 904-940-4123  www.worldgolfimax.com  All shows and times subject to change … call or check website before going.   Movie Club Members get free admission to all documentaries.  Click here to see all the benefits of being a movie club member!  (I highly recommend this!! CC)  Enjoy the privileges of membership including 50% off Hollywood movie admissions, unlimited documentaries, priority seating and special members-only events!  
IMAX WGV Now Playing – Fantastic Beasts-The Crimes of Grindelwald now thru 11/21; Mortal Engines (Dec); Aquaman (Dec) – Special feature:  The Polar Express RETURNS – a holiday favorite!  Starting 11/23 at 11am – see website for more dates and times – get tickets now.   Special Event on 12/8 see Calendar below – Polar Express & Santa Day!   Documentaries: Great Barrier Reef; America's Musical Journey; Pandas
CaddyShack –  Click here for their full menu.  Wednesday night is Trivia Night weekly at the CaddyShack … grab a burger and a brew with your team … have that competitive spirit … want to win?!   And if you are in the Rosemont (Chicago) area … you can also get your CaddyShack fix there!   
Golfers … if you are into some fun with your golf attire, Bill Murray's golf apparel line is available … click here to go to the William Murray Golf website.
WGV Golf Specials … Looking for updates on golf info and specials … go to www.golfwgv.com        King & Bear and Slammer & Squire Updates …  either I post here on the Calendar or on the golf tab.
King & Bear and Slammer & Squire news update … click here to check out their specials!
Lightner Museum – click here for visitor times and special events at the beautiful Lightner Museum.  Cafe Alcazar – a must for lunch in the Lightner.
St. Augustine Amphitheatre — Click here to see what's happening CLICK HERE for the St. Augustine Amphitheatre's full Ticketmaster event listing, including premium parking on an event-by-event basis.   They now have a Night Market every 2nd and 4th Tuesday from 6-9 pm.
The St. Augustine Amphitheatre Farmers Market  Every Saturday From 8:30am – 12:30pm!   Free and Open to the Public!
Epic Theatres of St Augustine  — Click here for what's playing
Limelight Theatre — click here for events   Coming up: Cabaret through 10/21 … check their schedule for more events … Box office: 825-1164   And the KidzfACTory presents The Addams Faimily Young@Part 10/25-27.
Lightner Museum  "Lightner After Hours"  For more information on Lightner After Hours, visit www.lightnermuseum.org.
Pirate & Treasure Museum — Click here for the museum website.
St Johns County School has posted their Winter/Spring Session — give the gift of lifelong learning … click here to see their schedule. 
Ponte Vedra Concert Hall:   check here for concert events http://www.pvconcerthall.com/ Click here to see what's happening at the
World Golf Hall of Fame:  General info — Click here     And …  Click here to see the details for:  Kids Free for the month of November. (Not intended for schools, organizations … )  With a general admission paying adult (up to five children), children 12 and under.
St Johns County Golf Course – at 207 off I-95 – click here to see rates, events, about the club in general.
Download the "Reach the Beach" app  For more information on the "Reach the Beach" mobile app, please visit www.sjcfl.us/Beaches, call 904.209.0331, and download the app here.
Old FL Museum where The Pioneer Barn is CLOSED, will be relocating – not sure where to  … it was located inside The Old Florida Museum 259 San Marco Ave, St. Augustine, FL 32084 http://www.oldfloridamuseum.com/  904-824-8874
Alhambra Dinner Theater – Jacksonville – this is great fun … food … entertainment! Their impersonator shows are also so good …they had a Barbra Streisand impersonator that was fantastic and also in November they had a great show – Donna Summer and Barry White impersonators — they have them returning — contact Alhambra for their upcoming show)  The 2018 show schedule has been announced … … click here to go to the new schedule.     10/17 – 11/18 1776 A Musical Revolution
The Corazon Cinema and Cafe   Click here for Showtimes, movie prices, menus, schedule and more.  Located at 36 Granada Street, in historic downtown St. Augustine  904-679-5736
2018 St. Johns County Beaches  Visit the Reach the Beach Mobile App or www.sjcfl.us/Beaches for current beach access updates and beach driving conditions.
Alligator Farm discount … St. Johns County residents receive a 50% discount (until February when it goes to 30%) at the St. Augustine Alligator Farm when they show their ID.  They also receive a 20% discount on both the Nile and the Sepik River course at Crocodile Crossing. Check out their newest exhibit Oasis on the Nile. View Egyptian artifacts, replicas of famous antiquities, three impressive Nile crocodiles and the visually stunning Gaboon viper!
~ ~ ~ ~ 2 0 1 8 ~ ~ ~ ~  C A L E N D A R ~  ~  ~  ~ ~  ~
11/1 – 11/30  Kids Free November at the World Golf Hall of Fame 
Bring the whole family to World Golf Hall of Fame & Museum for Kids Free November. Throughout the month of November, discover all the family fun that the World Golf Hall of Fame has to offer! The best part? Kids under 12 get in FREE all month long! Let your kids explore, learn something new and spend some quality family time. Up to 5 children (12 and under) get in FREE with a general admission paying adult. Enjoy a round on the 18-hole natural grass putting green for just $5 per person. Take two shots on the Challenge Hole for just $5 (or five shots for $10). For more information, visit www.worldgolfhalloffame.org.
11/16 – 11/18  Florida Tiny House Music Festival – St Johns County Fairgrounds
The FIRST EVER 3-Day Music Festival set around Tiny Houses! This event takes places at the St. Johns County Fairgrounds, 5840 State Road 207, in Elkton, Florida — just miles from St. Augustine. Tiny homes, live music, artisans, vendors, food, a beer & wine garden, camping, and more! Get tickets here  Friday free 5-8pm to all; but 9am-12pm free for students (grades Pre-K through High School), their teachers/administrators and their immediate household family members, who pre-register by following the link found HERE.   Check the site for prices on the other days.  Lots of different discounts (seniors 60+ 50% off; and then military, law enforcement, firefighters/EMTs/paramedics – get in Free at the gate with a valid photo ID.
Times:
Friday, November 16: 12PM-8PM
Saturday, November 17: 9AM-8PM
Sunday, November 18: 9AM-6PM
www.united tinyhouse.com   From the same organization behind the for-charity Florida, Georgia, Tennessee and New Jersey Tiny House Festivals… and now the upcoming 2018 Tiny House Music Festival!)
11/18 6th Annual Holiday Craft & Vendor Event / Renaissance Resort WGV / 10am-4pm
Click here for all the details for attendees and vendors.  Free to the public … first 50 guests receive a FREE swag bag!  Click here for their Facebook page.   they have added more Meet & greets for the kids during this event.
11/21 Wine Wednesday — Renaissance Resort World Golf Village
Join us every Wednesday evening in our Villagio Lounge from 5:30pm – 6:30pm for complimentary wine and hors d'oeuvre tasting.  Sample red and white wines from around the world and savor a chef inspired appetizer to complement the wines.
11/21 Weekly –  St. Johns County Pier Park Wednesday – Farmer's Arts and Crafts Market at the Pier   
Farmer's Market located at the ocean side  –  Over 70 vendors on hand with locally grown produce (some organics), baked goods, honey, nuts arts & crafts, jewelry, soaps & lotions, art, clothing and much more! Open 8 a.m. – 12:30 p.m. rain or shine. 350 A1A Beach Blvd., St. Augustine Beach. 904-347-8007  If you are interested in being a vendor or want more info … click here.
11/22 Thanksgiving Buffet – Renaissance Resort WGV 11am-3pm
More details to follow.   Adults $48; Seniors $42; Children $26.  Music by Ken Edwards.  Reservations 904-940-8696  Thanksgiving Buffet 11am-3pm.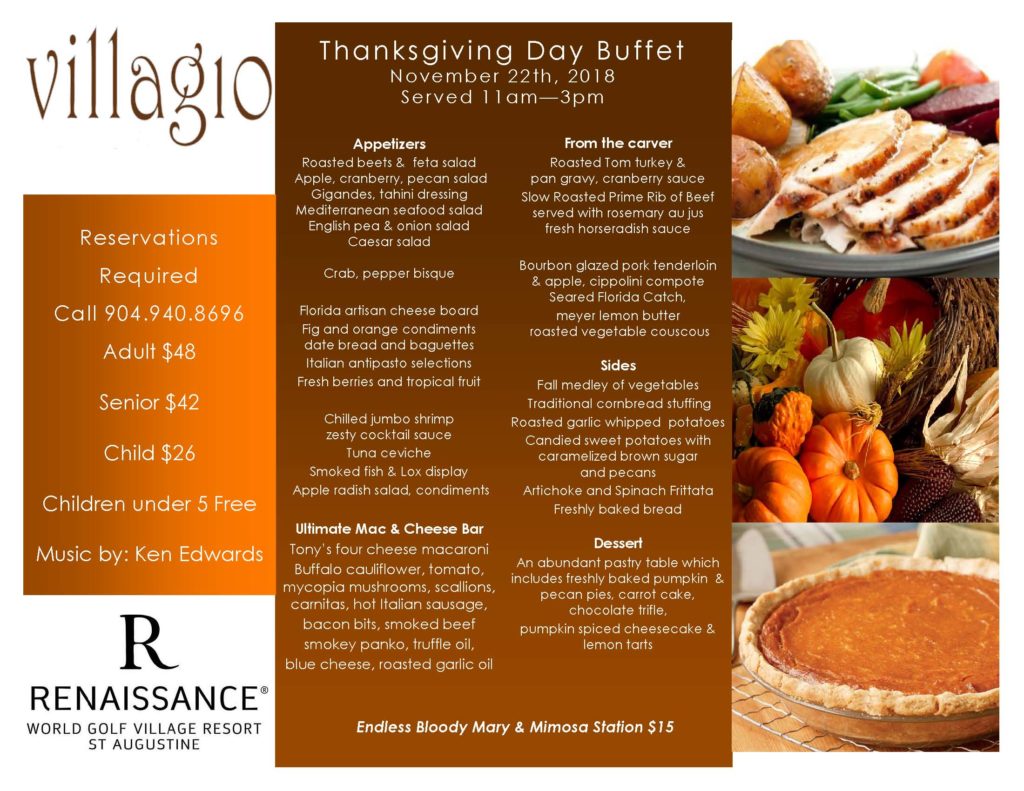 11/23-25 Christmas Made in the South – An Arts & Crafts Festival! 
Location:  The Prime Osborn Convention Center, Jacksonville, FL
Show Hours:   Fri. 9 – 6, Sat. 10 -6 & Sun. 11 -5
Admission:   $7 & children 12 & under free
11/23 Renaissance Resort WGV Friday Night Live – Artists
Our weekly Friday Night Live events begin at 5:30pm with a complimentary Chef inspired hors d'oeuvre and a complimentary mixologist's choice cocktail served until 6:00pm.
We have live entertainment from 6:00pm – 8:00pm Friday evenings. Our local entertainers are:
Join your neighbors …  have fun just listening or get up and dance!!  Have fun with those line dances too (even the Electric Slide!)
11/23/2018                KEN EDWARDS
11/30/2018               ROBERT SAUNDERS
12/7/2018                  BILLY BUCHANAN
12/14/2018                KEN EDWARD
12/21/2018                CLAY BENJAMIN
12/28/2018               TBA
11/24-25  The 53rd Annual Fall Art & Craft Festival – Francis Field
The 53rd Annual Fall Art & Craft Festival, hosted by the St. Augustine Art Association on Thanksgiving weekend, features more than 150 artists offering painting, pottery, jewelry, glassware, sculpture, fiber art, photography and mixed media. The even takes place at Francis Field, 29 W. Castillo Drive, downtown St. Augustine. Hours are 10 a.m. to 5 p.m. Saturday, Nov. 24; and 10 a.m. to 4:30 p.m. Sunday, Nov. 25. Go to staugustineartfestival.com for more details or www.staaa.org/festival   
11/24  PGA TOUR Golf Academy Open House
Join us at the PGA TOUR Golf Academy at World Golf Village on November 24th from 10am – noon for our annual Open House event. Test your golf skills on fun yet challenging competitions, meet our award-winning instructors, and take advantage of limited-time incentives and exclusive offers on private lessons, golf schools, club-fitting, junior camps/clinics and specialty clinics. Visit www.pgatourgolfacademy.com for more information.
11/24  Driving with Authority Clinic at PGA TOUR Golf Academy Develop the set-up and swing plane skills that will help you launch tee shots with power and accuracy. Join us Saturday, November 24th from 1 – 2:30pm for the Driving with Authority Clinic, where you will learn more about how to improve your driving and gain more distance. Visit www.worldgolfvillage.com/clinics for more information. Cost is $25 per student (limited spots available).
11/24, 12/29  …  Uptown Saturday Nights – Every Last Saturday  5-8pm
Uptown Saturday Night is the perfect event for fashionistas, art lovers and antique shoppers from  5-8 p.m. on the last Saturday of each month. Uptown Saturday Night takes place year-round and combines a festive party atmosphere with hospitality and special deals in the unique shops on St. Augustine's San Marco Avenue, concentrated between Ripley's Museum and the Mission Nombre de Dios. Many participating shops also serve refreshments. The Mission Nombre de Dios provides free parking most months
11/25  Lightner Museum – Shop Museum Store Sunday – Special Discounts
On Sunday, November 25, 2018, 9 am-2 pm, for the second year in a row, more than 700 Museum Stores representing all 50 states and the District of Columbia, ten countries, and three continents will offer inspired shopping at museums and cultural institutions. The Museum Store at the Lightner Museum is thrilled to participate in this initiative, which supports funding for ongoing educational programs and exhibitions.
Discounts:  During this day, Lightner Museum patrons are invited to enjoy a mimosa bar, hot coffee and donuts, as well as live music, while perusing the museum store. Members will receive 25% off store purchases, and visitors will receive 15% off their store purchases. Museum admission ticket holders can receive 15% off their check at the Café Alcazar. Also, the first twenty-five patrons to show their admission ticket to a museum store clerk will receive a free gift.
11/25 and 11/26  Gamble Rogers Concert Series
The Gamble Rogers  They will be on stage sometime at the annual Art Festival (Francis Field) 11/25 11am-5pm and 11/26 11am-4pm.  Ticket info www.gamblerogersfest.org.
11/27, 12/11, (12/25? maybe not?)   Night Market – St Augustine Amphitheatre – 6-9pm    2nd & 4th Tuesday
Starting July the Night Market will now be open both the 2nd & 4th Tuesday of every month at the St Augustine Amphitheatre 6pm to 9pm  Free admission and parking and is open to the Public.
Meeting the demand for locally-made goods and gifts will be the Night Market, taking place the fourth Tuesday of each month. From 6 p.m. to 9 p.m. on the same Amphitheatre grounds as the Saturday Farmers Market, the Night Market will host up to 90 vendors specializing in handmade crafts and goods. The Night Market will also feature live entertainment and activities. The Night Market will be free to enter and open to all ages
11/30 Mill Creek Academy PTA presents Fall Carnival
5:30-8:30 pm at WGV between IMAX & World Golf Hall of Fame.  Featuring slides, obstacle course, bungee run, monkey motion, carnival games, face painting, air tattoos, food trucks, live performances & much more.  $20 each for the first 2 students in the family, additional students are $10. K-8th grade  Parents and children under 3 are free.  Anyone can go … free for adults and children under 3 … there will be food trucks you can grab a bite at that will also help the school or just walk around to see the fun!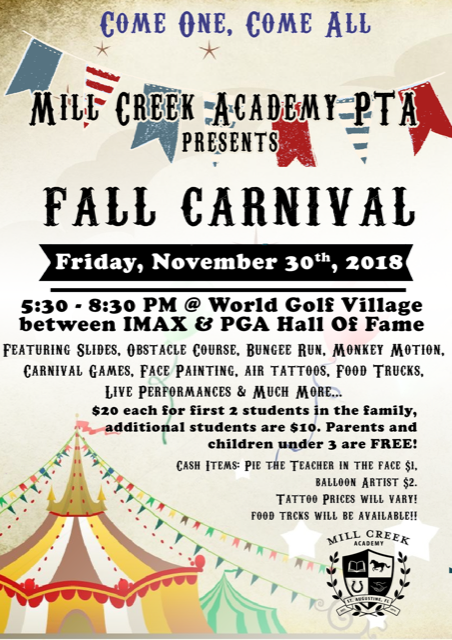 12/1 Augustine 4th Annual Christmas Parade  9am – 11am
Local organizations, clubs, bands, businesses, churches and schools participate in this event, making it the largest, most festive, family friendly, parade in all of Florida! Holiday seasonal decorations adorn all the fantastic entries — from floats to marching bands to antique cars and horses and carriages
Downtown St Augustine.  Sponsored by Flagler Hospital St. Augustine and organized by Linda Abbott, the parade begins on San Marco Avenue at the Mission of Nombre de Dios and continues through the downtown streets of historic St. Augustine along the Bayfront, and ending behind the Visitors Center on Castillo Drive.  (For info to participate or volunteer, please call 904-824-4997)
12/1 St. Augustine Pal Military Appreciation Day at the Hall of Fame
The 61st Annual St. Augustine Pal Military Appreciation Day will take place on Saturday, December 1, 2018. For this annual event, the World Golf Hall of Fame & Museum is offering free admission for all active-duty service men and women and their families. This is a proud local tradition in St. Augustine, and a wonderful opportunity to show appreciation to our troops and their families. Visit www.worldgolfhalloffame.org for more information.
12/5 Luminary Night/St Augustine Lighthouse & Maritime Museum 6-9pm
Luminary Night is an annual tradition hosted by the St. Augustine Lighthouse & Maritime Museum. From 6 PM to 9 PM Wednesday, December 5, the Museum grounds will open for an evening celebration for all ages.  So many activities for all-what a holiday event!  Live music, Santa, children's activities and crafts, yuletide refreshments, local choirs and music groups. And more!!  14 holiday trees to see!
For a special treat, guests can climb the Lighthouse tower for a spectacular view of St. Augustine's Night of Lights from the top. This event is free and open to the public with a suggested donation of a non-perishable food item to be donated to a local food pantry. Holiday-themed refreshments will be available for purchase throughout the evening. All monetary proceeds go directly back to the Museum to continue the work of the Museum's mission.
12/5  The Holiday Open World Golf Village at Slammer & Squire
Celebrate the holidays in tournament-style at The Holiday Open on Saturday, December 15th. This 4-person scramble event will have a noon shotgun start. Visit www.golfwgv.com for more information and to register your team.
12/7 & 12/8   OLGC Boutique on Church Rd (off Pacetti Rd – 4 mi from K&B)
See what's new at the OLGC… new items monthly.  Stop in and buy a few items or bring a few items to donate.  Either way it is such a nice experience visiting this very old and unique church turned boutique that is a resale clothing and home goods store that directly benefits the many ministries of Our Lady of Good Counsel Catholic Church.  Click here to go to their Facebook page.  All are welcome!  Come shop!   First Friday & Saturday monthly.  9am-3pm
12/7  First Friday Artwalk  1st Friday of the Month
On the first Friday of each month, enjoy the latest exhibits, music, entertainment and refreshments at more than 20 St. Augustine art galleries. Park for free at the San Sebastian Winery, 157 King Street, where sightseeing trains and trolleys offer  free round-trips to the heart of the art district – or go on your own self-guided art walk. Galleries are open from 5 to 9pm. Free to the public. Don't forget to check out 233 West King for the featured artist of the month!  For info: 904.829.0065 |www.artgalleriesofstaugustine.com
12/7  Art Walk Off the Beaten Path – 6-9 pm – Vilano Beach – First Friday Monthly
12/8  IMAX WGV – Polar Express and Santa 9am-1pm 
Bring your kids for a fun-filled holiday celebration! Enjoy holiday activities and experience the magic of Polar Express 3D with a special appearance from Santa.
Polar Express and Santa tickets MUST be purchased in advance.*
Move Club Member tickets are $10 ($15 for general public)
8:30 am – Check-in outside the theater**
9:00 am – Activities begin and Santa arrives
10:30am – Polar Express 3D begins (no previews)
1:00pm – Santa departs and activities conclude
All activities are included in the ticket cost. Don't forget your camera to get a picture with Santa.
Click here to order your tickets for this special event.
*ALL tickets must be purchased online. There are NO refunds or exchanges for this event. NO priority seating will be available.
**Bring your email confirmation for check-in and your Movie Club Member card for discounted pricing. Members without cards at check-in will be charged the additional $5 admission cost.
12/8 Regatta of Lights 2018 – 6pm
This wonderful event may be watched from the seawall along the bayfront between the Bridge of Lions and the Castillo de San Marcos or enjoy a view from one of the restaurants facing the Matanzas Bay.  This event is hosted by the St. Augustine Yacht Club.
The crowd will clap and ooh and aah as these lighted decorated vessels go by, large and small, showing their appreciation and enjoyment.  Check the weather before you go as it can get a bit chilly on the bay.
 12/12   Farmer's Market at the World Golf Village – trial run so come on out and support this event    4pm  
12/15  Holly Jolly Holiday – at the Avenues Mall
Stop by the Jacksonville Business Connections table for chances to win items such as shopping bags, coupons to use at vendor tables, etc.
Stop at any of the 50+ vendors and receive cards that you can use to spin the wheel and see if you win any of the many awesome giveaways we will have donated by our vendors!! Once you have all your cards, stop back at the Jacksonville Business Connections Table and spin the wheel for each card you bring us! See if you are a winner!
12/15 & 12/16  St Augustine Community Chorus – Cathedral Basilica
Gaudete! Rejoice! presented on 12/15 at 7:30pm and Sunday 12/16 at 2pm.  Chorus will be accompanied by brass, percussion, and strings, including some traditional carols, exceprts from Handel's Messiah, and a special appearance by the St Augustine Youth Chorus.  200th anniversary of Silent Night.  70th anniversary of the St Augustine Community Chorus.  Concert tickets: Adults $20 in advance and $25 at the door, $12 Ages 11-17, $5 Active Military with ID, Children 10 & Under Free.  Tickets are available online at:  www.staugustinecommunitychorus.org
12/19  EMMA Concert Series continues … 
Here is the list but get the details at their webiste: www.emmaconcerts.com – tickets are $40  Lewis Auditorium at Flagler College. Children & Students with ID $5 any performance.   Information: 904-797-280
12/19  7:30pm Holiday Pops Concert – Gainesville Orchestra
1/26  7:30pm Chicago Tap Theatre
2/16  7:30pm Russian National Orchestra
3/30  7:30pm Buffalo Philharmonic Orchestra
4/6  7:30pm Siberian Virtuosi
12/22 & 12/23 The Nutcracker – St. Augustine Ballet
Bring the kids to enjoy this holiday ballet, The Nutcracker, a memory shared throughout the generations.  Lew Auditorium (beautiful theater in St Augustine).  1:30pm & 7pm.  For ticket information:  855-222-2849 or www.saintaugustineballet.com
12/24 & 12/25 Holiday Dinner – Renaissance Resort WGV
Christmas Eve / 6-9pm / Prime Rib Buffet  Adults $43; Seniors $39
Christmas Day / 6-9pm / Seafood & Steak Buffet  Adults $52; Seniors $45
Reservations 904-940-8696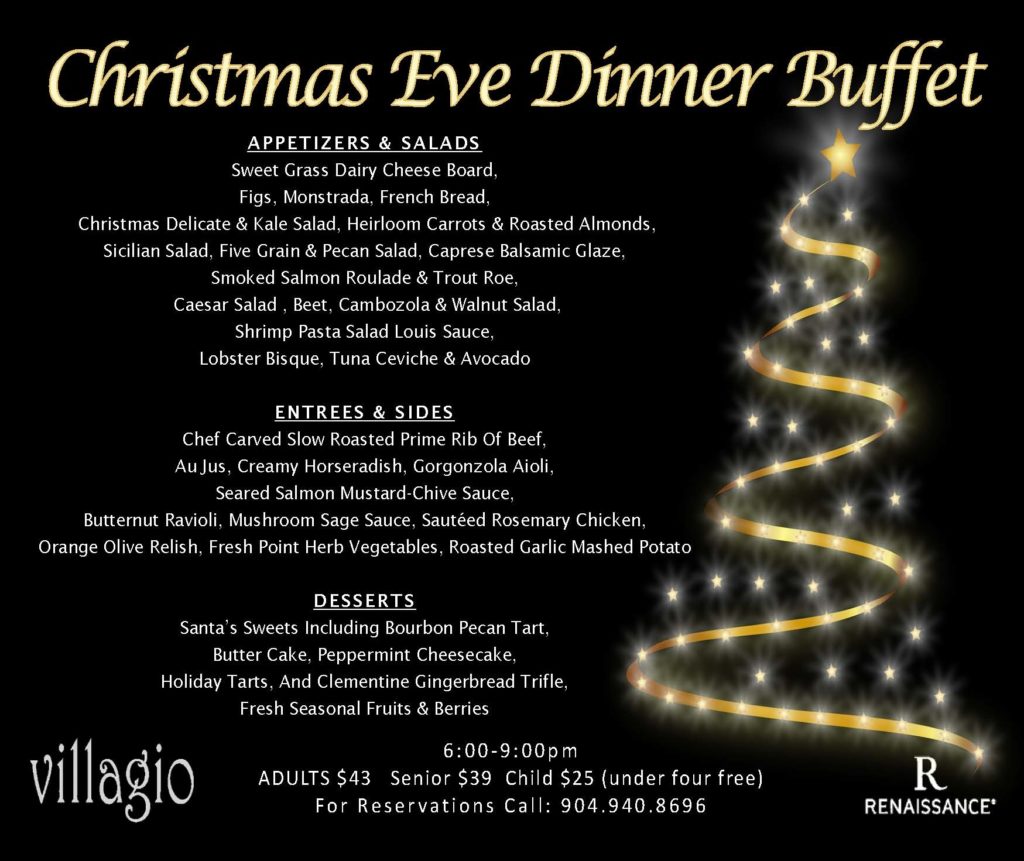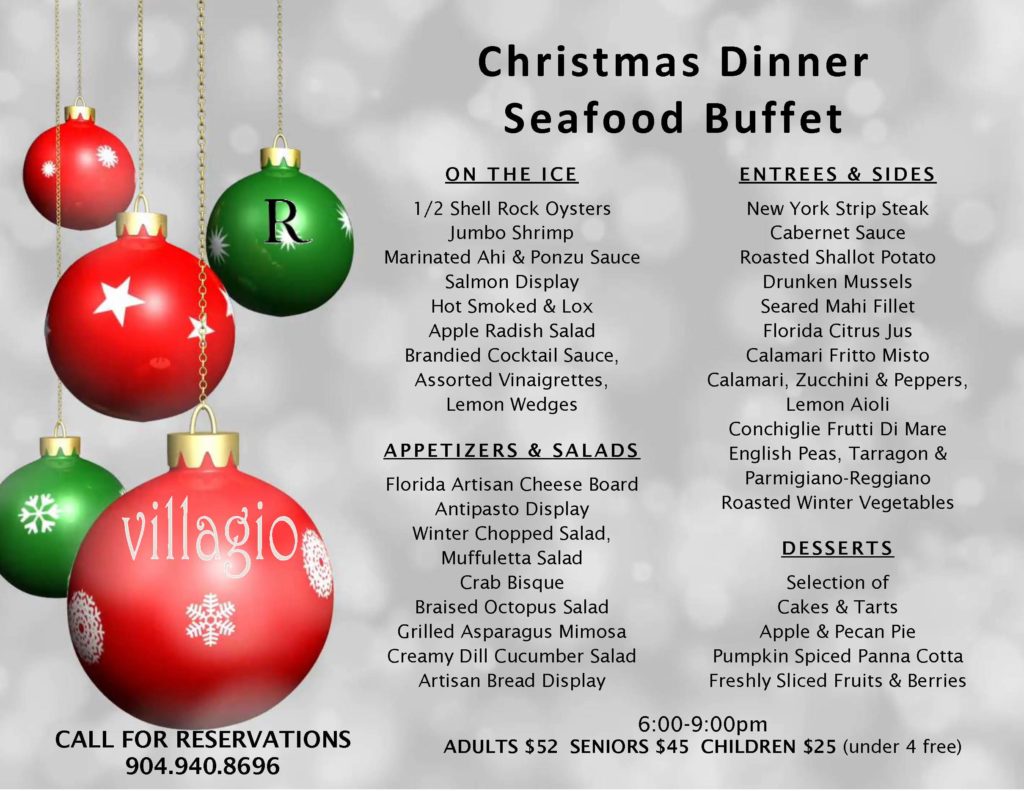 12/28 – 1/6 Winter Junior Camps
This holiday season give your aspiring junior golfer the chance to learn from the country's top instructors, and experience a day in the life similar to a touring professional. PGA TOUR Golf Academy Winter Junior Golf Camps offer a variety of programs for boys and girls of all abilities, with the Full-Day and Half-Day Camps. Full-Day camps are offered from December 28-30 and December 31-January 2. Half-Day Camps are available on January 4-6. Visit www.worldgolfvillage.com/pga-tour-academy/junior-golf-camps to register.
12/31 New Year's Eve – Renaissance Resort WGV
Plated Dinner 6-10pm   Adults $60; Seniors $52.  Glass of champagne.
Reservations 904-940-8696
~   ~   ~   2019 ~   ~    ~
1/5 7:30pm / 1/6 2pm  The Marriage of Figaro – First Coast Opera
First Coast Opera presents The Marriage of Figaro by Wolfgang Amadeus Mozart; fully-staged with orchestra.  Lewis Auditorium at Flagler College  Tickets are $40 www.firstopera.com  904-417-5555.
1/13 Bride to Be & Wedding Expo – Renaissance Resort WGV  10-3
Click here for all the details for attendees and vendors.  Free to the public … FREE bags to the first 100 tickets purchased.  70 exhibitors.  Workshops.
2/24  Fashion & Beauty Expo – Renaissance Resort WGV 
Jacksonville Business Connections is hosting a Fashion & Beauty Expo at the Renaissance Resort World Golf Village Feb 24th 10am-3pm.-Featuring over 50 Vendors
-Free to the public. Indoor event.
-First 50 guests receive FREE Swag bags
-Shop unique fashion in one space
-Try the latest beauty products
-Charity raffle
2/8  EMMA Concert Association's 40th Anniversary Red Carpet 1940s Big Band Dinner Dance Fundraiser  6pm-10pm
Tickets are on sale now for this event.  Multi-course plated dinner and complimentary signature cocktails, wine and beer.  1940s Big Band music feature The Chris Thomas Band.  There will be a silent auction.  Tickets are $100 per person or "Buy a Table" of 8 for $700.  Seating is limited.  RSVP & Patron Gift Cards will be available.  Checks only, please.  All tickets are pre-sale only and held at the door.  Dress:  Fab '40s, Black Tie optional.  For more information contact: Susan Ott 904.671.4940; emma.means.music40@gmail.com
3/22  38th St Augustine Lions Seafood Festival
5/10 – 5/11/2019 Save the Date!  Riding Into History 2019 – WGV
Riding into History will be celebrating, and returning to WGV, its 20th Anniversary next year and we are planning many exciting updates to the event.
5/10 – 5/11/2019 Save the Date!  Riding Into History 2019 – WGV
Riding into History will be celebrating, and returning to WGV, its 20th Anniversary next year and we are planning many exciting updates to the event.  May 11th is the day to view the motorcycles around Kelly Lake / WGV.   We have moved the event to a week earlier in May (now May 10-11, 2019) to help push us out of the rainy season in North East Florida and also to avoid a conflict with AMCA's Southern National Meet at Denton.   The theme next year will be: Celebrating: The Great American Motorcycle. Please mark your calendars and follow us at RidingIntoHistory.org and our Facebook page for updates on the event. We will have an important announcement very soon.  Grand Marshall, Bill Peterson
–     –     –     –     – Other news ~~
WEEKLY EVENTS AT CADDYSHACK — starting at 7pm:  Wednesday nights are for  TRIVIA night … can you and your team beat the group that seems to be winning  week after week!?
RENAISSANCE   Check out the  music on  Friday nights.
For Jax events / Time-Union Performing  Arts and more go to this website:  (Look for the Broadwy in  Jacksonville lineup – http://www.jaxevents.com/timesunion.php New  Events posted to their calendar:  http://www.jaxevents.com/events-calendar/
Lightner Museum – New admission tickets beginning February 19, 2018 — Please note:  St. Johns County residents and Flagler students will be free every Sunday with a valid I.D.  Flagler students will be free with a note from a professor during other days of the week.  (Not everyday like previous was the case) 
General Admission  |  $15
Senior  |  $12
College  |  $12
Active Military  |  $12
12 – 17 Year Olds  |  $8
11 and younger  |  Free
FREE St. Augustine Activities – no charge to St. Johns County Residents (from Floridas Historic Coast): NOTE: St. Johns County  residents with a valid ID are always admitted free of charge to the Oldest  House, the Ximenez-Fatio House, the Oldest Wooden School  House, City Walks History Mystery Murder Evening Tour and the Hotel Ponce de  Leon Legacy Tours at Flagler College. Every Thursday admission to the First Colony Exhibit at the Government House is also free to SJC residents.  The daily tours and wine tastings at the San Sebastian Winery and St. Augustine Distillery are free to everyone. Also, admission is free to everyone at the Fort Matanzas National Monument, St. Photios Chapel, the Pena-Peck House, the Father Miguel O'Reilly Museum and the Mission Nombre de Dios Museum (donations are welcomed).  Many other local attractions offer discounted admissions toSt. Johns County residents with valid ID.