(to get my weekly email updates, email me at carnicel@bellsouth.net)
Try to find the NextDoor blog for our area … very helpful info from neighbors. www.nextdoor.com  
(scroll down for Calendar events and activities – by date)  
Parking information in St. Augustine – PARKNOW card   You may have recently read in The Record about the new St Augustine parking app available for download.  The free parking app is called parkstaug.  The website is the same:  www.parkstaug.com  It is currently not available for the Parking Garage (across from Francis Field).  But look for that integration sometime this year.  Some uses include being able to pay for parking with your phone, receive alerts before a parking session expires and, I like this one, extend a parking session without ever having to return to the vehicle.  Your vehicle is identified by its license plate so you won't need to display a receipt on your vehicle's dashboard.  Parking meters are going away but not the parking pay stations (issues parking stubs) for those without the app.  Sign up for resident discounts at the web link above; you will need to take a photo of your license and car registration so you can upload it when applying for the discount.  ParkNow cards will be phased out gradually to give you time to use any funds you put on your card.
Those who wish to speak to someone directly may call the city's Parking Division at 904-825-1090, Monday through Friday between 8 a.m. and 5 p.m.
Parking  On street parking is available near the Plaza and is free throughout the city after 5:00pm and national holidays and Sundays, except for theCastillo de San Marcos which is enforced seven days a week. Parking is also available in the Historic Downtown Parking Facility map (HDPF), 10 S. Castillo Dr., located at the St. Augustine Visitors Information Center, a 10-minute walk along St. George St. from the Plaza. The cost for parking in the HDPF is $15 per entry or $3 with a ParkNow card info.  And the meters are just .50 vs $2.50! There is a brochure at this ParkNow site with more details.   Always check the websites – policies and fees are subject to changes.
IMAX at WGV:  –  Click here for show times, and future shows!  Film schedule is subject to change.    Adults $14, Seniors/Students/Military $13, and Children 3-12 $11. Visit the website for show times. One World Golf Place, St. Augustine. 904-940-4123  www.worldgolfimax.com  All shows and times subject to change … call or check website before going.   Movie Club Members get free admission to all documentaries.  Click here to see all the benefits of being a movie club member!  (I highly recommend this!! CC)  Enjoy the privileges of membership including 50% off Hollywood movie admissions, unlimited documentaries, priority seating and special members-only events!  Movie Club Members receive free admission to all documentaries.
Now playing:  Captain Marvel through to the 4:15 show on 3/28.  And you always have documentary choices, i.e., Great Bear Rainforest.  But go to their website for all the days and times, click on Showtimes.  Coming soon: Dumbo (starts Mar 28 7pm); Shazam (Apr); Hellboy (Apr); The Curse of La Llorona (Apr); Avengers: Endgame (Apr); Godzilla: King of the Monsters (May); Dark Phoenix (June); Men in Black: International (June); Toy Story 4 (June)    Go to the website for the current documentaries playing. 
CaddyShack –  Click here for their full menu.  Wednesday night is Trivia Night weekly at the CaddyShack … grab a burger and a brew with your team … have that competitive spirit … want to win?!   And if you are in the Rosemont (Chicago) area … you can also get your CaddyShack fix there!   Golfers … if you are into some fun with your golf attire, Bill Murray's golf apparel line is available … click here to go to the William Murray Golf website.
Mindy's Massage and Wellness – Wednesday is Senior Discount Day!  10% off all services: Massage, Facial, and Wax.  Must be 60 or older.  Call to schedule an appointment:  904-680-7328
WGV Golf Specials … Looking for updates on golf info and specials … go to www.golfwgv.com        King & Bear and Slammer & Squire Updates …  either I post here on the Calendar or on the golf tab.  And 2019 Winter/Spring Clinic Series   PGA TOUR Academy WGV … Come join us for this month's events – March, open to the public!   Learn more and contact on website – click here.  
King & Bear and Slammer & Squire updates (2/6) … click here.   (Note:  their restaurants are open to the public — breakfast and lunch combined menu 7am-3pm)
Lightner Museum – click here for visitor times and special events at the beautiful Lightner Museum.  Cafe Alcazar – a must for lunch in the Lightner.  Click here for their Speaker Series – Jan-May 2019.  (Parking is free after 5pm – other than Jan. all speaker series are 5:30pm)
St. Augustine Amphitheatre — www.staugamphitheatre.com website   Now being branded as The AMP.     Every Saturday From 8:30am – 12:30pm!   Free and Open to the Public! And … They now have a Night Market every 2nd and 4th Tuesday from 6-9 pm.    Now being branded as The Amp. 
St Augustine Aquarium … www.ssaaquarium.com Located at 2045 State Rd 16, zip 32084.  Phone: 904-429-9777
Epic Theatres of St Augustine  — Click here for what's playing
First Coast Opera schedule … click here.
Limelight Theatre — click here for events   … check their schedule for more events … Box office: 825-1164
Lightner Museum  "Lightner After Hours"  For more information on Lightner After Hours, visit www.lightnermuseum.org.
Pirate & Treasure Museum — Click here for the museum website.
St Johns County School has posted their Winter/Spring Session — give the gift of lifelong learning … click here to see their schedule. 
St Johns County Parks & Recreation – sigh up here to get on their newsletter.
Ponte Vedra Concert Hall:   check here for concert events http://www.pvconcerthall.com/ Click here to see what's happening at the
World Golf Hall of Fame:  General info — Click here     
St Johns County Golf Course – at 207 off I-95 – click here to see rates, events, about the club in general.
Download the "Reach the Beach" app  For more information on the "Reach the Beach" mobile app, please visit www.sjcfl.us/Beaches, call 904.209.0331, and download the app here.
Florida Agricultural Museum – Palm Coast   http://www.oldfloridamuseum.com/  386-446-7630  Admission, exhibits, wedding events  Farm N Flea on Thursdays 8am to noon
Alhambra Dinner Theater – Jacksonville – this is great fun … food … entertainment! Their impersonator shows are also so good – "After Dark" shows Keep checking their website for what's news.    The 2019 show schedule is now available … click here  to go to the new schedule.      They just added a second night for the "John Denver" show.  I already have my ticket!  
The Corazon Cinema and Cafe   Click here for Showtimes, movie prices, menus, schedule and more.  Located at 36 Granada Street, in historic downtown St. Augustine  904-679-5736
2018 St. Johns County Beaches  Visit the Reach the Beach Mobile App or www.sjcfl.us/Beaches for current beach access updates and beach driving conditions.
Alligator Farm discount … St. Johns County residents receive a 50% discount (until February when it goes to 30%) at the St. Augustine Alligator Farm when they show their ID.  They also receive a 20% discount on both the Nile and the Sepik River course at Crocodile Crossing. Check out their newest exhibit Oasis on the Nile. View Egyptian artifacts, replicas of famous antiquities, three impressive Nile crocodiles and the visually stunning Gaboon viper!  2019 Summer Camp info … click here!
~ ~ ~ ~ 2 0 1 9 ~ ~ ~ ~  C A L E N D A R ~  ~  ~  ~ ~  ~ 
(Garage Sales:  See dates below for times:  Park Place 3/23, Arbor Mill 3/30, Turnberry 4/13, Cascades 4/13, Sevilla 4/13, King & Bear 4/27, Royal Pines 4/27; Gran Lake Neighborhood 5/4)      Email me your community dates to add: carnicel@bellsouth.net    
3/21 Ladies Clinic: Chipping & Pitching at PGA TOUR Golf Academy
Did you know that 2 out of every 3 shots occur from within 100 yards and in? The key to scoring and lowering your handicap is getting more consistent from 100 yards and in, and dialing in your wedge distances. Join us on March 21st at 4 p.m. for a Chipping & Pitching Clinic, led by Senior Certified PGA TOUR Golf Academy Instructor, Rhonda Ferguson. Cost is $30 per student. Reserve your spot at www.pgatourgolfacademy.com/clinics.
3/22, 3/29, 4/5, & 4/12  OLGC Fish Fry Calendar
These are the Fish Fry dates for this year and this picture also lists what is offered at lunch time, dinner time and the available Kid's meals.  Our Lady of Good Counsel is located on SR16 just north of International Golf Parkway.
Lunch: 11:30 am – 1:00 pm;   Dinner: 4:30 pm – 7:00 pm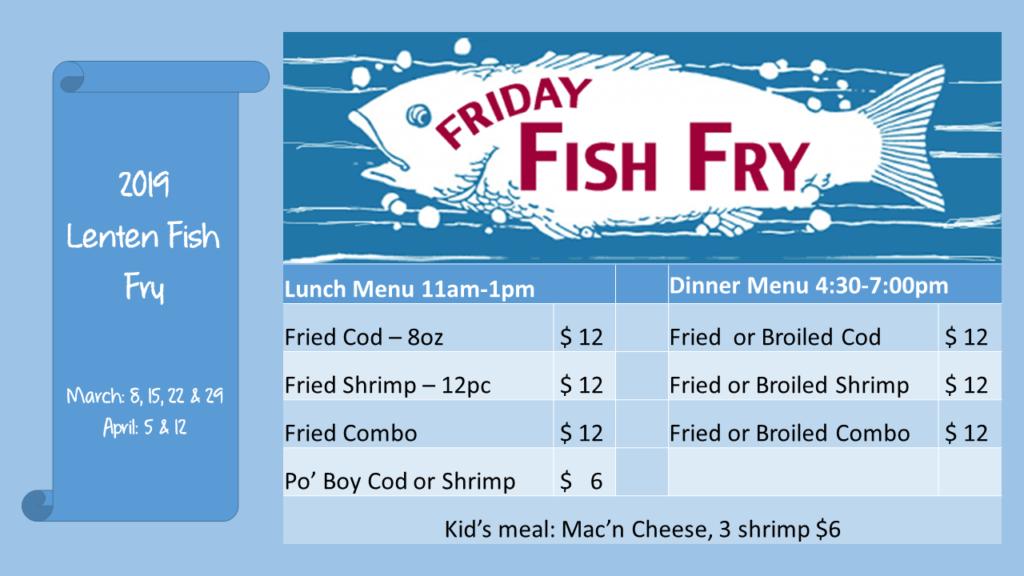 3/22  Renaissance Resort WGV Friday Night Live – Artists
Our weekly Friday Night Live events begin at 5:30pm to 6pm with a complimentary Chef inspired hors d'oeuvre and a complimentary mixologist's choice cocktail served until 6:00pm.  Join your neighbors …  have fun just listening or get up and dance!!  Have fun with those line dances too (even the Electric Slide!)We have live entertainment from 6:00pm – 8:00pm Friday evenings.     Entertainment includes:  
     3/22/2019                 PIERRE KENDRICK
3/29/2019                 PIERRE KENDRICK
3/22 – 3/24 38th Annual St Augustine Lions Seafood Festival – Francis Field
Arts & Crafts – Music – Kid zone.  Per their website: Children 15 and younger are admitted FREE with a paying adult (only $5 for adults at the gate).  (does not mean one adult per child) The Seafood Festival features dozens of seafood vendors and other fair foods, adult beverages, more than 100 arts & crafts vendors, live music on the main stage, and kids rides and games. Festival hours: Hours: Friday March 22 3pm – 9pm; Saturday March 23 10am – 9pm; Sunday March 24 11am – 5pm  Note: $5 Adults, Kids under 15 FREE, Active Duty Military FREE.  The Arts & Crafts Village closes at sundown each day. Go to www.lionsfestival.com for details on menus, entertainment, activities, arts and crafts and more!  (Note:  If you would like to visit our club, we meet the 2nd and 4th Monday night at The Village Inn at 6:30. Visitors are always welcome! )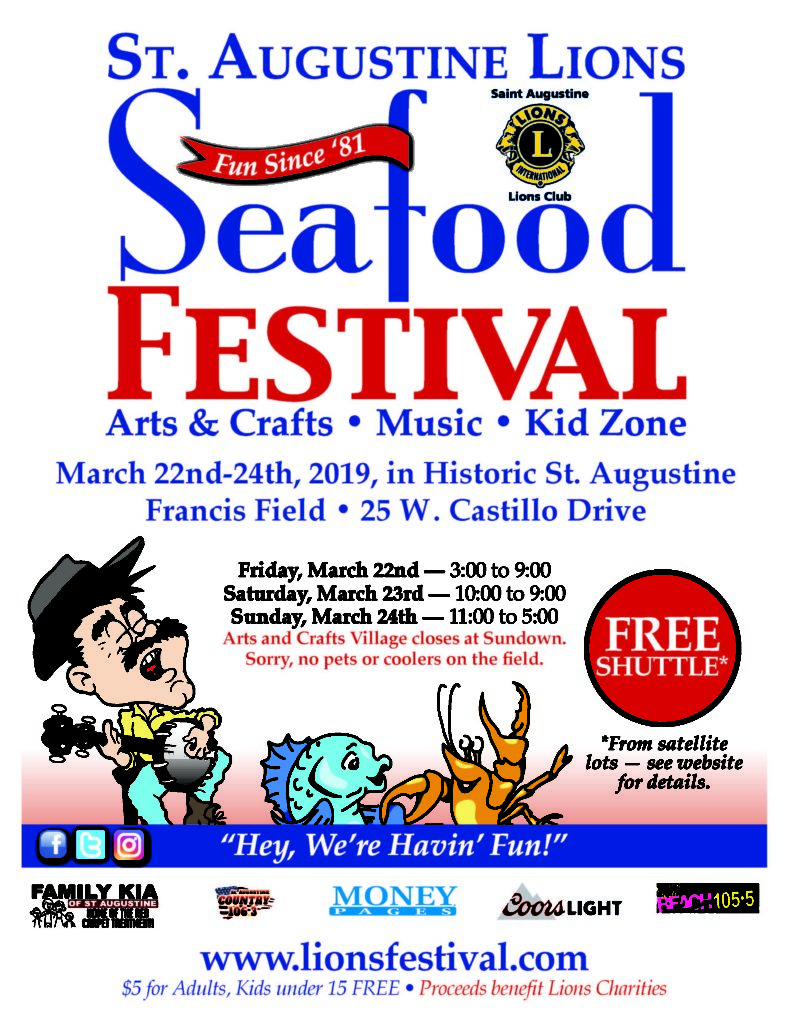 3/22  Palencia Friday Night Events  5:30 – 8:30pm
At 701 Market Street zip 32095.   Open to the Public.  Come out to Palencia's Market Street area on Friday nights and enjoy music, food trucks, kid's activities, Market Street businesses such as local farms, artisans and a variety of vendors.
3/23 Full Swing Clinic #1 at PGA TOUR Golf Academy
Looking to improve your consistency with your irons? Join us at 1 p.m. on March 23rd at the PGA TOUR Golf Academy where we will focus on the mechanics of full swing, and most importantly improving your consistency with your irons. Cost is $30 per student. Reserve your spot at www.pgatourgolfacademy.com/clinics.
3/23  Castillo by Candlelight: Sharks in the Moat
The National Park Service invites you to experience your history with an evening program highlighting the most popular stories in the fort's long history. Join us on Saturday, March 23rd for a candlelit tour of the Castillo to learn about the myths and legends surrounding the fort as well as the truths behind them. Tours begin from the Castillo's ticket booth at 7:30, 7:45, 8:00, and 8:15 p.m. and will be limited to 25 visitors per tour. Tickets are $15 for adults, $5 for children 5-15, and free for children under 5. Tickets may be purchased up to two weeks in advance by visiting the Castillo's ticket booth or by calling 904-829-6506 ext. 239 Monday – Friday between 9 a.m. and 3 p.m.
3/24  Bingo & Dinner at the King & Bear 
To make your reservation, click here.
3/23 Park Place Garage Sale  9am
The Park Place garage sale starts at 9am.  Wasn't provided an end time.
3/26  Woman's Exchange Spring Luncheon Dates
Advanced payment is required when making reservations.  Call 904-829-5064 to make your reservation.  Reservations start on 2/4/19 at 10:30am for the following dates:
March 26, 2019, Tuesday
March 29, 2019, Friday
April 2, 2019, Tuesday
April 4, 2019, Thursday
April 9, 2019, Tuesday
April 12, 2019, Friday
3/27 Wine Wednesday — Renaissance Resort World Golf Village
Join us every Wednesday evening in our Villagio Lounge from 5:30pm – 6:30pm for complimentary wine and hors d'oeuvre tasting.  Sample red and white wines from around the world and savor a chef inspired appetizer to complement the wines.
3/27 Weekly –  St. Johns County Pier Park Wednesday – Farmer's Arts and Crafts Market at the Pier   
Farmer's Market located at the ocean side  –  Over 70 vendors on hand with locally grown produce (some organics), baked goods, honey, nuts arts & crafts, jewelry, soaps & lotions, art, clothing and much more! Open 8 a.m. – 12:30 p.m. rain or shine. 350 A1A Beach Blvd., St. Augustine Beach. 904-347-8007  If you are interested in being a vendor or want more info … click here.
3/28  Lightner After Hours – 6-8pm
Discover Otto Lightner's Victorian Era curiosities and nature-inspired collection while listening to the folksy sounds of local St. Augustine duo The Willowwacks. Given that a "Willowwack" is a secluded spot in the woods, this month we'll celebrate Spring's arrival and outdoor living with campsite inspired light hors d'oeuvres and libations. Please join us in the lobby of our historic museum on Thursday, March 28 from 6 to 8 pm.  This event is free and open to the public. Attendees may enter at the Granada Street courtyard entrance located across from Flagler Auditorium.
3/29  PXG Club Fitting Demo Day at PGA TOUR Golf Academy
Designed to deliver unrivaled performance and fitted to optimize your game, PXG clubs will help you unlock your true potential. Join us at the PGA TOUR Golf Academy on March 29th from 9am – 5pm for this amazing demo event. Take advantage of this exclusive fitting experience. By appointment only – call for availability: 904-940-3600.
3/29  St Augustine Concert Band – Movie Themes – Pacetti Bay Middle School  7:30pm
Celebrating "Those Magnificent Movies"  Tickets $15 at www.staugband.org   245 Meadowlark Lane   Click here to take a listen of some of your favorites!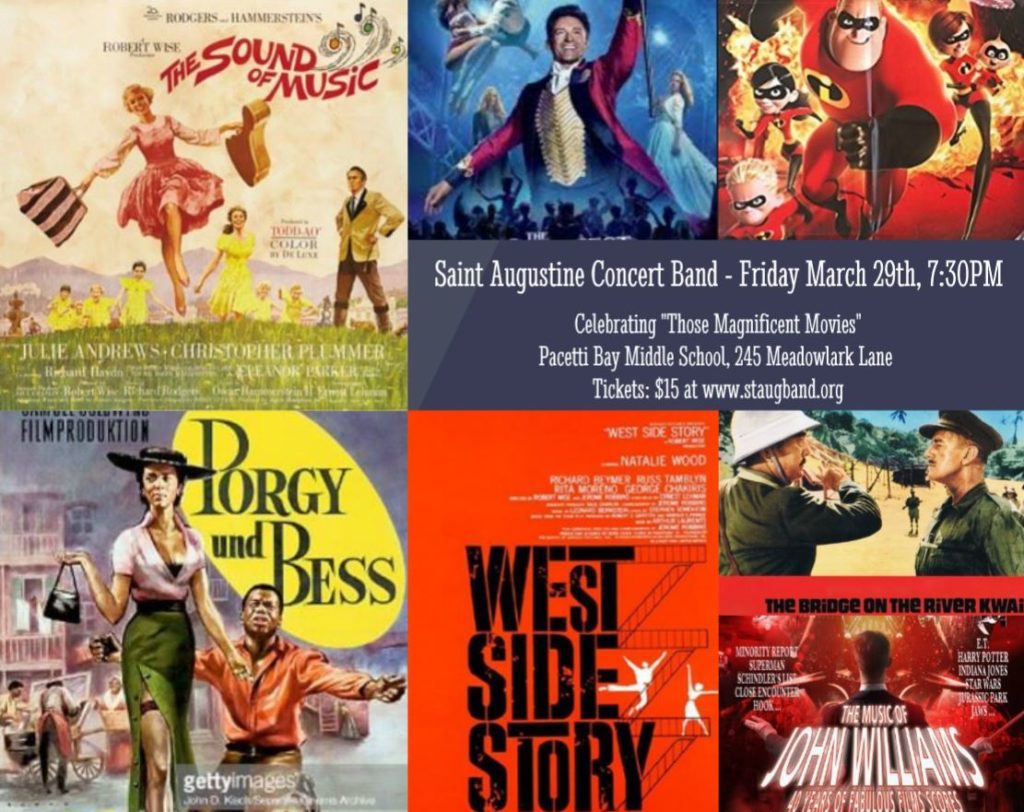 3/20 Epic Flower & Garden Expo 10am-3pm
Every year, this show features a variety of vendors bringing a wide array of horticulture including olive trees, aquatic plants, herbs, ferns, succulents, citrus, anthuriums (the 'love flower'), bamboo, colorful flowering plants, butterfly plants, native plants and more plus gardening accessories and art. There is a $5 admission fee per person, which is valid for both days of the Expo (Children are admitted for free)!  A children's area will be provided as well with face-painting, crafts, and so much fun! Click here for details.   And … Save your Expo ticket! It will grant you free admission to our event, "Taste of St. Augustine!"
3/30 Garage Sale – Arbor Mill  8am-2pm
Arbor Mill @ Mill Creek, off 16A will be hosting it's second annual community garage sale on March 30th, from 8:00am -2:00pm.
3/30, 4/27, 5/25 Uptown Saturday Nights – Every Last Saturday  5-8pm
Uptown Saturday Night is the perfect event for fashionistas, art lovers and antique shoppers from  5-8 p.m. on the last Saturday of each month. Uptown Saturday Night takes place year-round and combines a festive party atmosphere with hospitality and special deals in the unique shops on St. Augustine's San Marco Avenue, concentrated between Ripley's Museum and the Mission Nombre de Dios. Many participating shops also serve refreshments . The Mission Nombre de Dios provides free parking most months
4/1 Registration begins … June dates for Fort Matanzas and Castillo de San Marcos Summer Camps
Fort Matanzas and Castillo de San Marcos National Monuments are pleased to announce dates for the annual summer camp program! Hands-on-History & Nature Camps at Fort Matanzas are June 3-7 and June 10-14. Hands-on-History Camps at Castillo are June 17-21 and June 24-28.
All four camps run Monday-Friday; from 9:00 am – 1:00 pm. Park Rangers, Teacher-Ranger-Teachers from St. Johns County, and knowledgeable volunteers engage campers ages 9-11 with interactive presentations, hands-on projects, games, living history demonstrations, and experiences with the natural world. Camp topics vary, but generally include sections about archaeology, Native Americans, nature, Spanish exploration, colonial Florida, and the Spanish military. Campers will have fun while creating projects involving pottery, leatherwork, textiles, and more!
Registration begins on Monday, April 1. Contact Mary Sims, Administrative Assistant, Monday-Friday, between 8:00 am- 4:00 pm. The cost for camp is a nonrefundable fee of $25. Space is limited. Messages left on voicemail will be returned in the order they were received. In your message, please state that you are calling about camp and leave only your name and phone number. Call 904-829-6506 ext. 227 to reserve your spot.
4/5 & 4/6   OLGC Boutique on Church Rd (off Pacetti Rd – 4 mi from K&B)
See what's new at the OLGC… new items monthly.  Stop in and buy a few items or bring a few items to donate.  Either way it is such a nice experience visiting this very old and unique church turned boutique that is a resale clothing and home goods store that directly benefits the many ministries of Our Lady of Good Counsel Catholic Church.  Click here to go to their Facebook page.  All are welcome!  Come shop!   First Friday & Saturday monthly.  9am-3pm
4/5, 5/4, 6/1   First Friday Art Walk  1st Friday of the Month
On the first Friday of each month, enjoy the latest exhibits, music, entertainment and refreshments at more than 20 St. Augustine art galleries. Park for free at the San Sebastian Winery, 157 King Street, where sightseeing trains and trolleys offer  free round-trips to the heart of the art district – or go on your own self-guided art walk. Galleries are open from 5 to 9pm. Free to the public. Don't forget to check out 233 West King for the featured artist of the month!  For info: 904.829.0065 |www.artgalleriesofstaugustine.com
4/5, 5/4, 6/1   Art Walk Off the Beaten Path – 6-9 pm – Vilano Beach – First Friday Monthly 
4/5-4/7   24th Annual Rhythm & Ribs Festival – Francis Field
BBQ and Music!    Just $10 admission at the gate on Friday, April 5 and Saturday, April 6; and then $5 on Rotary Family Day, all day Sunday, April 7. Age 15 and under free everyday. . ID Required to purchase alcohol.  No advance ticket sales, pay at gate entry, cash only and re-entry with hand stamp only.  Visit their site for details on things you may and may not bring, i.e., no coolers but you can bring
Kids games wristbands are $20 Friday, $25 on Saturday, and $15 on Rotary Family Day Sunday! www.rhythmandribs.net    All proceeds go to local charities of Sunrise Rotary.  The St. Augustine Sunrise Rotary Rhythm & Ribs Festival, Inc is a 501(c)(3) charitable organization and all donations are tax-deductible.
4/6 Hop Into Spring Festival – World Golf Hall of Fame & IMAX 10am-1pm
The Easter Bunny will be there, vendors, egg hunt, food, bounce house and other activities for the kids.  Near the IMAX WGV.   Tickets are $3 per child with limited spots for each age group so a ticket is required.  Group 1 – 11-11:20am, 5 years and under; Group 2 – 11:30-11:50am, 6-9 years; and Group 3 – 12noon-12:20pm, 9-12 years.   No fee to see the Easter Bunny meet and greet.   (Trying to get more info how to get tickets – they are on Facebook or Google)
4/7  St Ambrose Catholic Church Spring Fair – Elkton 12noon -4pm
Food includes Minorcan clam chowder, chicken pilau and ham dinners, hot dogs and hamburgers, homemade desserts, ice cream and more.
The Red River Band, a popular local group, will perform throughout the day.
Games for kids, a garage sale, hay rides, a bake sale, silent auction and country store also will be part of the event. Guests also can take self-guided tours of the historic church building. Admission is FREE.
Located at 6070 Church Rd, Elkton (follow the signs from SR207 and 13).
4/10, 5/8, 6/12, 7/10, 8/14, 9/11  Farmer's Market at World Golf Village
4-7pm – Located in the World Golf Village – between the Slammer & Squire Clubhouse and the IMAX and World Golf Hall of Fame.  You can find them on Facebook – Jacksonville Business Connections.   (Special meet & greets 5-6pm: 4/10 Minion)
4/11 Edgar Degas Opening Event- A Chic Soirée 7-9pm
The Lightner Museum will be holding an exclusive soirée from 7 p.m. to 9 p.m. on Thursday evening, April 11th, 2019. Attendees will be treated to a special preview of the distinguished art exhibition Edgar Degas: The Private Impressionist while enjoying sumptuous French wines, light hors d'oeuvres and a flowing musical performance by the Alberto Cebollero Trio. Tickets are $40 for members and $50 for non-members.  Click here to register.   (Note limited engagement dates below)
4/12 – 6/16 Limited Engagement – Edgar Degas – Lightner Museum
A limited-engagement showing of Edgar Degas: The Private Impressionist is free for museum members or for $5 above the price of museum admission.
Works on Paper by the Artist and His Circle –  little is widely known about the enigmatic artist's life and personality. Featuring over fifty original works by Degas, this event offers  unique insights into Degas' inner world and the opportunity to see rarely exhibited works from the private collection of curator Robert Flynn Johnson.  Click here to learn more, see some photos of his work and to purchase tickets.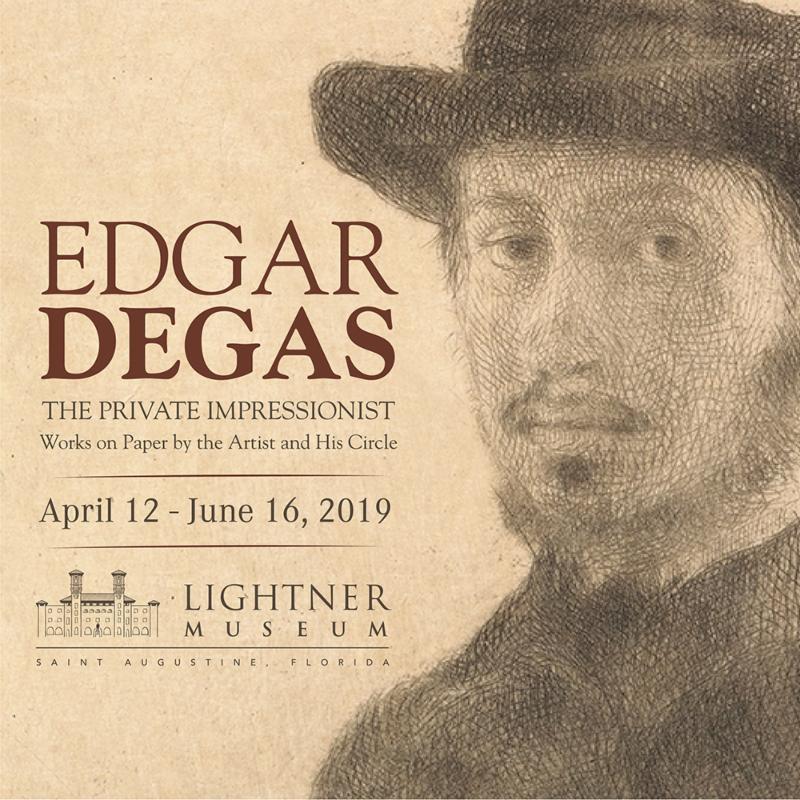 4/13  Turnberry Garage Sale – 8am-2pm
The Turnberry garage sale, located in The Neighborhoods, off International Golf Pkwy will be holding their garage sale on Saturday, 4/13 from 8am-2pm.
4/13 Cascades Garage Sale – 8am-12 noon
Cascades garage sale in The Neighborhoods area off IGP will have their garage sale from 8am – 12 noon.
4/13 Sevilla Garage Sale 
I wasn't provided a time, if I get one I will add it.  Usually early a.m.
4/13 Feel the Wheels – St Augustine Outlets 10am-3pm
Hosted by the Jr Service League of St Augustine.  Ever wondered how a bulldozer works? Or what the inside of a helicopter looks like? Or how a policeman turns on his sirens? Feel the Wheels is the event for you!
In 2012, the League in partnership with tag! Children's Museum of St. Augustine began the interactive event Feel the Wheels. In the spirit of play-based learning, the league provides trucks, buses, race cars, tractors, boats and even a helicopter for kids of all ages to explore! Vehicles vary year from to year but the fun never stops. General admission is $5 and FREE for children 2 years and under. Bring the kids to climb into the driver's seat, honk the horn, and sound the alarm!
4/19  Jazz Events at the Lincolnville Museum
Visit the Lincolnville Museum and Cultural Center at 102 Martin Luther King Avenue, zip 32084.  Full details for the following events may be viewed at their website:  https://www.lincolnvillemuseum.org/   Phone: 205-826-0608  Most tickets are $20 in advance and $25 at the door.  Time: 7pm
     — 4/19 Clarence Herrington — Musical Interpretation & Songs through the Ages
4/20 St Augustine Easter Parade – Starts at 9am (on the Saturday before Easter)
Where:  Along San Marco Avenue and Avenida Menendez in downtown St. Augstine, beginning at the Old Jail Museum.
4/21  Easter Sunday Promenade – (will be held on Easter Sunday) Starting at 12:30pm
The Annual Easter Sunday Promenade is held at the gazebo of the Plaza de la Constitución between King Street and Cathedral Place. The promenade is a spectacle of  Easter bonnets and festive Easter costumes. Awards are presented in various categories, including Most Creative Hat, Best Dressed Pet, Prettiest Hat, Best Dressed Couple, Best Dressed Man and Woman, Best Dressed Boy and Girl, Largest Family, and Family from Farthest Away. Prizes will be handed out at the end of the judging. Anyone is welcome to participate in the contests. The FREE event begins at 12:30 p.m. Sunday, April 21.
4/21 Easter Brunch at the King & Bear
The King & Bear is now accepting reservations now for this year's Easter Brunch.  There will be two seatings, from 10:00AM – 10:30AM and from 1:00PM – 1:30PM.  For a full view of the menu please see flyer below or click here.
$32.95 Member
$39.95 Public
3 yrs and under Free
4-12 yrs $15.95
For reservations (required) click here.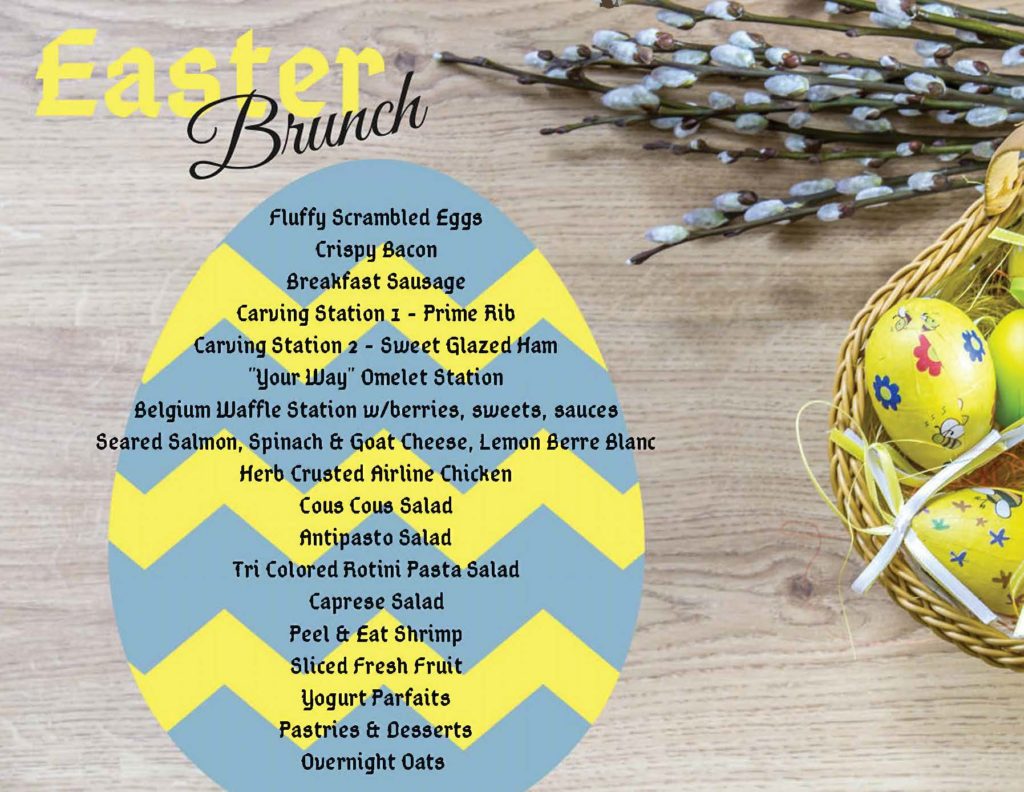 4/24-28 Florida's Birding & Photo Fest
Florida's Birding and Photo Fest features more than 100 birding and outdoor photography events in St. Johns County and surrounding locations. See the schedule of speakers and workshops here. This festival is headquartered  Celebration Hall at St. Anastasia at St. Augustine Beach. Go to FloridasBirdingAndPhotoFest.com
4/27 King & Bear Garage Sale … 8am-2pm
Other neighborhoods be sure to email me your dates and times and I'll get those posted as well.     (Also the Fall will be 11/2/19)
4/27 Royal Pines Garage Sale – 8am-4pm
The second neighborhood when you drive into The Neighborhoods off of International Golf Parkway / Royal Pines Pkwy.  Their garage sale will be 8am-4pm.
4/27  Roscolusa Songwriters Festival   4-10pm (gates 4pm; music 5pm)
This is a songwriters festival based in Ponte Vedra, Florida that takes place from 4 to 10 p.m. Saturday, April 27 in the Nocatee Community, 232 Nocatee Center Way, Ponte Vedra Beach (Facebook shows 245 Nocatee Center Way zip 32081). Hit songwriters from Nashville will share the stories behind their songs for a one-night musical event.  See details on Facebook.    Click here for details and tickets info.
4/28 A Taste of St Augustine – St Augustine Amphitheatre  11am-5pm
As you pay your $5 admission (children admitted free and free parking), you will receive a map which indicates the participating restaurants, their location at the Taste and the dish(es) they are serving. $1 "Taste" tickets will be sold at the event to sample the restaurants food! Some tastes could be between 1-5 tickets per taste.  This will allow you to make a plan for your culinary exploration!
There will be a FREE children's area too! The children's area will include fun activities such as face painting and arts/crafts!  Click here for more details and to see a list of restaurants and also the entertainment line up.
4/28 – 5/1 3rd Annual St Augustine Plein Air Paint Out & Juried Exhibition
Sunday, April 28, 2019, from 2-5pm at the Lightner Gardens; Free & Open to the Public
ARTISTS ARE INVITED TO PARTICIPATE IN A COMMUNITY-WIDE PLEIN AIR PAINT OUT IN HISTORIC ST. AUGUSTINE, FLORIDA! BE INSPIRED BY THE SPANISH ARCHITECTURE, COASTAL ENVIRONMENT, SMALL-TOWN STREETS, AND OLD WORLD CHARM OF THE NATION'S OLDEST CITY. ARTIST GATHERINGS, DEMOS, PUBLIC GALLERY, QUICK DRAW, PATRONS' PREVIEW AND ROBUST ART SALES MAKE THIS A MEMORABLE EXPERIENCE FOR EMERGING AND PROFESSIONAL ARTISTS ALIKE. SELECTED WORKS FROM THE PAINT OUT WILL BE FEATURED IN A JURIED EXHIBITION AT THE ST. AUGUSTINE ART ASSOCIATION OPENING MAY 3, 2019. AWARDS TOTAL MORE THAN $2500, INCLUDING A $1,000 BEST IN SHOW.
Held in the beautiful Lightner Gardens, the exciting Quick Draw competition pushes the artists' limits, giving them just TWO HOURS to complete a plein air painting! Not only will they be working against the clock, but also each other–First, Second and Third Place cash awards are given out at the end of the Quick Draw. The public is invited to come to the Quick Draw (4/28 2-5pm), meet the artists and see their paintings come to life on the easel. Artwork will be for sale in the STAAA Wet Room.
Looking for Volunteers.  The link is at their website … click here for all the details – Artist registration, Quick Draw, and more details.
5/3 Kids Ocean Day – Florida 2019 at Anastasia State Park  9am-1pm
Hosted by Friends of A1A Scenic and Historic Coastal Byway
5/3 – 5/5  24th Annual Gamble Rogers Music Festival
Click here to go to the Gamble Rogers website.    Click here to purchase a weekend pass ($45).   Where it will be held:  Colonial Quarter, 33 Saint George St., downtown St. Augustine   Join us for three days of live music with 50+ bands on 3 stages, new Folk School workshops, & activities for kids! You'll find us downtown May 3-5, 2019 at the historic Colonial Quarter in beautiful St. Augustine, Florida.
Advance tickets are just $45 for the weekend pass until April 19th, then $50 after and children under 12 are always free. Note: Single day tickets will only be sold on the day of, space permitting.   TICKETS NOW ON SALE!   www.gamblerogersfest.org/shop
5/3 – 5/12 Romanza Festivale of the Arts
Featuring more than 60 events and exhibits by dozens of organizations. Daily events include music and dance performances, concerts, art shows, dramatic productions and much more at locations throughout the city. Many events are FREE and admission is required for the others. Go to www.romanzafestivale.com for more details.
5/4  Gran Lake Neighborhood Garage Sale – 8am-12 noon
The Gran Lake Neighborhood Garage Sale will be held from 8am-12 noon.  (Located on Pacetti across from Trailmark)
5/10 – 5/11/2019 Save the Date!  Riding Into History 2019 – WGV
Riding into History will be celebrating, and returning to WGV, its 20th Anniversary next year and we are planning many exciting updates to the event.  May 11th is the day to view the motorcycles around Kelly Lake / WGV.   We have moved the event to a week earlier in May (now May 10-11, 2019) to help push us out of the rainy season in North East Florida and also to avoid a conflict with AMCA's Southern National Meet at Denton.   The theme next year will be: Celebrating: The Great American Motorcycle. Please mark your calendars and follow us at RidingIntoHistory.org and our Facebook page for updates on the event.
Grand Marshal, Gloria Struck,  first ever Female Riding into History Grand Marshal.
For those unfamiliar, Gloria is a 92 year old female rider who has inspired a generation of women to ride.  She was in the movie, Why We Ride, and most recently wrote a book titled, "Gloria – A Lifetime Motorcyclist: 75 Years on Two Wheels and Still Riding".
Here are some highlights of her accomplishments:
Started riding in 1941
More than 650,000 miles on a motorcycle
Inductee to the AMA Hall of Fame
Motor-Maids Member
5/17-5/18 Upper Deck Golf – TIAA Field / Jacksonville
Play an epic round of golf inside TIAA Field  5/17-18 available times– a change from football! Upper Deck Golf is a once in a lifetime golfing experience inside the most legendary stadiums and ballparks across the country! Enjoy a VIP experience while hitting tee shots from the upper deck throughout the stadium, down to custom greens on the field below. You'll start and end your round at the clubhouse festival inside the stadium with great music, cold beers, food and multiple golfing challenges for you and your friends.  Click  here for standard or VIP reservations and more info.   Sign up early, lots of interest!
6/6  14th Annual Taste of Golf – TPC Sawgrass Clubhouse
6:30pm-10:00pm  Tickets $125  This elegant event is limited to 600 guests and sells out annually.  Click here for tickets and details. The event, now in its 14th year, serves as the largest fundraiser and 'friend-raiser' for The First Tee of North Florida. Each year, the best club and resort chefs are selected to participate in this evening of elegant decor, live music, a silent auction… and, of course, great food!  110 Championship Way, Ponte Vedra, FL 32082
6/9  Bride to Be & Wedding Expo – Renaissance WGV   11am-2pm
Save the Date! You're invited Sunday June 9th from 11-2pm at the Renaissance Hotel in World Golf Village for our Bride to Be & Wedding Expo Presented by Jacksonville Business Connections.  Purchase tickets via Eventbrite, click here.
-Indoor event with over 40 Exhibitors
-$5 General Admission Tickets (12-2pm)
-$12 VIP Ticket: Exclusive one hour previewing & Free swag bags
-Promotional bags to first 100 tickets purchased
-Lots of vendor giveaways
-Complimentary Bride to Be & Wedding Expo Exhibitors Booklet
6/20 – 6/22 and 6/27-6/29  St Augustine Music Festival
The largest, free classical music festival in the U.S., the St. Augustine Musical Festival includes six evenings of world-class music in the Cathedral Basilica, 38 Cathedral Place, downtown St. Augustine. See more details at www.StAugustineMusicFestival.org There is a video at this site so you can listen … beautiful music beautiful Cathedral.
Dates and times:   6/20, 6/21 and 6/22 7:30-9pm;  6/27, 6/28 and 6/29 7:30-9pm.
6/29 Block Party – WGV – 10am-1pm – near the Hall of Fame
This community event will be around the Walk of Champions near the Hall of Fame in the World Golf Village.  There will be food vendors, bounce house, kids activities.  Dj party, character meet & greets (Minion, Baymax, Pikachu), vendors, kids zone play area …  Free admission.
7/13 6th Annual Summer Craft & Vendor Event/Renaissance WGV 10am-4pm
Craft & Vendor Event featuring 150 vendors and crafters at the Renaissance World Golf Village Resort Nov 17th from 10am-4pm.  Free general admission.
– Free to the public & Indoor event
– First 50 guests receive FREE swag bags!
– Kid friendly event – Character Meet & Greets To Be Announced
– Charity raffle
11/7 Craft & Vendor Event – Renaissance WGV  10am-4pm
Craft & Vendor Event featuring 150 vendors and crafters at the Renaissance World Golf Village Resort Nov 17th from 10am-4pm.
– Free to the public & Indoor event
– First 50 guests receive FREE swag bags!
– Kid friendly event – Character Meet & Greets To Be Announced
– Charity raffle
–     –     –     –     – Other news ~~
WEEKLY EVENTS AT CADDYSHACK — starting at 7pm:  Wednesday nights are for  TRIVIA night … can you and your team beat the group that seems to be winning  week after week!?
RENAISSANCE   Check out the  music on  Friday nights.
For Jax events / Time-Union Performing  Arts and more go to this website:  (Look for the Broadwy in  Jacksonville lineup – http://www.jaxevents.com/timesunion.php New  Events posted to their calendar:  http://www.jaxevents.com/events-calendar/
Lightner Museum – New admission tickets beginning February 19, 2018 — Please note:  St. Johns County residents and Flagler students will be free every Sunday with a valid I.D.  Flagler students will be free with a note from a professor during other days of the week.  (Not everyday like previous was the case) 
General Admission  |  $15
Senior  |  $12
College  |  $12
Active Military  |  $12
12 – 17 Year Olds  |  $8
11 and younger  |  Free
FREE St. Augustine Activities – no charge to St. Johns County Residents (from Floridas Historic Coast): NOTE: St. Johns County  residents with a valid ID are always admitted free of charge to the Oldest  House, the Ximenez-Fatio House, the Oldest Wooden School  House, City Walks History Mystery Murder Evening Tour and the Hotel Ponce de  Leon Legacy Tours at Flagler College. Every Thursday admission to the First Colony Exhibit at the Government House is also free to SJC residents.  The daily tours and wine tastings at the San Sebastian Winery and St. Augustine Distillery are free to everyone. Also, admission is free to everyone at the Fort Matanzas National Monument, St. Photios Chapel, the Pena-Peck House, the Father Miguel O'Reilly Museum and the Mission Nombre de Dios Museum (donations are welcomed).  Many other local attractions offer discounted admissions toSt. Johns County residents with valid ID.