Click here for links to recent emails!
7/11 CANCELLED     JUST FOUND OUT THIS HAS BEEN CANCELLED   Home & Yard Expo @ Renaissance WGV 11am-3pm
SCROLL DOWN A BIT TO GET TO THE CALENDAR OF EVENTS …
Also, please keep in mind that sadly the COVID 19 numbers are going up and many restaurants are closing again temporarily … you may want to call before you go.
ALL  DATES ARE SUBJECT TO CHANGE … I AM NOT ALWAYS NOTIFIED OF THE CHANGES … WHEN IN DOUBT CLICK ON THE LINK OR FIND THEM ON FACEBOOK (especially when there is inclement weather).
To get my weekly email updates, email me at carnicel@bellsouth.net
Try to find the NextDoor blog for our area … very helpful info from neighbors. www.nextdoor.com  
(scroll down for Calendar events and activities – by date)  
PARKING in St Augustine – the Ancient City … how you can get the best deal!  Click here to go to the City of St Augustine official website.
Parking  On street parking is available near the Plaza and is free throughout the city after 5:00pm and national holidays and Sundays, except for the Castillo de San Marcos which is enforced seven days a week. Parking is also available in the Historic Downtown Parking Facility map (HDPF), 10 S. Castillo Dr., located at the St. Augustine Visitors Information Center, a 10-minute walk along St. George St. from the Plaza. The cost for parking in the HDPF is $15 per entry or $3 with the ParkNow app.  And the meters are just .50 vs $2.50! There is a brochure at this ParkNow site with more details.   Always check the websites – policies and fees are subject to changes.    Parking tips, click here.
ParkStAug  For St. Johns County residents, the ParkStAug app will honor a resident discount automatically, once you register online at ParkStAug. You will be asked to provide proof of residency, and within 14 business days (or less), the resident discount will be applied to your account when you log in to the app and use it to pay to park.
IMAX at WGV: OPEN  –  Click here for show times, and future shows!  Film schedule is subject to change.    Adults $14, Seniors/Students/Military $13, and Children 3-12 $11. Visit the website for show times. One World Golf Place, St. Augustine. 904-940-4123  www.worldgolfimax.com  All shows and times subject to change … call or check website before going.   Movie Club Members get free admission to all documentaries.  Click here to see all the benefits of being a movie club member!  (I highly recommend this!! CC)  Enjoy the privileges of membership including 50% off Hollywood movie admissions, unlimited documentaries, priority seating and special members-only events!  
CaddyShack – NOW OPEN dine in/take out.  50% capacity and following all guidelines for your safety and safety of their employees. 
Hope to return to this but for now limited menu.   ON HOLD   Wednesday night is Trivia Night weekly at the CaddyShack … grab a burger and a brew with your team … have that competitive spirit … want to win?!   And if you are in the Rosemont (Chicago) area … you can also get your CaddyShack fix there!   Golfers … if you are into some fun with your golf attire, Bill Murray's golf apparel line is available … click here to go to the William Murray Golf website.   Wow their 20th annual charity golf tournament is SOLD OUT – moved to August dates.
WGV Golf Specials … Looking for updates on golf info and specials … go to www.golfwgv.com/specials    940-6088 tee time  King & Bear and Slammer & Squire Updates …  either I post here on the Calendar or on the golf tab.  
PGA Tour  Learn more and contact on website – https://www.worldgolfvillage.com/pga-tour-academy/  
The First Tee ... WGV … what's happening … click here.
King & Bear and Slammer & Squire Restaurants are open to the public … come out for a nice view.   General info:  www.golfwgv.com and for dining info at the K&B and Slammer & Squire:  www.golfwgv.com/dining    Please note that the kitchen times may vary depending on the volume of business and weather conditions
EMMA Concert Series … upcoming events – also listed below in the Calendar:  http://www.emmaconcerts.com/events/    Tickets are usually $40 and $5 for students with valid ID.  Pass the word about that great price for students!!
Lightner Museum OPEN     – click here for visitor times and special events at the beautiful Lightner Museum.  Cafe Alcazar – a must for lunch in the Lightner.  Lightner Museum  "Lightner After Hours"  For more information on Lightner After Hours, visit www.lightnermuseum.org.   Free on Sundays for St Johns County Residents. 
St Augustine Art Association … closed
St. Augustine Amphitheatre — www.staugamphitheatre.com website   Now being branded as The AMP.     Every Saturday From 8:30am – 12:30pm!   Free and Open to the Public! And … They now have a Night Market every 2nd and 4th Tuesday from 6-9 pm.    Now being branded as The Amp.     
St Augustine Aquarium … www.ssaaquarium.com Located at 2045 State Rd 16, zip 32084.  Phone: 904-429-9777
Epic Theatres of St Augustine  — Click here for what's playing
First Coast Opera schedule … click here.
Limelight Theatre — click here for events   … check their schedule for more events … Box office: 825-1164
Pirate & Treasure Museum — Click here for the museum website.
St Johns County School has posted their Winter/Spring Session — give the gift of lifelong learning … click here to see their schedule. 
St Johns County Parks & Recreation – sigh up here to get on their newsletter.
Ponte Vedra Concert Hall:   check here for concert events http://www.pvconcerthall.com/ Click here to see what's happening at the
The Cultural Center at Ponte Vedra … click here for exhibits, contests, events and more.
World Golf Hall of Fame:  General info — Click here     NOW OPEN 
St Johns County Golf Course – at 207 off I-95 – click here to see rates, events, about the club in general.
YMCA at Murabella website https://fcymca.org/
Download the "Reach the Beach" app  For more information on the "Reach the Beach" mobile app, please visit www.sjcfl.us/Beaches, call 904.209.0331, and download the app here.
St Augustine Flea Market … Saturday and Sundays 9am – 4pm (sorry pets are no longer permitted at the flea market)  Click here for their website.  Address: 2495 State Road 207   St. Augustine, FL 32086
Florida Agricultural Museum – Palm Coast   http://www.oldfloridamuseum.com/  386-446-7630  Admission, exhibits, wedding events  Farm N Flea on Thursdays 8am to noon
FSCJ Artist Series 19/20 Season … click here.  The 2019/2020 Broadway in Jacksonville presented by FSCJ Artist Series has been announced.  Click here to go to a page where you can order tickets or learn more.  5 show package starts at $250.
2/18-23 Bandstand; 3/17-29 Hamilton (subscription week 3/17-22); 4/21-26 Anastasia
Alhambra Dinner Theater – OPEN AGAIN … Cinderella  6/11-7/26/2020 Jacksonville – this is great fun … food … entertainment! Their impersonator shows are also so good – "After Dark" shows Keep checking their website for what's news.  This is on hold … watch for updates on their website.      The 2020 show schedule is now available … click here  to go to the new schedule.   Be sure to click on the After Dark schedule also – lots of "tribute" groups, impersonators.  Great shows.   —  Elvis in February, special Valentine's Night.  Check their website for details – or see below on the Calendar Feb 12-16.
The Corazon Cinema and Cafe   Click here for Showtimes, movie prices, menus, schedule and more.  Located at 36 Granada Street, in historic downtown St. Augustine  904-679-5736
Cinemark Durbin Park and XD – opens 2/13  click here for general movie info  
St. Johns County Beaches  Visit the Reach the Beach Mobile App or click here for current beach access updates and beach driving conditions.
Alligator Farm  Website – click here.
Gamble Rogers 2019-20 Concert Series –   www.gamblereogersfest.com
St. Augustine Wild Reserve –  www.staugustinewildreserve.org
Womans Exchange … website:  https://penapeckhouse.com/
~ ~  ~ 2 0 20~ ~ ~   C A L E N D A R ~  ~  ~  C A L E N D A R ~ ~  ~
Dates and Events are always subject to change without notice.   NOTE:  many cancellations due to the concern over the coronavirus — call before going
 … CALL TO BE SURE THE EVENTS ARE STILL ON IF YOU PLAN TO ATTEND 
7/8 The Wednesday Pier Farmers Market
… at the St. Johns County Ocean and Fishing Pier parking lot, 350 A1A Beach Blvd., has resumed modified operations from 8 a.m. to 12 p.m. on Wednesdays. Click here for their website.
7/9, 7/16, 7/23, 7/30 … Thursday Clinics / June & July / St Johns Golf Club / Elkton  9-10am $15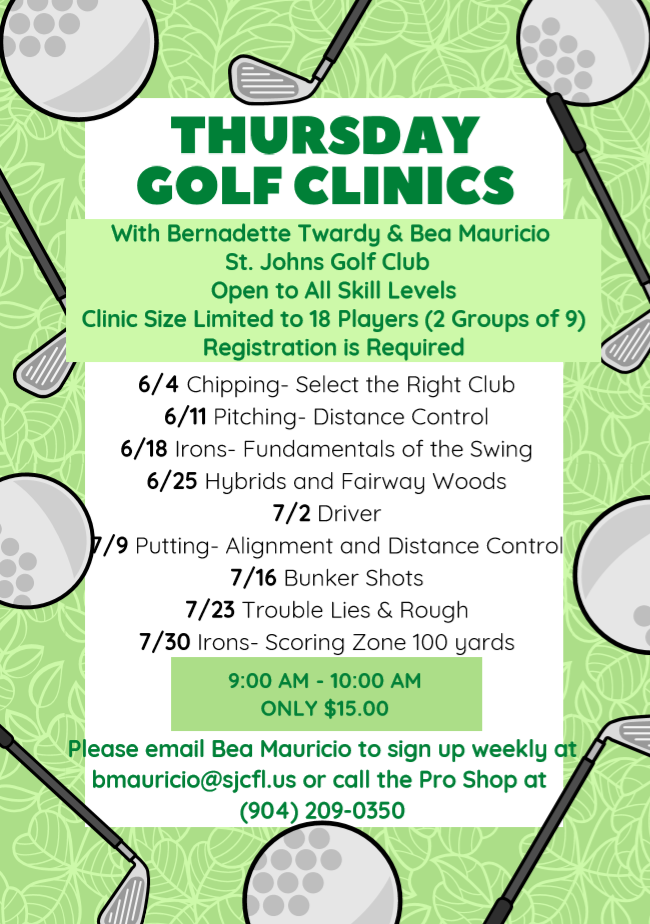 7/10, 7/24 Ladies Golf Clinics / St Johns Golf Club / Elkton
With Bernadette Twardy and Bea Mauricio. 9am-10am only $15. Please help us learn more about you, your game, and your goals by taking a few minutes to complete this form and survey questions. Please email completed forms to bmauricio@sjcfl.us. If you are looking for golf tee times, click here.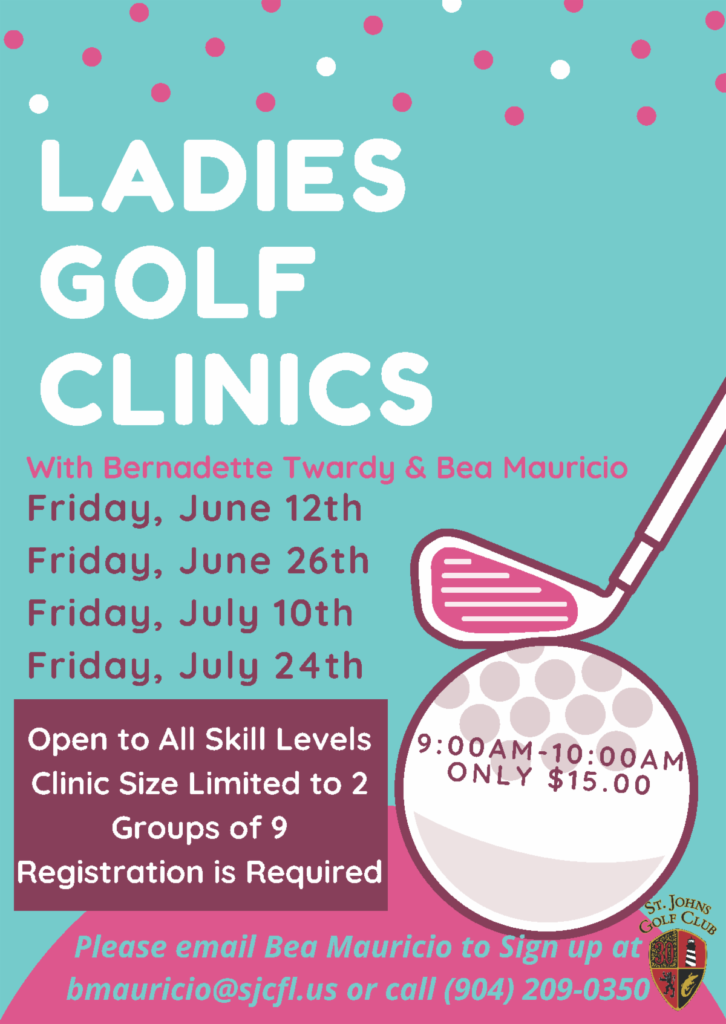 7/11 CANCELLED     JUST FOUND OUT THIS HAS BEEN CANCELLED   Home & Yard Expo @ Renaissance WGV 11am-3pm
7/11 Coconut Barrel 2nd Year Anniversary – The Artisan Market (75 US1 South)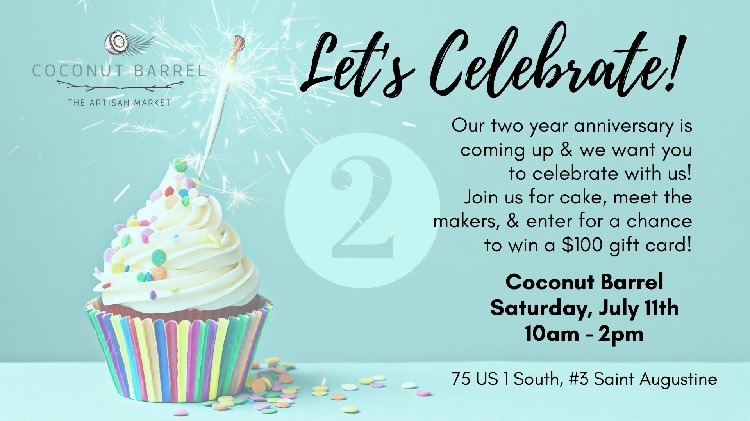 7/14 & 7/18 WGV Food Pantry at OLGC. Could you use a helping hand? or know someone who could?  This pandemic has had a significant negative financial impact on many families often causing food insecurity.  If this is you, please come to the OLGC drive through food pantry.  Customers are welcome to come once a month on either the Tues or Sat that we are open.  We provide nutritious nonperishables as well as fresh produce, frozen meat, bread, pastries and a variety of other food items.
Distributions are held at the Our Lady of Good Counsel Church at 5950 SR 16, St Augustine, Fl – on site, signs will direct you.  Our next distribution days are:
Tues  Jul 14, 5 -7 pm and Sat Jul 18, 10am – noon
DATE CHANGE   FROM 4/30 – 5/1  TO 8/2 & 8/3    Murray Bros. 20th Annual Charity Golf Tournament – Sold Out      Still sold out … but the CaddyShack is open to the public on 8/3 – it will be crowded but so fun!
The 20th annual Murray Bros. Caddyshack® Charity Golf Tournament returns to the World Golf Hall of Fame in St. Augustine, Florida on august 2 & 3. Thanks to the commitment of Murray Brothers, the annual golf outing has evolved into one of the most talked-about charity golf tournaments in the country.
The annual private fundraiser/golf tournament is a two-day event that incorporates concerts, parties, golf and just plain fun as the Murray's intend for it to be. Don't expect a country club sit-down dinner, because this event is like no other. Combine the antics of Bill Murray and his brothers, along with a few celebrity friends carrying autographed guitars, movie scripts, movie posters, sports jerseys, and you get a pretty good idea of what takes place at the annual event.  Website:  https://murraybrosgolf.com/
8/7 & 8/8 OLGC BOUTIQUE – WILL NOT OPEN IN JULY – maybe in AUGUST, fingers crossed, stay tuned
The OLGC Boutique will be open once again with a tent sale and will be featuring a jewelry extravaganza of newly arrived treasures – re-opening from 9am-3pm on Friday and Saturday
8/22   2nd Annual Taste of Jacksonville at the Hall of Fame World Golf Village 1-7pm
Join Jacksonville Business Connections for the 2nd Annual Taste of Jacksonville at the Hall of Fame World Golf Village.  https://www.facebook.com/events/533719424027606
The Walk of Champions is a beautiful spot to enjoy the day and local food vendors showcasing the unique tastes from all over the North Florida area! (This is located in St Augustine even though it says Taste of Jax)
The delicious array of food is complemented by music and local vendors for the family to enjoy.    Seeking sponsor, vendor, food tents, and food trucks! – www.jacksonvillebusinessconnections.com/taste-application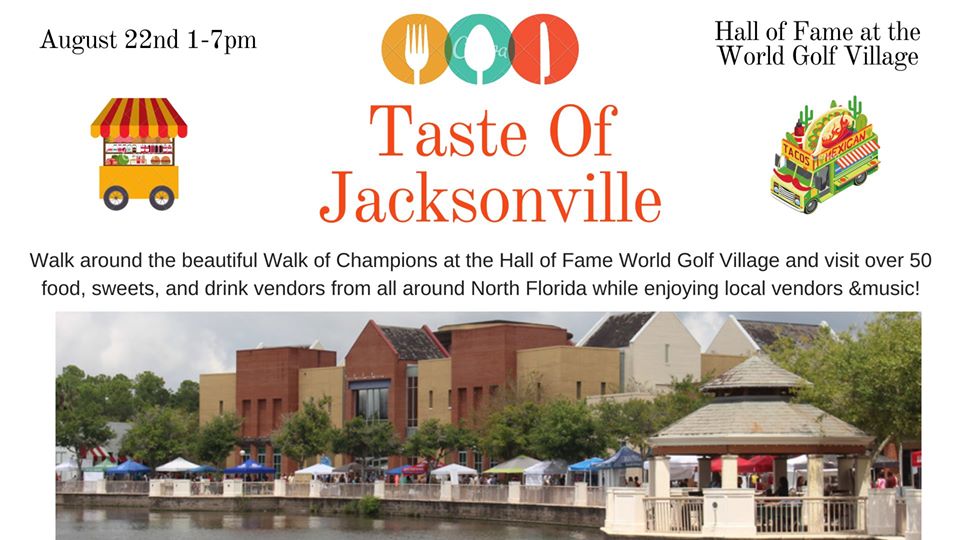 9/10 – 9/13  St. Jude's 2nd Annual The Rahm Celebrity Golf Tournament
Join us for The Rahm Celebrity Golf Tournament, benefiting St. Jude Children's Research Hospital. A love for golf and St. Jude Children's Research Hospital brought actor Kevin Rahm and tournament chairman Clarke Rheney together for this inaugural tournament hosted at the beautiful, historic grounds of the World Golf Village in St. Augustine, FL. This four-day event starts with An Evening With Nashville Songwriters Night on Thursday night. Friday night kicks off with a Pairings Party for golfers and their guests followed by the St. Jude Jam on Friday night. The golf tournament on Saturday and Sunday will pair each foursome with a celebrity player. Saturday night's Soiree will include red carpet appearances by tournament celebrities, live and silent auctions, dinner and entertainment. The weekend will conclude on Sunday afternoon with an awards luncheon for all golfers.  Renaissance Resort – King & Bear Course – Slammer & Squire   Click on the tabs on their website, some have the Purchase tickets links (golf, event tickets) and hotel info.  Click here for their website.  Click here to see a quick overview of the ticket prices and agenda.  Attend all or just some of the events!
9/18 – 9/29 Ancient City Con 2020 – Renaissance WGV
The 12th Annual Ancient City Con brings new celebrity guests and a ton of activities for all ages to St. Augustine's Renaissance Resort.  Visitors to the comic convention can dress up in cosplay, partake in table gaming, and attend panels, photo ops, and other scheduled events, including lots of gaming.
Ancient City Con, an annual comic convention in Northeast Florida, will take place from Friday, Saturday, and Sunday, September 18, 19, and 20, 2020, at the Renaissance Resort at World Golf Village in St. Augustine.  Click here to purchase tickets and more info on this event.
9/23  First Tee – A Taste of Golf  -TPC Sawgrass Country Club  6:30-10pm
Live Music!  Silent Auction!  Amazing Food!  Taste of Golf is the Culinary Event of the Year showcasing the very best chefs from top private clubs and resorts in North Florida.  (Must be 21 or older to attend)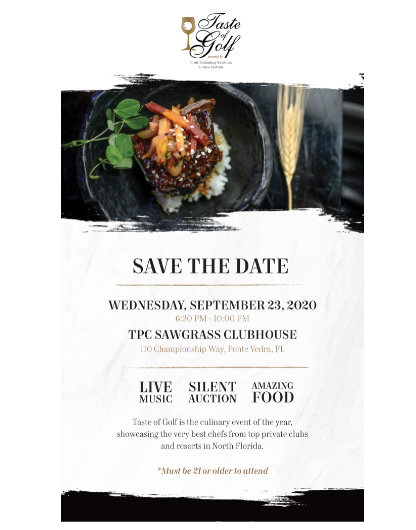 10/9 – 10/22 Greek Festival – Francis Field 
Opa! Don't miss the cultural event of the year when Francis Field downtown St. Augustine is transformed into a virtual Greek village October 9-11, 2020. There will be plenty of Greek food and pastries, traditionally-costumed Greek folk dancers, FREE Greek dance lessons, and live Greek music all weekend long!  Click here for details. 
Admission: Adults are $5.00 and children 14 and under are free. Active-duty US military and their immediate families with ID are free. Come Saturday and get a "2nd Day Free" admission ticket to come back Sunday!  Sorry, no pets allowed. Registered service dogs are permitted.
~  ~  ~  2021 ~  ~  ~
RESCHEDULED TO 2021!  6/25/21 Friday  St Augustine Amphitheatre just announced … RINGO STARR AND HIS ALL STARR BAND LIVE IN ST. AUGUSTINE ON FRIDAY, JUNE 25, 2020!     2021 – go to St Augustine Amphitheatre for tickets and other events.
~   ~   ~ Other news  ~   ~   ~   subject to change without notice
WEEKLY EVENTS AT CADDYSHACK — starting at 7pm:  Wednesday nights are for  TRIVIA night … can you and your team beat the group that seems to be winning  week after week!?
RENAISSANCE   Check out the  music on  Friday nights and Wine Wednesdays.  Noted on the Calendar, above.
For Jax events / Time-Union Performing  Arts and more go to this website:  (Look for the Broadwy in  Jacksonville lineup – http://www.jaxevents.com/timesunion.php New  Events posted to their calendar:  http://www.jaxevents.com/events-calendar/
Lightner Museum – New admission tickets beginning February 19, 2018 — Please note:  St. Johns County residents and Flagler students will be free every Sunday with a valid I.D.  Flagler students will be free with a note from a professor during other days of the week.  (Not everyday like previous was the case) 
General Admission  |  $15
Senior  |  $12
College  |  $12
Active Military  |  $12
12 – 17 Year Olds  |  $8
11 and younger  |  Free
FREE St. Augustine Activities – no charge to St. Johns County Residents (from Floridas Historic Coast): NOTE: St. Johns County  residents with a valid ID are always admitted free of charge to the Oldest  House, the Ximenez-Fatio House, the Oldest Wooden School  House, City Walks History Mystery Murder Evening Tour and the Hotel Ponce de  Leon Legacy Tours at Flagler College. Every Thursday admission to the First Colony Exhibit at the Government House is also free to SJC residents.  The daily tours and wine tastings at the San Sebastian Winery and St. Augustine Distillery are free to everyone. Also, admission is free to everyone at the Fort Matanzas National Monument, St. Photios Chapel, the Pena-Peck House, the Father Miguel O'Reilly Museum and the Mission Nombre de Dios Museum (donations are welcomed).  Many other local attractions offer discounted admissions toSt. Johns County residents with valid ID.
Ripleys Believe It or Not!  Residents of St. John's County Save 50% OFF on Tickets! Just bring your local St. Johns ID and get the discount at the door!  Promotion is available for Ripley's Believe It or Not! Odditorium and Ripley's Red Train Tours.