(scroll down for Calendar activities – by date)     
(Links have been updated)   Parking information in St. Augustine … Click Here … Park Now, Metered Parking, maps, etc.   Find out about that Park Now card … you will be able to park at the downtown parking facility for just $3 with it –St Johns County Residents only!  Parking  On street parking is available near the Plaza and is free throughout the city after 5:00pm. Parking is also available in the Historic Downtown Parking Facility map (HDPF), 10 S. Castillo Dr., located at the St. Augustine Visitors Information Center, a 10-minute walk along St. George St. from the Plaza. The cost for parking in the HDPF is $12 per entry or $3 with a ParkNow card info.  And the meters are just .50 vs $1.50! There is a brochure at this ParkNow site with more details.
IMAX at WGV:  -  Click here for show times, and future shows!   Adults $13, Seniors/Students/Military $12, and Children 3-12 $10. Visit the website for show times. One World Golf Place, St. Augustine. 904-940-4123  www.worldgolfimax.com  All shows and times subject to change … call or check website before going.   To purchase membership, click here or contact the box office at 904-940-4133. Please allow 10 business days for delivery.   (All details subject to change; check their website)
IMAX WGV - Now Playing - December
… A holiday favorite returns to IMAX :  Polar Express  — thru 12/14
Check for the documentaries also, including Amazon Adventure!  Walking with Dinosaurs.  Dream Big Engineering Our World. Tickets now on sale for the Star Wars movie – the Last Jedi opening 12/14.   Coming soon:  1/25 Maze Runner; The Death Cure;  Marvel's Black Panther;  1/11 he Commuter; 1/18 12 Strong
CaddyShack - Click here to link to their new menu.   New:  Music on 12/15 & 12/29 — Ace Winn playing from 6:30pm to 8:30pm.  (note date changes)
Golfers … if you are into some fun with your golf clothes, Bill Murray's golf apparel line is available … click here to go to the William Murray Golf website.    
WGV Golf Specials … Looking for updates on golf info and specials … go to www.golfwgv.com        Golf update from King & Bear and Slammer & Squire 11/8  click here.
St. Augustine Amphitheatre — Click here to see what's happening CLICK HERE for the St. Augustine Amphitheatre's full Ticketmaster event listing, including premium parking on an event-by-event basis!
Epic Theatres of St Augustine  — Click here for what's playing
Limelight Theatre — click here for events   Coming up … check their schedule for more events … Box office: 825-1164  Coney Island Christmas – 12/1-23.  (Andy Williams Tribute show 1/6 - Click here for details.)
Pirate & Treasure Museum — Click here for the museum website.
Ponte Vedra Concert Hall:   check here for concert events http://www.pvconcerthall.com/ Click here to see what's happening at the
World Golf Hall of Fame:     Click here   
The Pioneer Barn is located inside The Old Florida Museum 259 San Marco Ave, St. Augustine, FL 32084 http://www.oldfloridamuseum.com/  904-824-8874
Alhambra Dinner Theater – Jacksonville – this is great fun … food … entertainment! Their impersonator shows are also so good …they had a Barbra Streisand impersonator that was fantastic and also in November they had a great show – Donna Summer and Barry White impersonators)  The 2018 show schedule has been announced … … click here to go to the new schedule. 
The Corazon Cinema and Cafe   Click here for Showtimes, movie prices, menus, schedule and more.  Located at 36 Granada Street, in historic downtown St. Augustine  904-679-5736
~ ~  ~ 2017 ~ ~ ~ C A L E N D A R ~  ~  ~  ~ ~  ~ 
Now - 1/31 NIGHTS OF LIGHTS
The 23rd Annual Nights of Lights opens on Saturday, Nov. 18 during Light-Up Night, an event that includes live music in the Plaza de la Constitucion, between King Street and Cathedral Place in downtown St. Augustine. The music will begin at 5:30 p.m., and the lighting ceremony will start at 6:30 p.m. Saturday, Nov. 18, 2017. Each year, former St. Augustine mayors gather to flip the switch during Light Up Night. The City of St. Augustine's giant tree in the Plaza is lit first, then all the lights come on surrounding the area. Many families start the holiday season with this tradition — going to dinner downtown and and then watching as the lights are turned on. Nights of Lights, which includes more than 2 million lights on city buildings and businesses, continues through Jan. 31, 2016. Go to nightsoflights.com
Now through 1/31 Nights of Lights Wine & Carriage Ride with The Tasting Tours!  Click here for details on all the choices you have to choose from! 
Now -  Join the National Wreaths Across America Day – December 16, 2017 – please donate today and/or sign up to volunteer for 12/16
Each December on National Wreaths Across America Day, our mission to Remember, Honor and Teach is carried out by coordinating wreath-laying ceremonies at Arlington National Cemetery, as well as over 1,200 additional locations in all 50 U.S.states, at sea, and abroad.  Click here to see the national website.  Click here to see the St Augustine National Cemetery area of the website.  I spoke with Quinn today and he may be contacted by telephone at 904.797.5622 if you have additional questions.
Now thru 1/7/18  Dressing Downton at the Lightner Museum, St Augustine There will be a thirteen-week display of 36 authentic Victorian Era costumes and accessories from PBS's most popular television drama in history, Downton Abbey, will be elegantly displayed in the Museum's Grand Ballroom Gallery.  For all information about the Dressing Downton Abbey exhibit at the Lightner Museum … please click here.   From 10/4 /17 thru 1/7/18.   What a great way to see the Nights of Lights and this exquisite exhibit as well … Nights of Lights "turn on" 11/18 and will stay on until 1/31/18.  Lots of special events like High Tea at the Café Alcazar and more!
12/1 – 12/25  Christmas Light Display at Turning Point at Calvary SR16
Free, no tickets required.  Hot chocolate, cookies, characters, jay rides and more.  Find them on Facebook.  Times are usually 6-9pm … drive through the lights then stop in for hot cocoa.  They are located on SR 16 before the outlets on the left if you are coming from International Golf Parkway / WGV / Murrabella.
12/9, 10 & 11 (tour-lite 12/11, 12, 13)  St Augustine Historic Inns B&B Holiday Tours
The St Augustine Historic Inns presents the 2017 "Coastal Christmas" Bed & Breakfast Holiday Tours.  For complete details please go to their website … click here.  This is a self-guided walking tour.  (Wear comfortable shoes … there are many places to see; you will be up and down streets you never even knew were there … at least that's what I had found when I did this wonderful tour.)  They give a portion of their tour proceeds to a not-for-profit charity in the St. Augustine area.
12/13 Wine Wednesday – Renaissance Resort World  Golf Village
Join us every Wednesday evening in our Villagio Lounge from 5:30pm – 6:30pm for complimentary wine and hors d'oeuvre tasting.  Sample red and white wines from around the world and savor a chef inspired appetizer to complement the wines.
12/13 Weekly –  St. Johns County Pier Park Wednesday – Farmer's Arts and Crafts Market at the Pier 
Farmer's Market located at the ocean side  -  Over 70 vendors on hand with locally grown produce (some organics), baked goods, honey, nuts arts & crafts, jewelry, soaps & lotions, art, clothing and much more! Open 8 a.m. – 12:30 p.m. rain or shine. 350 A1A Beach Blvd., St. Augustine Beach. 904-347-8007  If you are interested in being a vendor or want more info … click here.
12/13  EMMA Concerts New Season
10/7 The EMMA concerts new season starts October 7, 2017 and ends on April 7, 2018.
Wed., Dec. 13, 2017 • Holiday Traditions • First Coast Opera Amahl & the Night Visitors
Sat., Jan. 13, 2018 • Gainesville Symphony Orchestra
Sat., Jan. 27, 2018 • Estonian Nat'l Symphony Orchestra
Sat., Feb. 3, 2018 • Mozart Orchestra of New York
Tues., March 13, 2018 • Nat'l Symphony Orchestra of
Sat., April 7, 2018 • Broadway Live!
Information:  www.emmaconcerts.com    Tickets:  https://emmaconcerts.secure.force.com/ticket
And a way to raise funds for EMMA is their EMMA Goes River Cruising!  Melodies of the Danube, April 13-20, 2018.  I have listed the contact and discount info on the Calendar.
12/14, 12/16, 12/19 First Coast Card Club – Dates for December 2017 (holiday trivia 12/24 scroll down for details)
Thursday, December 14th. Anastasia Island Library-124 Seagrove Main St., St Augustine Beach. 12:00P
Saturday, December 16th. Holiday Lunch 11:00AM. Cards: 12:00PM-2:30PM. St Augustine Restaurant. Please make contact to Lea to be added to the Attendee List. NO Limit On Attendees. RSVP EARLY!
Tuesday, December 19th . St Augustine Main Library, 1960 N. Ponce De Leon Blvd., St Augustine 1:00P
Meet more card players at our Community Libraries Every Month. Your Support Is Appreciated. Contact Lea at: 904-829-0643 for more information and verification of events.
12/15-17  Enchanted Christmas Village – Ponte Vedra — 12 Days of Christmas
Join us for the 2nd Annual Enchanted Christmas Village at our new location in Ponte Vedra. We will have millions of lights, entertainment, shopping, hay-rides and of course Santa.
We are so excited to announce BAIRFIND as our featured non-profit. They find missing children in the USA. Be apart of the village to bring missing kids home for the holidays.
Hours of Operation:  December 1-3, 8-10, 15-17.  FRIDAY – SUNDAY:
5:00PM – 10:00PM    Location: Hope Pavilion – 895 Palm Valley Rd, Ponte Vedra, FL 32091
12/15 & 12/29 – CaddyShack Presents Ace Winn
Ace Winn will be playing from 6:30pm to 8:30pm on these Friday night dates.   If you would like to experience a bit of his wonderful sound you can listen a bit at www.acewinn.com/music   (note date changes)
12/15  Renaissance Resort WGV Friday Night Live - Dec. & Jan. Artists:
Our weekly Friday Night Live events begin at 5:30pm with a complimentary Chef inspired hors d'oeuvre and a complimentary mixologist's choice cocktail served until 6:00pm.
We have live entertainment from 6:00pm – 8:00pm Friday evenings. Our local entertainers for Dec 2017 & Jan 2018 are:
12/15/2017     CLAY BENJAMIN  (get your dancing shoes out, fun line dancing too!)
12/22/2017    BILLY BUCHANAN
12/29/2017     CAPT'S JACK & ROGER
12/31/2017    SHADES OF GRAY (for New Year's Eve Dinner)
1/5/2018        CLAY BENJAMIN
1/12/2018      CAPN'S JACK & ROGER
1/19/2018      BILLY BUCHANAN
1/26/2018     CLAY BENJAMIN
12/15 St. Augustine Community Band Holiday Concert
7:30pm to 9:00pm at the Pacetti Bay Middle School, 245 Meadowlark Lane
St. Augustine, FL 32092   Get in the holiday spirit with many songs you know and bring back memories like Jingle Bell Rock, Seighride, Auld Lang Syne and a whole lot more. 
12/16 Academy Demo Day at PGA Tour Golf Academy
The PGA TOUR Golf Academy will be hosting a club demo and fitting event, featuring TaylorMade Golf on December 16th from 11am – 3pm. Come get fitted for your perfect clubs just in time for the holidays. Open to the public – swing by and find the perfect set.
12/16    Holiday Revenge Tournament at Slammer & Squire
Come out for the most challenging round of the year. Our superintendent, Steve LaFrance and his turf care crew are making the course as difficult as possible to play in this fun and challenging golf tournament. Entry fee is $300 per foursome with a 12:30pm shotgun start. Visit www.golfwgv.com to register.
12/16 7th Annual Fire Fighter Chili Cookoff – St Augustine Amphitheatre
Free Event … The 7th Annual Firefighter Chili Cookoff is taking place at the St. Augustine Amphitheatre from 2-6 p.m on Saturday, December 16! Admission is FREE and chili sample tickets are available for a small fee. Proceeds benefit Pink Heals and Green Hands programs. Sample chili made by firefighters from around the state.  The event features traditional and alternative chili categories and many family friendly activities including fire extinguisher and jaws of life demonstrations, home and life safety education, and on-site fire engines, ladder trucks and ambulances
12/16-17 St Augustine Ballet's Production of the Nutcracker
Ballet show times are 1:30 and 7 pm on December 16 and 17 in Lewis Auditorium at Flagler College, 14 Granada St., downtown St. Augustine. Tickets are $25 to $30 with a $5 discount for ages 65 and over, and 12 years and younger. Tickets are available for purchase at www.saintaugustineballet.com or by calling 855-222-2849.  www.tututix.com/saintaugustineballet   Make memories.  This is a beautiful, comfortable theater across from the Lightner Museum.  Near the Café Alcazar.
12/16 & 12/17  St. Augustine Community Chorus Concert
The St Augustine Community Chorus Concert and St Augustine Youth Chorus will perform at the Cathedral Basilica of St Augustine, 60 Cathedral Place.  Tickets $20 in advance; or $25 at the door.  Saturday 7:30pm;  Sunday 2pm.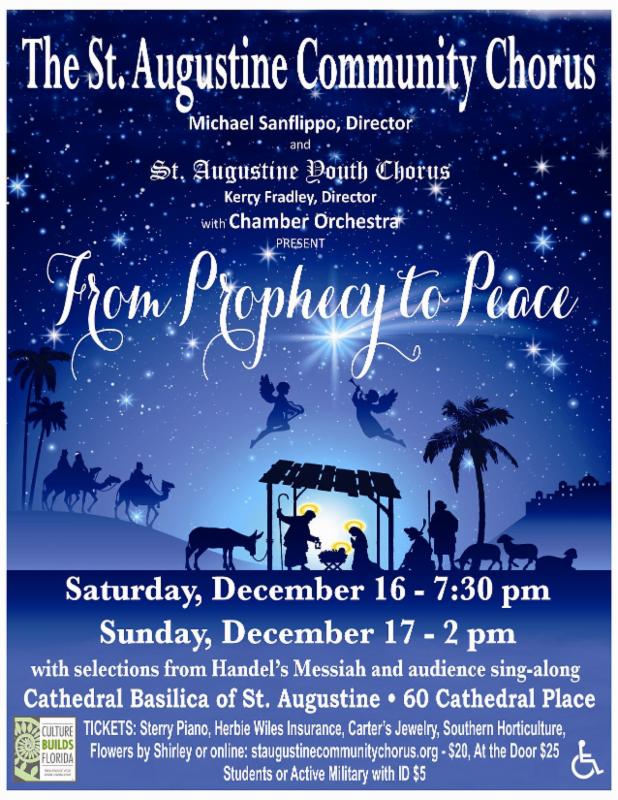 12/24 Holiday Trivia-December 2017
Sunday, December 24th. Annual Christmas Eve Day Event. Lunch/Our Christmas Trivia-Prizes-Santa's Treats. 12:30pm. Mandarin.
Please Contact Lea for more information and how to Join Our Club. 904-829-0643/904-814-9612.
12/24  Christmas Eve Dinner Buffet – Renaissance WGV
6-9pm Adults $42; Seniors $38; Children $25  Reservations 904-940-8696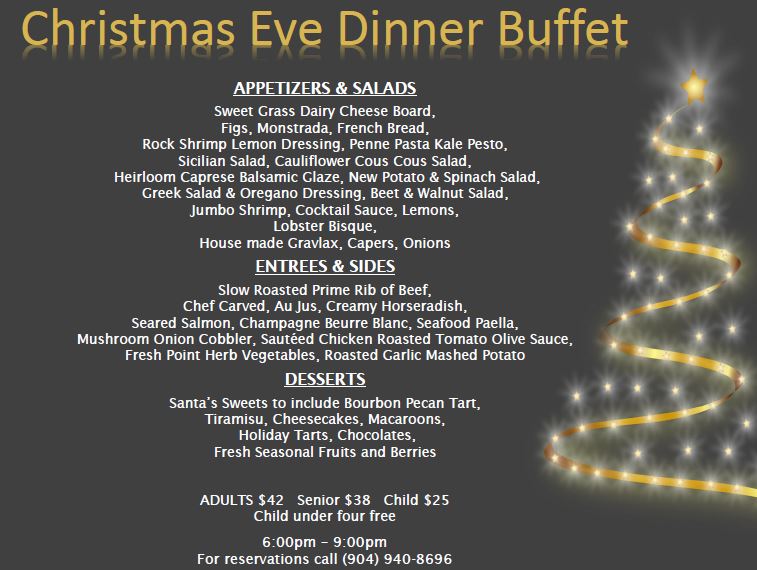 12/25 Christmas Dinner Seafood Buffet Dinner – Renaissance WGV
6-9pm Adults $49; Seniors $43; Children $25  Reservations 904-940-8696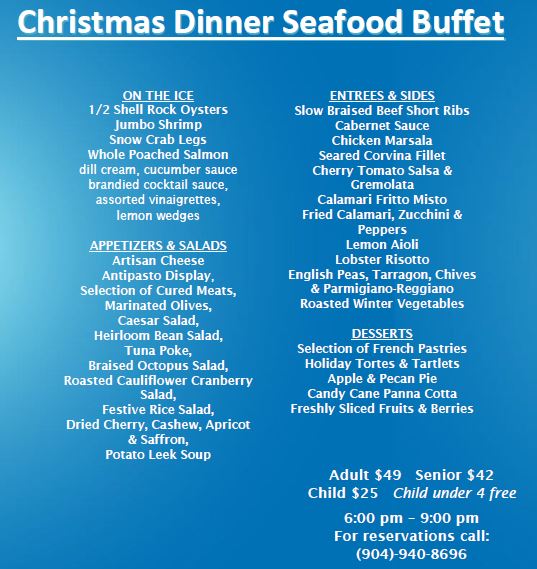 12/29 North Florida Women's Chorale Presents "Cradle Songs & Carols"
Looking for something to do following the "Christmas Letdown?"  Let the North Florida Women's Chorale lift your spirits for the New Year with our holiday concert, "Cradle Songs and Carols" on Friday, December 29th at 7:00 p.m. at the Cathedral Basilica in downtown St. Augustine.  This is a FREE CONCERT, but we welcome your freewill donations to help with our operating expenses for the year.  I hope many of you will be able to attend!  Kathy Schirmacher  Soprano I
12/31  Eat, Drink & Be Murray! Merry!  New Year's Eve at CaddyShack
Ring in the New Year at Murray Bros. CaddyShack in World Golf Village.  There will be a DJ starting at 9:00pm thru 12:30am.  Stop in and have dinner and then stay for the music and dancing.  Champagne Toast at Midnight.  No cover charge.  Note their holiday hours:  Closed Christmas Eve and Christmas Day.  New Year's Day open at 11:30am.
12/31  New Year's Eve at the Lightner Museum
Get Gilded at the Lightner –  2017 New Years Eve Soirée and Anniversary Celebration.  Ring in the New Year with live music, champagne toast, and balloon drop in Lightner Museum's Historic Pool Area from 9:30 p.m. to 12:30 a.m. as the Museum celebrates the 130th anniversary of the Alcazar Hotel and 70th anniversary of the Lightner Museum!
The New Years Eve Soiree is open to the public. Event details and Tickets can be purchased at www.Lightnermuseum.org/New-Years.  Proceeds from this event allow the Lightner Museum to continue expanding its program schedule and increase audience engagement.  Please note:  This event is not a sit-down dinner.  Please make other dinner arrangements.
12/31 Beach Blast Off – St Augustine Beach  5-10pm
This annual New Year's Eve fireworks display and entertainment at the St. Johns County Pier will ring in 2018. The event features family friendly activities, including a kids zone, photo booth, food vendors and live music. The event is from 5-10 p.m., and the fireworks display is at 8:30 p.m. A parking and shuttle service is available. Visit the website for the entertainment schedule and shuttle service information.   Click here for the website. 
~ ~ ~ ~ 2 0 1 8 ~ ~ ~ ~
1/5 & 1/6 OLGC Boutique on Church Rd (off Pacetti Rd – 4 mi from K&B)
See what's new at the OLGC… new items monthly.  Stop in and buy a few items or bring a few items to donate.  Either way it is such a nice experience visiting this very old and unique church turned boutique that is a resale clothing and home goods store that directly benefits the many ministries of Our Lady of Good Counsel Catholic Church.  Click here to go to their Facebook page.  All are welcome!  Come shop!   First Friday & Saturday monthly.  9am-3pm
1/5  First Friday Artwalk  1st Friday of the Month
On the first Friday of each month, enjoy the latest exhibits, music, entertainment and refreshments at more than 20 St.   Augustine art galleries. Park for free at the San Sebastian Winery, 157 King Street, where sightseeing trains and trolleys offer  free round-trips to the heart of the art district – or go on your own self-guided art walk. Galleries are open from 5 to 9pm. Free to the public. Don't forget to check out 233 West King for the featured artist of the month!  For info: 904.829.0065 |www.artgalleriesofstaugustine.com
1/5 Art Walk Off the Beaten Path – 6-9 pm – Vilano Beach – First Friday Monthly
1/6 Limelight Theater:  A Tribute to Andy Williams
Limelight … if there are any Andy Williams fans out there you may be interested to know that there will be A Tribute to Andy Williams at the Limelight.  However, tickets will not be purchased through the Limelight box office.  If you are interested, you will need to go to this website for details and tickets.  There will be 2 shows on January 6, 2018; one at 2:00pm, the other at 7:00pm. Tickets are $25.00 and may be purchased by clicking on the event website link – click here.   Click here for the Tribute page. 
1/18-21 2018   St Augustine Film Festival – 8th Annual Event Their website is still showing the events from 2017 … they are just announcing the dates for the 2018 event.     Check back as they update their films for 2018  http://www.staugfilmfest.com/
1/18-1/21 CareerBuilder Challenge Weekend honoring Bob Hope
The World Golf Hall of Fame is celebrating the Career Builder Challenge, formerly the Bob Hope Classic, this week. Guests can enjoy the Hall's "Bob Hope: Shanks for the Memory" exhibit while watching the tournament in the Bob Hope Theater. In a nod to Hope's years of service entertaining the U.S. military, the Hall of Fame is giving active and retired military free admission to the Museum. For more information, visit http://www.worldgolfhalloffame.org
1/18 An Evening with Governor Patrick Tonyn   5:30pm – 8:30pm
Presented by … The Woman's Exchange of St Augustine.  Featuring Dr. Roger Smith, historian and author, entertaining us with stories about St Augustine's British period. Please join us for hors d' oeuvres, wine, beer, dessert and coffee.  Pena – Peck House. Reservations – call 829-5064. 
1/20, 2/10, 3/17 Gamble Rogers Concert Series
The Gamble Rogers concert series … see their poster below for all the upcoming events.   They will be on stage sometime at the annual Art Festival (Francis Field) 11/25 11-5 and 11/26 11/4.  Ticket info www.gamblerogersfest.org.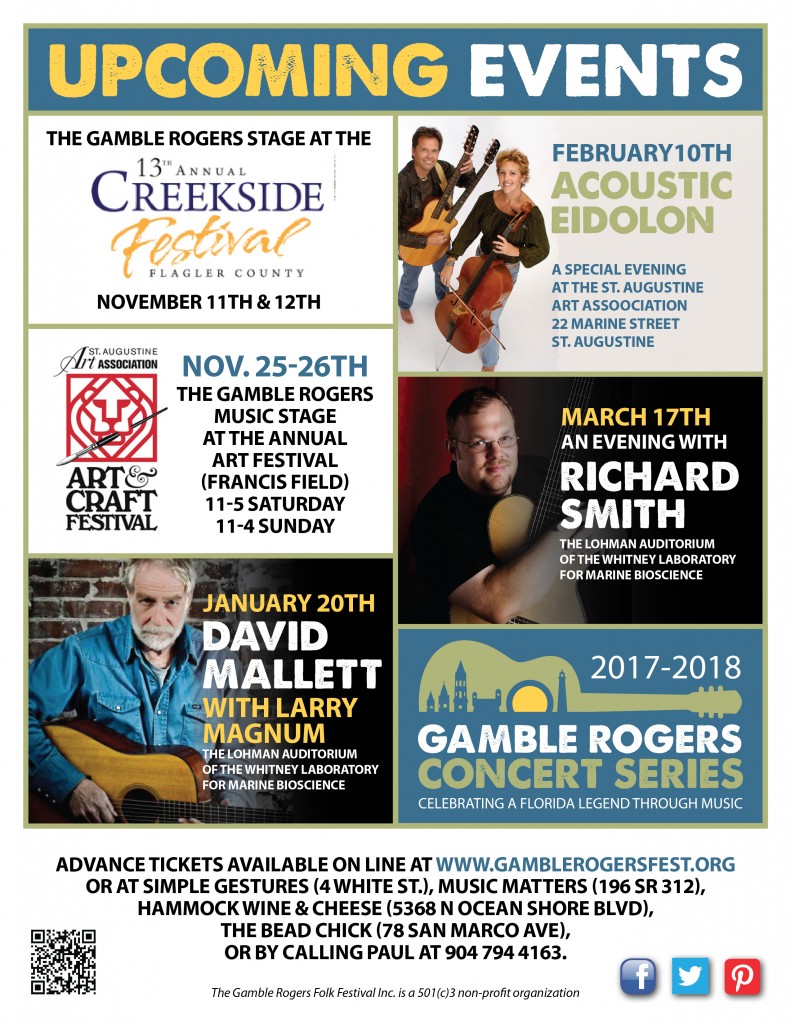 3/3-4 2018  72nd Annual Florida Azalea Festival – Palatka – Free Admission
Celebrate with an early spring with a hometown parade, live music, fod and drink, arts and crafts, and azaleas in bloom.  There's a hometown parade hosted by the Shriners' Club on Saturday on Main Street in Palatka. The parade begins at 10 a.m. Also on Saturday is the Florida Azalea Car Show at Riverfront Park (open throughout the day) and the Miss Florida Azalea Scholarship Pageant at 7 p.m.  This is an outside pet-friendly event.  Click here for their website.
3/16-18 2018  St Augustine Lions Seafood Festival – Francis Field
Seafood, live music, arts and crafts, and more fun activities. Hours: Friday 3pm – 9pm; Saturday 10am – 9pm; Sunday 11am – 5pm  Note: Arts & Crafts Exhibitors Close at Sundown.  No Pets or Coolers on Festival Grounds
4/13-4/20/2018  EMMA Goes Cruising – Fundraiser
There is a fundraising cruise to benefit EMMA: EMMA goes River Cruising! $1,000 Discount! Emma Concert Association is sponsoring "Melodies of the Danube", a river Cruise from Budapest to Vilshofen, Germany, April 13-20, 2018. The cruise is on AMA Waterways Serena, an award winning river cruise line. Until July 31 there is a discount of $1,000 per person, with prices starting at $1,899 per person. For more information contact: Bartimus Travel Group in World Golf Village, (904) 392-1703 or email: LBartimus@CruiseOne.com.
-     -     -     -     – Other news ~~
WEEKLY EVENTS AT CADDYSHACK — starting at 7pm:  Wednesday nights are for  TRIVIA night … can you and your team beat the group that seems to be winning  week after week!?
RENAISSANCE   Check out the  music on  Friday nights.
For Jax events / Time-Union Performing  Arts and more go to this website:  (Look for the Broadwy in  Jacksonville lineup – http://www.jaxevents.com/timesunion.php New  Events posted to their calendar:  http://www.jaxevents.com/events-calendar/
FREE St. Augustine Activities – no charge to St. Johns County Residents (from Floridas Historic Coast): NOTE: St. Johns County  residents with a valid ID are always admitted free of charge to the Oldest  House, the Lightner Museum, the Ximenez-Fatio House, the Oldest Wooden School  House, City Walks History Mystery Murder Evening Tour and the Hotel Ponce de  Leon Legacy Tours at Flagler College. Every Thursday admission to the First Colony Exhibit at the Government House is also free to SJC residents.  The daily tours and wine tastings at the San Sebastian Winery and St. Augustine Distillery are free to everyone. Also, admission is free to everyone at the Fort Matanzas National Monument, St. Photios Chapel, the Pena-Peck House, the Father Miguel O'Reilly Museum and the Mission Nombre de Dios Museum (donations are welcomed).  Many other local attractions offer discounted admissions toSt. Johns County residents with valid ID.