(scroll down for Calendar activities – by date)    Oops sorry I still had Datil Pepper festival in Calendar … that was last week!
(Links have been updated)   Parking information in St. Augustine … Click Here … Park Now, Metered Parking, maps, etc.   Find out about that Park Now card … you will be able to park at the downtown parking facility for just $3 with it –St Johns County Residents only!  Parking  On street parking is available near the Plaza and is free throughout the city after 5:00pm. Parking is also available in the Historic Downtown Parking Facility map (HDPF), 10 S. Castillo Dr., located at the St. Augustine Visitors Information Center, a 10-minute walk along St. George St. from the Plaza. The cost for parking in the HDPF is $12 per entry or $3 with a ParkNow card info.  And the meters are just .50 vs $1.50! There is a brochure at this ParkNow site with more details.
IMAX at WGV:  -  Click here for show times, and future shows!   Adults $13, Seniors/Students/Military $12, and Children 3-12 $10. Visit the website for show times. One World Golf Place, St. Augustine. 904-940-4123  www.worldgolfimax.com  All shows and times subject to change … call or check website before going.   To purchase membership, click here or contact the box office at 904-940-4133. Please allow 10 business days for delivery.
IMAX WGV - Now Playing - October & November
Blade Runner 2049 (Now Playing)
Geostorm (Begins October 19)
Jigsaw (Begins October 26)
Thor: Ragnorak (Begins November 2)
Justice League (Begins November 16
Check for the documentaries also, including Amazon Adventure!  Walking with Dinosaurs.  Dream Big Engineering Our World. Tickets now on sale for the Star Wars movie – the Last Jedi opening 12/15. 
CaddyShack - Click here to link to their new menu. 
Golfers … if you are into some fun with your golf clothes, Bill Murray's golf apparel line is available … click here to go to the William Murray Golf website.    
WGV Golf Specials … click here.
St. Augustine Amphitheatre — Click here to see what's happening CLICK HERE for the St. Augustine Amphitheatre's full Ticketmaster event listing, including premium parking on an event-by-event basis!
Epic Theatres of St Augustine  — Click here for what's playing
Limelight Theatre — click here for events   Coming up … check their schedule for more events … The Full Monty now thru 10/22   Box office: 825-1164
Ponte Vedra Concert Hall:   check here for concert events http://www.pvconcerthall.com/ Click here to see what's happening at the
World Golf Hall of Fame:   www.worldgolfhalloffame.org
The Pioneer Barn is located inside The Old Florida Museum 259 San Marco Ave, St. Augustine, FL 32084 http://www.oldfloridamuseum.com/  904-824-8874
Alhambra Dinner Theater – Jacksonville – this is great fun … food … entertainment! See the new 2017 line up of shows, including Showboat, Dreamgirls, Steel Magnolias, Annie, The Swim Club, The Addams Family and the Christmas Carole (Get on their mailing list …they had a Barbra Streisand impersonator that was fantastic and now in November Donna Summer and Barry White impersonators — going to be awesome)
The Corazon Cinema and Cafe   Click here for Showtimes, movie prices, menus, schedule and more.  Located at 36 Granada Street, in historic downtown St. Augustine  904-679-5736
~ ~  ~ 2017 ~ ~ ~ C A L E N D A R ~  ~  ~  ~ ~  ~ 
Now -  Join the National Wreaths Across America Day – December 16, 2017 – please donate toda and/or sign up to volunteer for 12/16
Each December on National Wreaths Across America Day, our mission to Remember, Honor and Teach is carried out by coordinating wreath-laying ceremonies at Arlington National Cemetery, as well as over 1,200 additional locations in all 50 U.S.states, at sea, and abroad.  Click here to see the national website.  Click here to see the St Augustine National Cemetery area of the website.  I spoke with Quinn today and he may be contacted by telephone at 904.797.5622 if you have additional questions.
Now Open!  World Golf Hall of Fame Class of 2017 Inductee Exhibit
 The new Class of 2017 Inductee Exhibit is now open. Visit the Museum to learn all about the five new Inductees – Davis Love III, Meg Mallon, Lorena Ochoa Reyes, Ian Woosnam and the late Henry Longhurst. Click here for more details
Now thru 10/31  Pumpkin Patch at OLGC   11am-7pm
The Pumpkin Patch will be open 10/1-31 at Our Lady of Good Counsel.  5920 SR 16 North of International Golf Parkway.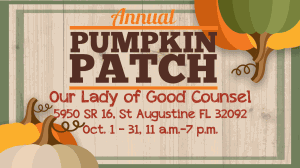 Now thru 1/7/18  Dressing Downton at the Lightner Museum, St Augustine There will be a thirteen-week display of 36 authentic Victorian Era costumes and accessories from PBS's most popular television drama in history, Downton Abbey, will be elegantly displayed in the Museum's Grand Ballroom Gallery.  For all information about the Dressing Downton Abbey exhibit at the Lightner Museum … please click here.   From 10/4 /17 thru 1/7/18.   What a great way to see the Nights of Lights and this exquisite exhibit as well … Nights of Lights "turn on" 11/18 and will stay on until 1/31/18.  Lots of special events like High Tea at the Café Alcazar and more!
Now thru 10/29  CORN MAZE & MORE
Nine acres of a local farm becomes Sykes & Cooper Corn Maze each year — the maze, hayrides, food and games, live animals and more at 5995 Brough Road in Elkton, off State Road 207. Hours are 6 to 10 p.m. Fridays; 10 a.m. to 10 p.m. Saturdays; and 11 a.m. to 5 p.m. Sundays. Cost is $10 for ages 3 to 64; $8 for seniors and military with ID; and free for ages 2 and younger. Admission is CASH ONLY. Homeschool Day set for Oct. 10 from 9 a.m. to 1 p.m. Live music will be offered from 7 to 10 p.m. on certain Saturday nights. Go to www.sycofarms.com for more details.
10/17, 10/18, 10/26 First Coast Card Club Dates October 2017
Tuesday, October 17th-St Augustine Main Library,1960 N. Ponce De Leon Blvd.,St Augustine1:00pm
Wednesday, October 18th-PonteVedraBeachBranch Library,101 Library Blvd.,PonteVedraBeach.1:30PM.
Thursday, October 26th-AnastasiaIslandLibrary-124 Seagrove MainSt., St Augustine Beach.12:00PM
We meet more interested card players in our community each month. Please call Lea at: 904-829-0643 for more information and verification
10/18 Wine Wednesday – Renaissance Resort World  Golf Village
Join us every Wednesday evening in our Villagio Lounge from 5:30pm – 6:30pm for complimentary wine and hors d'oeuvre tasting.  Sample red and white wines from around the world and savor a chef inspired appetizer to complement the wines.
10/18 Weekly –  St. Johns County Pier Park Wednesday – Farmer's Arts and Crafts Market at the Pier 
Farmer's Market located at the ocean side  -  Over 70 vendors on hand with locally grown produce (some organics), baked goods, honey, nuts arts & crafts, jewelry, soaps & lotions, art, clothing and much more! Open 8 a.m. – 12:30 p.m. rain or shine. 350 A1A Beach Blvd., St. AugustineBeach. 904-347-8007  If you are interested in being a vendor or want more info … click here.
10/18 St Augustine Community Band
Join us and enjoy fine concert band music performed by the oldest city's finest Saint Augustine Community Band on Wednesday, October 18th at 7:30PM. Tickets are $15/person, students are $5 with an ID children under age 12 are free. Tickets are available on line at www.staugband.org/tickets or at Pacetti Bay Middle School before the concert.
10/19-22 Southern Women's Show – Jacksonville Prime Osborn Center
Join the fun at this annual event.  Adult tickets $12 at the door, Online for $10 and get discount tickets at your local Walgreens stores for $8.  Click herefor ticket info, hours and special events.
10/20 Renaissance Resort WGV Friday Night Live - Oct-Nov Artists:
Our weekly Friday Night Live events begin at 5:30pm with a complimentary Chef inspired hors d'oeuvre and a complimentary mixologist's choice cocktail served until 6:00pm.
(watch for postings on Saturday Night Rocks at the Renaissance WGV – open mic!)
We have live entertainment from 6:00pm – 8:00pm Friday evenings. Our local entertainers for Oct – Nov 2017 are:
10/20/2017        CLAY BENJAMIN  (wear your dancing shoes or just enjoy the music!)
10/27/2017                CAPN'S JACK & ROGER
11/3/2017                  CLAY BENJAMIN
11/10/2017                PIERRE KENDRICK
11/17/2017                 CLAY BENJAMIN
11/24/2017                CAPN'S JACK & ROGER
10/21  MURABELLA Neighborhood Garage Sale
Hours are 8am – 1pm
10/21   Saturday Night Rocks – Renaissance WGV 6-8pm ("Karaoke" – open mic)
It is official … the Renaissance WGV will have "karaoke" night on Saturdays!  It is not a traditional karaoke — it's more that the mic is open if you request to sing a song.  We have had some great ones but don't be intimidated — you get kudos for being brave enough to get up there! – don't worry if you don't sing there will be plenty of dance music so bring your dancing shoes … or just sit back and enjoy the entertainment!  6pm-8pm … Invite your friends and singers if you know any!  Hope to see you there! Saturday Nights Rock! @ The Viallagio Lounge.
Our local entertainers for October & November 2017 are:
10/21/2017          TO BE ANNOUNCED … waiting to hear if we will have open mic night
10/28/2017          PIERRE KENDRICK
11/4/2017            PIERRE KENDRICK
11/11/2017          CLAY BENJAMIN
11/18/2017          CLAY BENJAMIN
11/25/2017          PIERRE KENDRICK
10/21 THE GREAT AMERICAN SCARECROW FESTIVAL
The annual Great American Scarecrow Festival will be held from 11 a.m. to 3 p.m. Saturday, Oct. 21 at Simple Gestures, 4 E. White St. and Anastasia Boulevard, on the island over the Bridge of Lions in St. Augustine. The event includes scarecrow making, apple bobbing, corn hole, face painting, barbecue, pies (that benefit Pie in the Sky in Hastings), pumpkin painting, live music by Lonesome Bert and the Skinny Lizards and other local musicians. Admission is FREE. Proceeds go to Pie in the Sky, a community outreach program in Hastings.
10/21 Fall Festival & Community Open House at TrailMark
Fall Festival 11am-3m — Pumpkin Patch & Farmer's Market; live Music from Love Monkey; Rock Climbing Wall; 70′ Obstacle Course; Double-lane Giant Slide; Hot Air Balloon; Food Trucks: Tremendous BBQ, Mother Trucking Pizza, Chubby Burrito, Island Dream.   Prizes, giveaways & more.  805 TrailMark Dr, St Augustine 32092
10/21, 22, 28 & 29 Kid-Friendly Halloween Movies at IMAX Theater
By popular demand, the Halloween favorites "Room on the Broom" and "Spookley the Square Pumpkin" will be back at the end of October. For details on the movies, showtimes and to purchase tickets, visit www.worldgolfimax.com.
10/22  OLGC Fall Festival & Car Show -  11am-4pm
All our invited to the Fall Festival & Car Show at Our Lady of Good Counsel Church on October 22, 2017. Time is from 11am – 4pm.  Feature entertainment is the Pendletones. As always, we will have food, games, pumpkins, and more  The Pumpkin Patch will be open 10/1 – 10/31.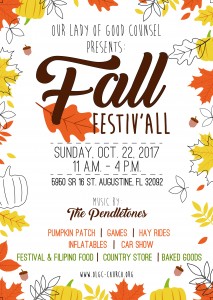 10/24, 10/27, 10/31, 11/3, 11/7, 11/10, 11/14  The Woman's Exchange Fall Luncheons
The Fall Luncheon menus for 2017 are now available.  Here are the dates, contact the group for details on the delicious menu listing. 
October 24th, October 27th, October 31st, November 3rd, November 7th, November 10th, November 14th,
For Vegetarian meals, please call The Woman's Exchange phone number 904-829-5064 to let us know you want a vegetarian meal. We cannot accommodate food allergies nor gluten free choices.  Let us know if you plan to bring a bottle of wine, and we will provide the glasses. If you require a vegetarian meal, please let us know when making the reservation.
You will have a $5 coupon to use in our Christmas in October sale. We feature hand-crafted products made by consignors from across the country.  Shopping begins at 10:30 am and lunch is served at Noon.  Funds raised from our luncheons help preserve the Historic Peña-Peck House, and benefit other charitable efforts of the Woman's Exchange. Tours of the Peña-Peck House will be available after lunch for an additional donation.
10/25 October Monthly Trivia Club
Wednesday, October 25th Trivia Evening # 2. St Augustine Restaurant WGV. Arrival: 5:30PM. Trivia: 6:30PM. Please make contact to Lea for Restaurant Name and how many guests bringing for seating.
Please call Lea at: 904-829-0643 for more information and verification.
11/25 Annual Art Festival – Francis Field
10/27 – 10/29THE WIZARD OF OZ
The Wizard of Oz will be presented by KidzfACTory students at Limelight Theatre. This classic tale, in which a Kansas farm girl travels over the rainbow to discover the magical power of home, has been entertaining audiences for generations. Tickets will be available in September at limelight-theatre.org. Students can enroll online here. Call 904-825-1164 for more details.
10/27, 10/29 FIRST COAST OPERA – Preview our 2017-18 Season
Opera's Most Haunting Melodies
A concert of ghostly encounters and the beautiful tunes that haunt us.  Audience invited to dress in costume if they are in a Ghoulish Mood!
October 27, 2017, at 7:30 pm   Mark Lance Armory, St. Augustine  -  Tickets $35.00
October 29, 2017, at 4:00 pm   Ponte Vedra Concert Hall,  Ponte Vedra, Florida  -  Tickets $35.00
Tickets for both productions:   www.FirstCoastOpera.com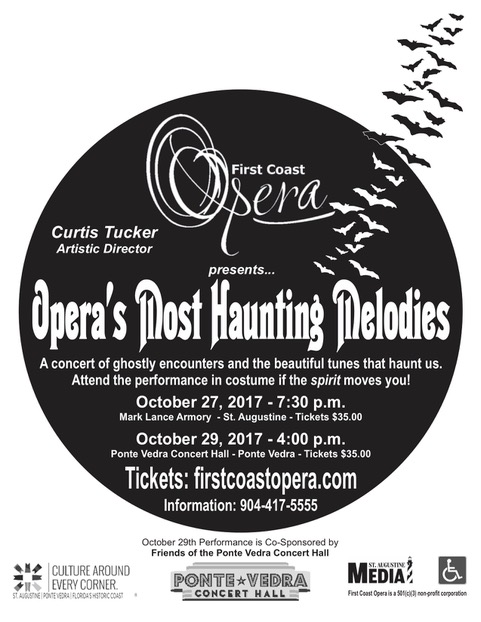 10/28 First Coast Arts & Crafts Fall Show
9am-3pm at the Mark Lance National Guard Armory.  669-5950. This is an annual event with unique vendors, arts and crafts show.  Admission is free.  Food and drink vendors will also be there.  Jewelrry, home decor, clothing, candles, artwork and more.    190 San Marco Ave., just north of St. Augustine's historic district. 
10/28  ANCIENT CITY KIDS DAY
The 21st Annual Ancient City Kids Day will be held from 11 a.m. to 3 p.m. Saturday, Oct. 28 at Francis Field , 29 W. Castillo Drive, downtown St. Augustine. The event is FREE for the public, and will include over 40 youth service agencies offering carnival style games and activities, arts and crafts, contests for kids, and live entertainment all day. Information about community resources will be available for parents. The only cost to the public will be for food or drinks. The event is a community outreach for Epic Behavioral Healthcare of St. Augustine. Go to epicbh.org
11/3 & 11/4; 12/1 & 12/2 OLGC Boutique on Church Rd (off Pacetti Rd – 4 mi from K&B)
See what's new at the OLGC… new items monthly.  Stop in and buy a few items or bring a few items to donate.  Either way it is such a nice experience visiting this very old and unique church turned boutique that is a resale clothing and home goods store that directly benefits the many ministries of Our Lady of Good Counsel Catholic Church.  Click here to go to their Facebook page.   First Friday & Saturday monthly.
11/3  First Friday Artwalk  1st Friday of the Month
On the first Friday of each month, enjoy the latest exhibits, music, entertainment and refreshments at more than 20 St.   Augustine art galleries. Park for free at the San Sebastian Winery, 157 King Street, where sightseeing trains and trolleys offer  free round-trips to the heart of the art district – or go on your own self-guided art walk. Galleries are open from 5 to 9pm. Free to the public. Don't forget to check out 233 West King for the featured artist of the month!  For info: 904.829.0065 |www.artgalleriesofstaugustine.com
11/3 Art Walk Off the Beaten Path – 6-9 pm – Vilano Beach – First Friday Monthly
11/3  First Fridays: Meet The Treasure Hunters
From 6 – 8 p.m., The St. Augustine Pirate and Treasure Museum hosts Mark Anthony, a treasure diver and collector known worldwide and founder of St. Augustine's 'Treasures by Mark Anthony'.  To have an item appraised by Anthony, send a photo of it along with a brief description to tracy@thepiratementmuseum.com in advance.  The event is free.  12 S. Castillo Dr., St. Augustine. 877-467-5863 www.thepiratemuseum.com
11/4/17 Cascades Arts & Crafts Festival — all are invited … raffle tickets to everyone entering … lots of holiday items too!
11/4  Drum Runners Series – Equestrian Competitions
Do you like horses … there is a Drum Runners Series with equestrian competitions that are free for spectators.  they are the first Saturday of the month through to November 4, 2017 at the St Johns County Fairgrounds in Elkton.   Start time is 5pm.
11/5  GREAT CHOWDER DEBATE
Love chowder?  Want to try as many chowders as possible in St. Augustine? The 34th annual Great Chowder Debate will take place from noon to 4 p.m. Sunday, Nov. 5 at The Conch House, 57 Comares Ave. SOriginated by The Conch House in 1984, the event is one of the longest-running chowder championships in the country. Local restaurants compete for the ultimate chowder bragging rights by entering their specialty chowders in one of five categories:  Minorcan conch, Minorcan clam, New England clam, seafood, and non-Seafood.  There is also the People's Choice, voted on by the public so patrons are encouraged to make their vote count. In addition to the delicious chowder, the main goal of the Great Chowder Debate is to help raise money for Big Brothers Big Sisters of St. Johns County (BBBS).  All proceeds go to this local charity. Admission is FREE. Patrons can purchase taste tickets for $1 each. Go to conch-house.com/chowder-debate or call 904-829-8646.
11/11 Gamble Rogers Concert Series
The Gamble Rogers concert series … see their poster on the Calendar starting with 11/11 & 12th the 13th Annual Creekside Festival.  They will be on stage sometime at the annual Art Festival (Francis Field) 11/25 11-5 and 11/26 11/4.  Ticket info www.gamblerogersfest.org.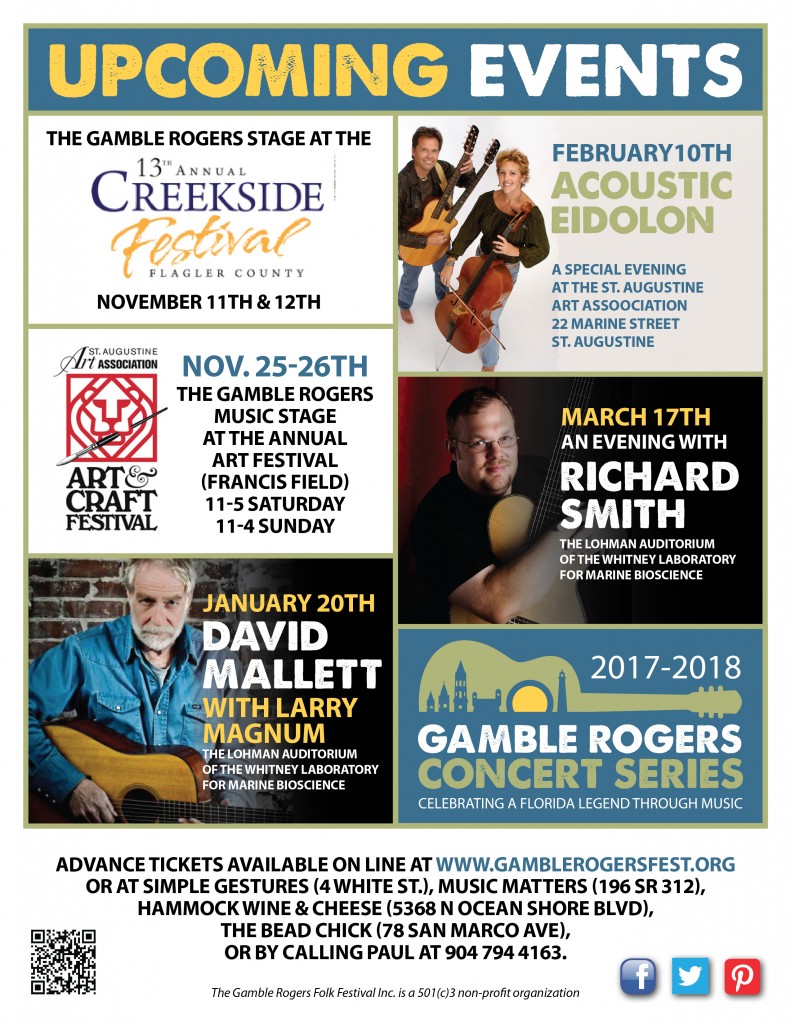 11/16 Silent Auction for FL School for the Deaf & the Blind  6-8pm
Open to the public – TrailMark will be hosting a silent auction to assist FSDB update their braille library.  100% of all donations will go to the school.  Auction items include:  Autographed Magic Johnson Basketball, Alligator Farm tickets, Rounds of Golf, St. Augustine Distillery gift cards & much more!  TrailMark Camp House 805 trailMark Dr, St Augustine 32092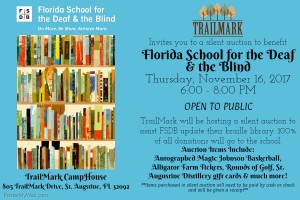 11/17 – 11/19  FLORIDA TINY HOUSE FESTIVAL
The 2nd Annual Florida Tiny House Festival will be held at the St. Johns County Fairgrounds, 5480 State Road 207, in Elkton. There will be a large assortment of tiny houses and micro homes, workshops, presentations, vendors, live entertainment, children's activities, and more. The 2017 Florida Tiny House Festival is a charitable event with proceeds going to charities, non-profits, and the local community. Nov. 17 offers free admission from 5-8 p.m. for everyone, with free admission every day for Active & Retired Military, Law Enforcement, Fire Fighters and EMTs. Half off admission for ages 60 and older. Tickets and camping reservations are all available online at www.unitedtinyhouse.com/shop/ 
11/18 – 1/31 NIGHTS OF LIGHTS
The 23rd Annual Nights of Lights opens on Saturday, Nov. 19 during Light-Up Night, an event that includes live music in the Plaza de la Constitucion, between King Street and Cathedral Place in downtown St. Augustine. The music will begin at 5:30 p.m., and the lighting ceremony will start at 6:30 p.m. Saturday, Nov. 18, 2017. Each year, former St. Augustine mayors gather to flip the switch during Light Up Night. The City of St. Augustine's giant tree in the Plaza is lit first, then all the lights come on surrounding the area. Many families start the holiday season with this tradition — going to dinner downtown and and then watching as the lights are turned on. Nights of Lights, which includes more than 2 million lights on city buildings and businesses, continues through Jan. 31, 2016. Go to nightsoflights.com
11/19 Multi-Consultant LuLaRoe Clothing Boutique  10am-4pm at the Renaissance Resort at WGV
Join us for a LuLaRoe shopping extravaganza! We will have a multi-consultant event.   The ultimate LuLaRoe selections to view and shop with! LuLaRoe is a fashion brand that specializes in women's skirts, dresses and leggings. Its comfortable fashion that is sold online and at home-parties through LuLaRoe Fashion Consultants.  Free admission.  Kid friendly.
11/23 Thanksgiving at the Renaissance Resort – WGV
Buffet from 11am – 3pm.  Reservations are required and are being taken now: 904.940.8696.  Menu listed below … click on the jpeg.   Adult $48, Seniors $38, Child $26 and Children under 4 are FREE.  Served 11am-3pm.  Bring your thankful appetite!  The Carving Station alone includes roasted turkey, pork and seared swordfish!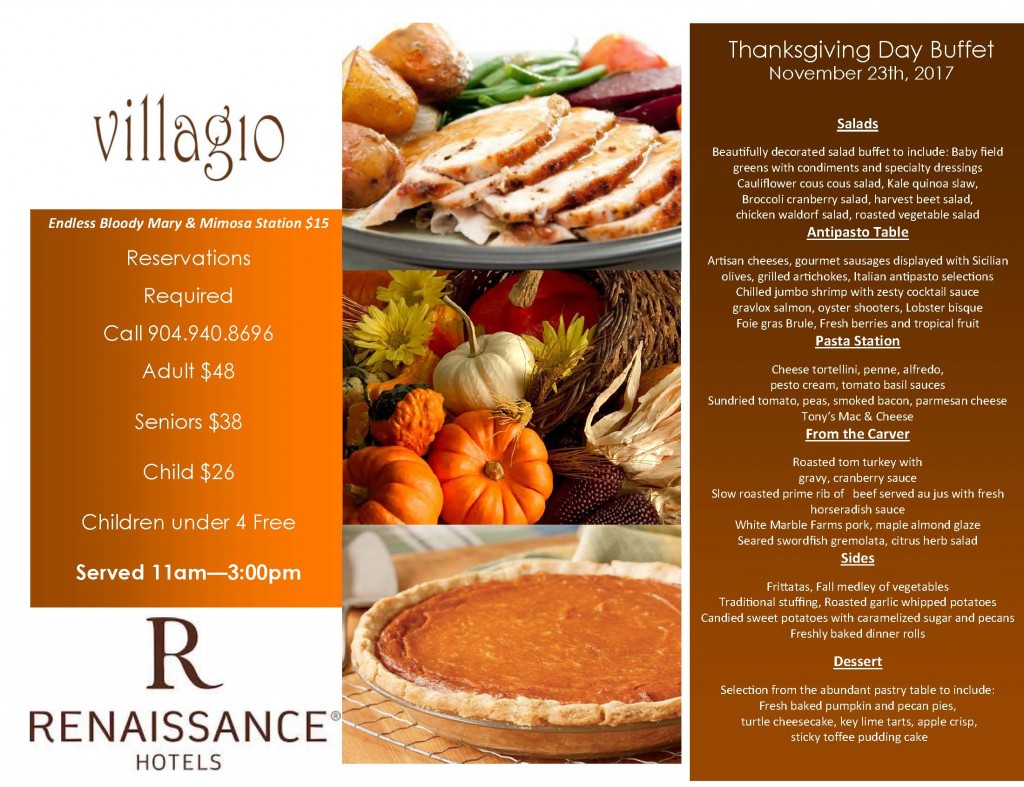 11/25 – 11/26  FALL ART & CRAFT FESTIVAL
The 52nd Annual Fall Art & Craft Festival, hosted by the St. Augustine Art Association on Thanksgiving weekend, features more than 150 artists offering painting, pottery, jewelry, glassware, sculpture, fiber art, photography and mixed media. The even takes place at Francis Field, 29 W. Castillo Drive, downtown St. Augustine. Hours are 10 a.m. to 5 p.m. Saturday, Nov. 25; and 10 a.m. to 4:30 p.m. Sunday, Nov. 26. Go to www.staugustineartfestival.com for more details.
12/9  First Coast Arts & Crafts Fall Show
9am-3pm at the Mark Lance National Guard Armory.  669-5950. This is an annual event with unique vendors, arts and crafts show.  Admission is free.  Food and drink vendors will also be there.  Jewelry, home decor, clothing, candles, artwork and more.    190 San Marco Ave., just north of St. Augustine's historic district.
12/13  EMMA Concerts New Season
10/7 The EMMA concerts new season starts October 7, 2017 and ends on April 7, 2018.
Wed., Dec. 13, 2017 • Holiday Traditions • First Coast Opera Amahl & the Night Visitors
Sat., Jan. 13, 2018 • Gainesville Symphony Orchestra
Sat., Jan. 27, 2018 • Estonian Nat'l Symphony Orchestra
Sat., Feb. 3, 2018 • Mozart Orchestra of New York
Tues., March 13, 2018 • Nat'l Symphony Orchestra of
Sat., April 7, 2018 • Broadway Live!
Information:  www.emmaconcerts.com    Tickets:  https://emmaconcerts.secure.force.com/ticket
And a way to raise funds for EMMA is their EMMA Goes River Cruising!  Melodies of the Danube, April 13-20, 2018.  I have listed the contact and discount info on the Calendar.
~ ~ ~ ~ 2 0 1 8 ~ ~ ~ ~
1/18-21 2018   St Augustine Film Festival – 8th Annual Event Their website is still showing the events from 2017 … they are just announcing the dates for the 2018 event.     Check back as they update their films for 2018  http://www.staugfilmfest.com/
3/3-4 2018  72nd Annual Florida Azalea Festival – Palatka – Free Admission
Celebrate with an early spring with a hometown parade, live music, fod and drink, arts and crafts, and azaleas in bloom.  There's a hometown parade hosted by the Shriners' Club on Saturday on Main Street in Palatka. The parade begins at 10 a.m. Also on Saturday is the Florida Azalea Car Show at Riverfront Park (open throughout the day) and the Miss Florida Azalea Scholarship Pageant at 7 p.m.  This is an outside pet-friendly event.  Click here for their website.
3/16-18 2018  St Augustine Lions Seafood Festival – Francis Field
Seafood, live music, arts and crafts, and more fun activities. Hours: Friday 3pm – 9pm; Saturday 10am – 9pm; Sunday 11am – 5pm  Note: Arts & Crafts Exhibitors Close at Sundown.  No Pets or Coolers on Festival Grounds
4/13-4/20/2018  EMMA Goes Cruising – Fundraiser
There is a fundraising cruise to benefit EMMA: EMMA goes River Cruising! $1,000 Discount! Emma Concert Association is sponsoring "Melodies of the Danube", a river Cruise from Budapest to Vilshofen, Germany, April 13-20, 2018. The cruise is on AMA Waterways Serena, an award winning river cruise line. Until July 31 there is a discount of $1,000 per person, with prices starting at $1,899 per person. For more information contact: Bartimus Travel Group in World Golf Village, (904) 392-1703 or email: LBartimus@CruiseOne.com.
-     -     -     -     – Other news ~~
WEEKLY EVENTS AT CADDYSHACK — starting at 7pm:  Wednesday nights are for  TRIVIA night … can you and your team beat the group that seems to be winning  week after week!?
RENAISSANCE   Check out the  music on  Friday nights.
For Jax events / Time-Union Performing  Arts and more go to this website:  (Look for the Broadwy in  Jacksonville lineup – http://www.jaxevents.com/timesunion.php New  Events posted to their calendar:  http://www.jaxevents.com/events-calendar/
FREE St. Augustine Activities – no charge to St. Johns County Residents (from Floridas Historic Coast): NOTE: St. Johns County  residents with a valid ID are always admitted free of charge to the Oldest  House, the Lightner Museum, the Ximenez-Fatio House, the Oldest Wooden School  House, City Walks History Mystery Murder Evening Tour and the Hotel Ponce de  Leon Legacy Tours at Flagler College. Every Thursday admission to the First Colony Exhibit at the Government House is also free to SJC residents.  The daily tours and wine tastings at the San Sebastian Winery and St. Augustine Distillery are free to everyone. Also, admission is free to everyone at the Fort Matanzas National Monument, St. Photios Chapel, the Pena-Peck House, the Father Miguel O'Reilly Museum and the Mission Nombre de Dios Museum (donations are welcomed).  Many other local attractions offer discounted admissions toSt. Johns County residents with valid ID.