(to get my weekly email updates, email me at carnicel@bellsouth.net)
Try to find the NextDoor blog for our area … very helpful info from neighbors. www.nextdoor.com  
(scroll down for Calendar events and activities – by date)  
Parking information in St. Augustine – PARKNOW card   You may have recently read in The Record about the new St Augustine parking app available for download.  The free parking app is called parkstaug.  The website is the same:  www.parkstaug.com  It is currently not available for the Parking Garage (across from Francis Field).  But look for that integration sometime this year.  Some uses include being able to pay for parking with your phone, receive alerts before a parking session expires and, I like this one, extend a parking session without ever having to return to the vehicle.  Your vehicle is identified by its license plate so you won't need to display a receipt on your vehicle's dashboard.  Parking meters are going away but not the parking pay stations (issues parking stubs) for those without the app.  Sign up for resident discounts at the web link above; you will need to take a photo of your license and car registration so you can upload it when applying for the discount.  ParkNow cards will be phased out gradually to give you time to use any funds you put on your card.
Those who wish to speak to someone directly may call the city's Parking Division at 904-825-1090, Monday through Friday between 8 a.m. and 5 p.m.
Parking  On street parking is available near the Plaza and is free throughout the city after 5:00pm and national holidays and Sundays, except for theCastillo de San Marcos which is enforced seven days a week. Parking is also available in the Historic Downtown Parking Facility map (HDPF), 10 S. Castillo Dr., located at the St. Augustine Visitors Information Center, a 10-minute walk along St. George St. from the Plaza. The cost for parking in the HDPF is $15 per entry or $3 with a ParkNow card info.  And the meters are just .50 vs $2.50! There is a brochure at this ParkNow site with more details.   Always check the websites – policies and fees are subject to changes.
Jaguars schedule … click here.
IMAX at WGV:  –  Click here for show times, and future shows!  Film schedule is subject to change.    Adults $14, Seniors/Students/Military $13, and Children 3-12 $11. Visit the website for show times. One World Golf Place, St. Augustine. 904-940-4123  www.worldgolfimax.com  All shows and times subject to change … call or check website before going.   Movie Club Members get free admission to all documentaries.  Click here to see all the benefits of being a movie club member!  (I highly recommend this!! CC)  Enjoy the privileges of membership including 50% off Hollywood movie admissions, unlimited documentaries, priority seating and special members-only events!  Movie Club Members receive free admission to all documentaries.
Now playing:  Avengers: Endgame  – last showing 5/23 3:15pm You always have documentary choices, i.e., Great Bear Rainforest.  But go to their website for all the days and times, click on Showtimes.  Aladdin Opens 5/23 7pm & 9:45pm;  Coming soon:  Godzilla: King of the Monsters (May);  Dark Phoenix (June); Men in Black: International (June); Toy Story 4 (June); and Spiderman: Far From Home (July). The list may change so be sure to … Go to the website for the current documentaries playing.  
CaddyShack –  Click here for their full menu.  Wednesday night is Trivia Night weekly at the CaddyShack … grab a burger and a brew with your team … have that competitive spirit … want to win?!   And if you are in the Rosemont (Chicago) area … you can also get your CaddyShack fix there!   Golfers … if you are into some fun with your golf attire, Bill Murray's golf apparel line is available … click here to go to the William Murray Golf website.   
Mindy's Massage and Wellness – Wednesday is Senior Discount Day!  10% off all services: Massage, Facial, and Wax.  Must be 60 or older.  Call to schedule an appointment:  904-680-7328  (see 5/16 for a special event – all are invited!)
WGV Golf Specials … Looking for updates on golf info and specials … go to www.golfwgv.com        King & Bear and Slammer & Squire Updates …  either I post here on the Calendar or on the golf tab.  And 2019 Winter/Spring Clinic Series   PGA TOUR Academy WGV … Learn more and contact on website – click here.  
King & Bear and Slammer & Squire updates (2/6) … click here.   (Note:  their restaurants are open to the public — breakfast and lunch combined menu 7am-3pm)
Lightner Museum – click here for visitor times and special events at the beautiful Lightner Museum.  Cafe Alcazar – a must for lunch in the Lightner.  Click here for their Speaker Series – Jan-May 2019.  (Parking is free after 5pm – other than Jan. all speaker series are 5:30pm)
St Augustine Art Association … click here for the 2018— 2019 ExhIbit & Events Calendar
St. Augustine Amphitheatre — www.staugamphitheatre.com website   Now being branded as The AMP.     Every Saturday From 8:30am – 12:30pm!   Free and Open to the Public! And … They now have a Night Market every 2nd and 4th Tuesday from 6-9 pm.    Now being branded as The Amp.     FREE, Family- Friendly Summer Film Series, Returns to The Amp St. Augustine beginning June 2 – August 9   
St Augustine Aquarium … www.ssaaquarium.com Located at 2045 State Rd 16, zip 32084.  Phone: 904-429-9777
Epic Theatres of St Augustine  — Click here for what's playing
First Coast Opera schedule … click here.
Limelight Theatre — click here for events   … check their schedule for more events … Box office: 825-1164
Lightner Museum  "Lightner After Hours"  For more information on Lightner After Hours, visit www.lightnermuseum.org.
Pirate & Treasure Museum — Click here for the museum website.
St Johns County School has posted their Winter/Spring Session — give the gift of lifelong learning … click here to see their schedule. 
St Johns County Parks & Recreation – sigh up here to get on their newsletter.
Ponte Vedra Concert Hall:   check here for concert events http://www.pvconcerthall.com/ Click here to see what's happening at the
The Cultural Center at Ponte Vedra … click here for exhibits, contests, events and more.
World Golf Hall of Fame:  General info — Click here     
St Johns County Golf Course – at 207 off I-95 – click here to see rates, events, about the club in general.
Download the "Reach the Beach" app  For more information on the "Reach the Beach" mobile app, please visit www.sjcfl.us/Beaches, call 904.209.0331, and download the app here.
Florida Agricultural Museum – Palm Coast   http://www.oldfloridamuseum.com/  386-446-7630  Admission, exhibits, wedding events  Farm N Flea on Thursdays 8am to noon
Alhambra Dinner Theater – Jacksonville – this is great fun … food … entertainment! Their impersonator shows are also so good – "After Dark" shows Keep checking their website for what's news.    The 2019 show schedule is now available … click here  to go to the new schedule.   Be sure to click on the After Dark schedule also – lots of "tribute" groups, impersonators.  Great shows.  
The Corazon Cinema and Cafe   Click here for Showtimes, movie prices, menus, schedule and more.  Located at 36 Granada Street, in historic downtown St. Augustine  904-679-5736
2018 St. Johns County Beaches  Visit the Reach the Beach Mobile App or www.sjcfl.us/Beaches for current beach access updates and beach driving conditions.
Alligator Farm discount … St. Johns County residents receive a 50% discount (until February when it goes to 30%) at the St. Augustine Alligator Farm when they show their ID.  They also receive a 20% discount on both the Nile and the Sepik River course at Crocodile Crossing. Check out their newest exhibit Oasis on the Nile. View Egyptian artifacts, replicas of famous antiquities, three impressive Nile crocodiles and the visually stunning Gaboon viper!  2019 Summer Camp info … click here!
~ ~ ~ ~ 2 0 1 9 ~ ~ ~ ~  C A L E N D A R ~  ~  ~  ~ ~  ~ 
Now – thru 6/16 Limited Engagement – Edgar Degas – Lightner Museum
A limited-engagement showing of Edgar Degas: The Private Impressionist is free for museum members or for $5 above the price of museum admission.
Works on Paper by the Artist and His Circle –  little is widely known about the enigmatic artist's life and personality. Featuring over fifty original works by Degas, this event offers  unique insights into Degas' inner world and the opportunity to see rarely exhibited works from the private collection of curator Robert Flynn Johnson.  Click here to learn more, see some photos of his work and to purchase tickets.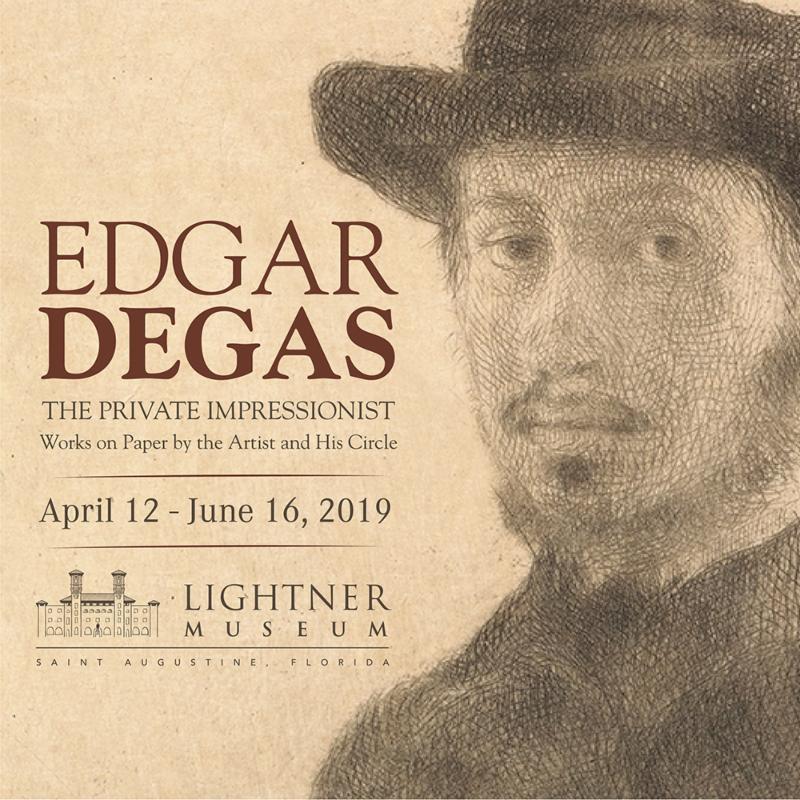 Now – 9/2  Lightner Museum to Participate in Blue Star Museums.
The Lightner Museum will offer free admission to military personnel and their families this summer.  The Lightner Museum announces it will join museums nationwide in participating in the tenth summer of Blue Star Museums, a program which provides free admission to our nation's active-duty military personnel and their families this summer. The 2019 program will begin earlier than in past years, launching on Saturday, May 18, 2019, Armed Forces Day, and ending on Monday, September 2, 2019, Labor Day. Military can find the list of participating museums at www.arts.gov/bluestarmuseums.
The free admission program is available for those currently serving in the United States Military—Army, Navy, Air Force, Marine Corps, Coast Guard as well as members of the Reserves, National Guard, U.S. Public Health Commissioned Corps, NOAA Commissioned Corps, and up to five family members. Qualified members must show a Geneva Convention common access card (CAC), DD Form 1173 ID card (dependent ID), or a DD Form 1173-1 ID card for entrance into a participating Blue Star Museum.  Follow Blue Star Museums on Twitter @NEAarts and @BlueStarFamily, #bluestarmuseums.
5/23-6/1 Memorial Field of Crosses and on 5/26 A Fallen Heroes Military Tribute
Helping Hands of St Johns County in cooperation with Faith Community Church will once again be holding the Fallen Heroes Military Tribute on May 26th at 3pm at the Church grounds at 3450 CR210, St. Johns FL 32259. The Memorial Field of Crosses numbering 356 will be on display from May 23 to June 1st. It will be open from morning to sunset.
The smaller crosses honor the soldiers from Florida who perished in Iraq and Afghanistan and the 8 larger crosses represent all war casualties. These crosses were constructed by youth from the Church of Jesus Christ of Latter Day Saints. Memorial flags donated by Craig Dewhurst WGV State farm Agency will be placed in front of every cross to honor our brave men and women. Each of the crosses has the soldier's picture, name, branch of service, birthplace and day of death. Nevin Cox of Troop 408 with his scouts helped place each cross in. Members of Church of Jesus Christ of Latter Day Saints painted them.  The program will begin at 3PM with invocation by Pastor Wayne Bauer, Honor Guard from San Juan Del Rio Church,  musical presentations, speaker Master Sergeant Herbert Shaw, and the solemn reading and bell chime for each soldiers name, followed by taps by James Steele.
It is a very moving ceremony that began in 2015 at Faith Community and has been traveling throughout the county at many Churches for Memorial and Veterans Day. Admission is free and refreshments will follow the tribute. Seating is available and it is handicap accessible. Please come and walk through the Field of Crosses to honor our soldiers. For more information contact Jacqphil@aol.com
5/24 Renaissance Resort WGV Friday Night Live – Artists
Our weekly Friday Night Live events begin at 5:30pm to 6pm with a complimentary Chef inspired hors d'oeuvre and a complimentary mixologist's choice cocktail served until 6:00pm.  Join your neighbors …  have fun just listening or get up and dance!!  Have fun with those line dances too (even the Electric Slide!) We have live entertainment from 6:00pm – 8:00pm Friday evenings.
Our local entertainment artists for May and June 2019 are:
—–>5/24/2019   PIERRE KENDRICK will be in the house!
5/31/2019            CLAY BENJAMIN
6/7/2019             CLAY BENJAMIN
6/14/2019            BILLY BUCHANAN
6/21/2019            TBA
6/28/2019            TBA
5/24  Palencia Friday Night Events  5:30 – 8:30pm
At 701 Market Street zip 32095.   Open to the Public.  Come out to Palencia's Market Street area on Friday nights and enjoy music, food trucks, kid's activities, Market Street businesses such as local farms, artisans and a variety of vendors.
5/25 Uptown Saturday Nights – Every Last Saturday  5-8pm
Uptown Saturday Night is the perfect event for fashionistas, art lovers and antique shoppers from  5-8 p.m. on the last Saturday of each month. Uptown Saturday Night takes place year-round and combines a festive party atmosphere with hospitality and special deals in the unique shops on St. Augustine's San Marco Avenue, concentrated between Ripley's Museum and the Mission Nombre de Dios. Many participating shops also serve refreshments . The Mission Nombre de Dios provides free parking most months.
5/24-5/26 Palatka Blue Crab Festival
Food Trucks – Blue Crab – Dessert Carnival – Games – Arts & Crafts Farmer's Market – Ski Show – Sea Plane Rides – Fireworks – Beer – Wine and Two Music Stages … visit their website for full schedule of events … http://bluecrabfestivalpalatka.com/ 

5/24 – 5/26 Jacksonville Home & Patio Show
Jacksonville Fairgrounds – Expo Center 510 Fairground Pl, Jacksonville, FL 32202
Parking & General Information  FREE Parking at the Jacksonville Fairgrounds
Admission Price Adults $3  Children Under 18 FREE
Parking FREE     Click here to go to their website.
5/30 – 8/29 Free Concerts in the Plaza for 2019 – Thursdays – 7-9pm
5/30, 6/6, 6/13, 6/20, 6/27, 7/4*, 7/11, 7/18, 7/25, 8/1, 8/8, 8/15, 8/22, 8/29
Concerts in the Plaza returns for its 29th season, offering free summer concerts every Thursday from Memorial Day to Labor Day. Local and regional musicians perform in the gazebo of St. Augustine's historic Plaza de la Constitución.  May 30th to August 29th. Bring your beach chairs or blankets and even a cooler (no alcoholic beverages) and a picnic basket.  Performers to be announced soon!
*Note:  The July 4th  plaza concert start time may vary depending on the agenda for the 4th of July fireworks events in the Ancient City; the All Star Orchestra will perform.
The series includes two-hour concerts held every Thursday at 7:00pm starting on May 30 and continuing through August 29 with a special performance on July 4 beginning at 6:00pm. View the whole lineup below:
May 30 The Driftwoods   Bluegrass and Beyond
June 6 The Raisin Cake Orchestra   New Orleans Jazz
June 13 The Grapes of Roth Classic Rock
June 20 The Mike Hart Band Blues,/Rock/Jazz
June 27 Timberwood  Acoustic Folk Rock
  * July 4 All Star Orchestra 6pm-8pm Big Band with a Patriotic Flair
     Fireworks Over The Matanzas @ 9:30p
July 11 Bob Patterson's  Friends of Mine Band  Classic Folk Music
July 18 The Sandals Band  Soul, R&B, Beach Music
July 25 The Session  Old School Swing
August 1 Innocent Bystanders  Classic Rock
August 8 Big Pineapple Hawaiian Jazz
August 15 The Ancient City Slickers  Old-Time Americana
August 22 The Dunehoppers  Folk, Old-Time, Bluegrass
August 29 Lonesome Bert & The Skinny Lizards  Folk, Bluegrass, Jugband
5/29 Wine Wednesday — Renaissance Resort World Golf Village
Join us every Wednesday evening in our Villagio Lounge from 5:30pm – 6:30pm for complimentary wine and hors d'oeuvre tasting.  Sample red and white wines from around the world and savor a chef inspired appetizer to complement the wines.
5/29 Weekly –  St. Johns County Pier Park – Wednesday Pier Farmers Market
Farmer's Market located at the ocean side  –  Over 70 vendors on hand with locally grown produce (some organics), baked goods, honey, nuts arts & crafts, jewelry, soaps & lotions, art, clothing and much more! Open 8 a.m. – 12:00 p.m. rain or shine. 350 A1A Beach Blvd., St. Augustine Beach. (904) 315-0952  If you are interested in being a vendor or want more info … Click here.   And click on the Food Artisans and Community Artists tabs to see who will be there.
5/29 next Free Music by the Sea Concerts for 2019 – Wednesdays – 7pm (optional dinners available starting at 6pm)   Thru to 9/11
This is the 17th Anniversary Season of Music by the Sea. The concerts are fun for the whole family.  Located at the St Johns County Pier Park.  The series offers a wide variety of music including jazz, blues, classic rock, pop, reggae, disco, and country. In addition to the great music each week one of our community's great local eateries serve and optional dinner always priced at $10 or less! Dinner service begins at 6 PM with the free concert starting at 7 PM.  The schedule is subject to change, but you can always check the St Augustine Beach Civic Association website, click here.   The website also provides parking and shuttle information.  Bring your beach chairs or blankets and even a cooler* and a picnic basket.  *Wine and beer are allowed as long as you are of legal age (was advised by the SABCA that it is an ordinance in St Augustine Beach).
Please remember that parking is always a challenge at the Pier so please consider using our Park, Shuttle and Dance program. Bill McClure is again providing a shuttle to make getting to our concerts easier. Just park at Ron Parker Park or at St Augustine Beach City Hall and hop aboard. The shuttle begins running at 5:45 pm and will take you to and from the show. For more information on the venue, shuttle program and the rest of the schedule, please visit our website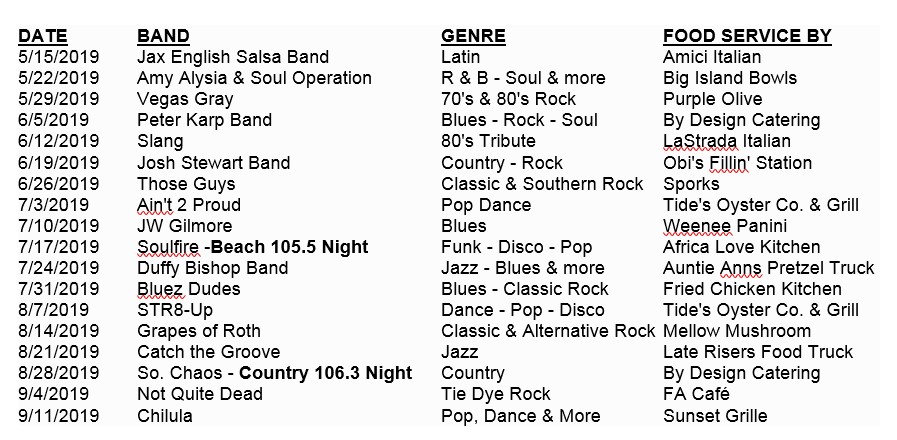 6/1 Palencia's Street Festival – Market St – USO Fundraiser – Open to the Public

Come join the Palencia residents in our fundraiser for the USO. It will be a Festival filled with fun, food, friends and everything under the sun.
We will have a Live Band on stage, Vendors, Artisans, The Stunt Jump, Feel the Wheels with Tractors from AgPro, Smokey the Bear, a Ping Pong helicopter drop, Children's activities and more!  Donations are welcome. All proceeds go to the USO.
If you are interested in being a vendor or sponsor, please contact Erin.Gunia@fsresidential.com
6/6  14th Annual Taste of Golf – TPC Sawgrass Clubhouse
6:30pm-10:00pm  Tickets $125  This elegant event is limited to 600 guests and sells out annually.  Click here for tickets and details. The event, now in its 14th year, serves as the largest fundraiser and 'friend-raiser' for The First Tee of North Florida. Each year, the best club and resort chefs are selected to participate in this evening of elegant decor, live music, a silent auction… and, of course, great food!  110 Championship Way, Ponte Vedra, FL 32082
6/6 Orientation / Summer Reading and Math Volunteer Opportunities
"There are students who can greatly benefit from the help of those willing to give just a small amount of their time," said Cheryl Freeman, RSVP director.  Hours are flexible, and even if you are traveling this summer you can help out while you are in town.
Minimum Volunteer Time Requested:   2 hours, once per week (less if needed, more if available).  Program days for both Reading or Algebra are Monday – Friday, 8 a.m. – 12 noon
Orientation for reading volunteers is Thursday, June 6 from 10:30 a.m. – noon at the Fullerwood Auditorium, 10 Hildreth Drive, St. Augustine, FL 32084.  Orientation for algebra volunteers is Monday, June 24 from 11 a.m. – noon at St. Augustine High School, 3205 Varella Avenue, St. Augustine, FL 32084.
Summer Reading Program – Grades 1-3
Program Dates:  June 10 – July 12, excluding July 4
Locations:      Crookshank Elementary, Otis Mason Elementary, Timberlin Creek Elementary, Valley Ridge Academy, Palencia Elementary, South Woods Elementary, R B Hunt Elementary
Summer Algebra Program – Grades 8th, 9th or 10th
Program Dates:  July 8 – July 23
Locations:           High Schools (except St. Johns Technical)
To make a training reservation or for more information, contact RSVP at (904) 547-3952 orCheryl.Freeman@stjohns.k12.fl.us.
6/7 & 6/8   OLGC Boutique on Church Rd (off Pacetti Rd – 4 mi from K&B)
See what's new at the OLGC… new items monthly.  Stop in and buy a few items or bring a few items to donate.  Either way it is such a nice experience visiting this very old and unique church turned boutique that is a resale clothing and home goods store that directly benefits the many ministries of Our Lady of Good Counsel Catholic Church.  Click here to go to their Facebook page.  All are welcome!  Come shop!   First Friday & Saturday monthly.  9am-3pm
6/7, 7/5   First Friday Art Walk  1st Friday of the Month
On the first Friday of each month, enjoy the latest exhibits, music, entertainment and refreshments at more than 20 St. Augustine art galleries. Park for free at the San Sebastian Winery, 157 King Street, where sightseeing trains and trolleys offer  free round-trips to the heart of the art district – or go on your own self-guided art walk. Galleries are open from 5 to 9pm. Free to the public. Don't forget to check out 233 West King for the featured artist of the month!  For info: 904.829.0065 |www.artgalleriesofstaugustine.com
6/7, 7/5   Art Walk Off the Beaten Path – 6-9 pm – Vilano Beach – First Friday Monthly 
6/9  Bride to Be & Wedding Expo – Renaissance WGV   11am-2pm
Save the Date! You're invited Sunday June 9th from 11-2pm at the Renaissance Hotel in World Golf Village for our Bride to Be & Wedding Expo Presented by Jacksonville Business Connections.  Purchase tickets via Eventbrite, click here.
-Indoor event with over 40 Exhibitors
-$5 General Admission Tickets (12-2pm)
-$12 VIP Ticket: Exclusive one hour previewing & Free swag bags
-Promotional bags to first 100 tickets purchased
-Lots of vendor giveaways
-Complimentary Bride to Be & Wedding Expo Exhibitors Booklet
6/12, 7/10, 8/14, 9/11  Farmer's Market at World Golf Village
4-7pm – Wednesday's – Located in the World Golf Village – between the Slammer & Squire Clubhouse and the IMAX and World Golf Hall of Fame.  You can find them on Facebook – Jacksonville Business Connections.  (At the Farmers Market at WGV this Wednesday May 8th … free Winnie the Pooh Meeting & Greet.  5-5:30pm and 6-6:30pm)
6/20 – 6/22 and 6/27-6/29  St Augustine Music Festival
The largest, free classical music festival in the U.S., the St. Augustine Musical Festival includes six evenings of world-class music in the Cathedral Basilica, 38 Cathedral Place, downtown St. Augustine. See more details at www.StAugustineMusicFestival.org There is a video at this site so you can listen … beautiful music beautiful Cathedral.
Dates and times:   6/20, 6/21 and 6/22 7:30-9pm;  6/27, 6/28 and 6/29 7:30-9pm.
6/22 & 6/23 Watermelon Fest – Clay County Fairgrounds
Family fun and festivities … Art & Crafts … Ice Cold Watermelon … Free Water Slide  Free Bounce Houses … Delicious Food …Live Entertainment … Free Petting Farm … sooooo much more.  Click here for all the fun details! Lots of fun photos shown from last events!  Address:  2497 State Road 16 W., Green Cove Springs, FL 32043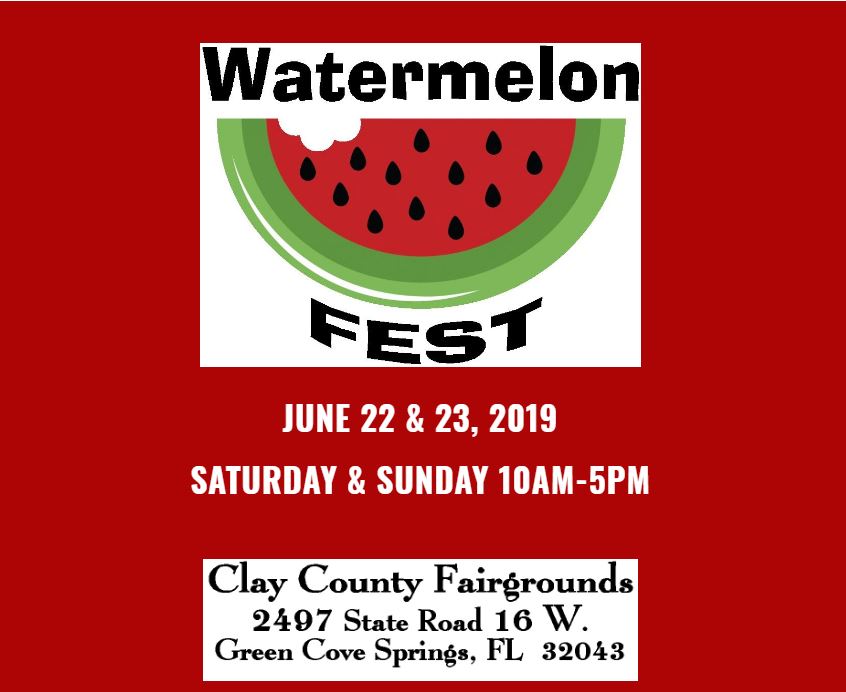 6/29 Block Party – WGV – 10am-1pm – near the Hall of Fame
This community event will be around the Walk of Champions near the Hall of Fame in the World Golf Village.  There will be food vendors, bounce house, kids activities.  Dj party, character meet & greets (Minion, Baymax, Pikachu), vendors, kids zone play area …  Free admission.
Jacksonville Business Connections invites you to our Block Party Community Event June 29 from 10am-1pm at the Hall of Fame at the World Golf Village.
Dj Dance Party
Free hot dogs (while supplies last) sponsored by Reverb.Church
Kids Zone Bounce Area – $15 unlimited bounce play
Character Meet & Greets – Minion, Baymax, Pikachu
Food & Local Vendors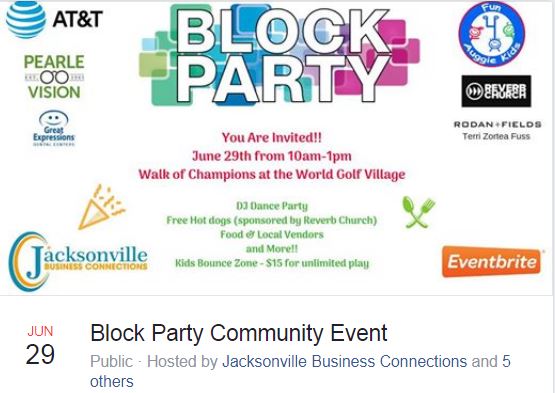 7/3  Sorry to report there will be no fireworks at the WGV anymore.  
7/4  Fireworks Over The Matanzas Bay in the Ancient City
Festivities begin from 6-8pm with patriotic big band music at the Gazebo – Plaza de la Consitutcion by the All Star Orchestra.  Fireworks start at 9:30pm.   A 20-minute display with patriotic music on a sound system on the Bayfront between Castillo de San Marcos National Monument and the Bridge of Lions. But don't wait until then to get into the city.  To avoid traffic get to the city earlier in the day and enjoy this great city.   And bring your appetite.  So many restaurants, ice cream, french fries, pizza, eclectic and fine dining.  And visit some of the local attractions.  Just walking through the City and through St George St is so entertaining.  Free parking in the city-owned lots and on street.  The Parking Facility is $3 with ParkNow card or $15 per car, per entry.
7/13 6th Annual Summer Craft & Vendor Event/Renaissance WGV 10am-4pm
Craft & Vendor Event featuring 150 vendors and crafters at the Renaissance World Golf Village Resort Nov 17th from 10am-4pm.  Free general admission.
– Free to the public & Indoor event
– First 50 guests receive FREE swag bags!
– Kid friendly event – Character Meet & Greets To Be Announced
– Charity raffle
8/3, 9/7, 10/5 Farmer's Market at St Augustine Outlets 10-1pm
Farmer's Market at St Augustine Premium Outlet Mall, outdoor parking lot.  The first Saturday of the month.  Come shop farm fresh, homemade and handmade goods. We will also feature food trucks, kid-friendly fun and local vendors.  This will be located by the (indoor) outlets on the east side of I-95, south end of the lot, across where they are building the Harley Davidson building.
8/24   Holistic Living & Healing Expo  11am-3pm Renaissance Resort WGV
Attend this event and experience the latest natural approaches to nutrition, fitness, creative expression, personal growth, sustainable living, and more!  Free to the public –  Indoor event
First 50 guests receive FREE swag bags.  Make a purchase with any vendor and bring your receipt to the Jacksonville Business Connections table in the lobby for a FREE re-usable bag!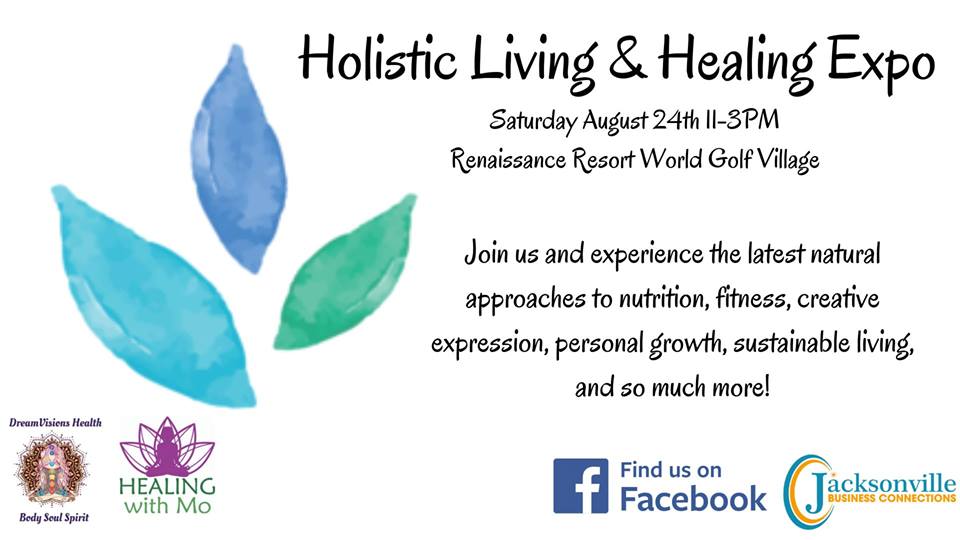 11/7 Craft & Vendor Event – Renaissance WGV  10am-4pm
Craft & Vendor Event featuring 150 vendors and crafters at the Renaissance World Golf Village Resort Nov 17th from 10am-4pm.
– Free to the public & Indoor event
– First 50 guests receive FREE swag bags!
– Kid friendly event – Character Meet & Greets To Be Announced
– Charity raffle
11/20/19 to 4/26/20 Broadway in Jacksonville – 20/19-20/20 Season
The 2019/2020 Broadway in Jacksonville presented by FSCJ Artist Series has been announced.  Click here to go to a page where you can order tickets or learn more.  5 show package starts at $250.
2019:   11/20 – 12/1 2019 Wicked
2020:
1/14-19 Rent / 20th Anniversary Tour
2/18-23 Bandstand
3/17-29 Hamilton (subscription week 3/17-22)
4/21-26 Anastasia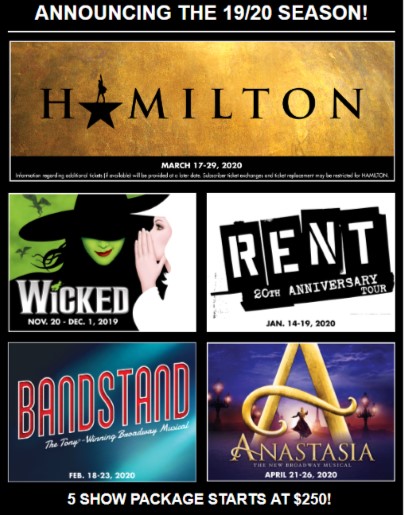 12/7 Holiday Golf Cart Parade – World Golf Hall of Fame
Jacksonville Business Connections invites you to enjoy our Holiday Golf Cart Parade during our A December to Remember Holiday Party! at the Hall of Fame at the World Golf Village.
Win a prize for best golf cart design! More details and sign up to come! Vendors, Food, Kids Zone, Music, Character meet & greets
Register your golf cart for our Holiday Golf Cart Parade – https://www.jacksonvillebusinessconnections.com/golfcart-parades
–     –     –     –     – Other news ~~
WEEKLY EVENTS AT CADDYSHACK — starting at 7pm:  Wednesday nights are for  TRIVIA night … can you and your team beat the group that seems to be winning  week after week!?
RENAISSANCE   Check out the  music on  Friday nights.
For Jax events / Time-Union Performing  Arts and more go to this website:  (Look for the Broadwy in  Jacksonville lineup – http://www.jaxevents.com/timesunion.php New  Events posted to their calendar:  http://www.jaxevents.com/events-calendar/
Lightner Museum – New admission tickets beginning February 19, 2018 — Please note:  St. Johns County residents and Flagler students will be free every Sunday with a valid I.D.  Flagler students will be free with a note from a professor during other days of the week.  (Not everyday like previous was the case) 
General Admission  |  $15
Senior  |  $12
College  |  $12
Active Military  |  $12
12 – 17 Year Olds  |  $8
11 and younger  |  Free
FREE St. Augustine Activities – no charge to St. Johns County Residents (from Floridas Historic Coast): NOTE: St. Johns County  residents with a valid ID are always admitted free of charge to the Oldest  House, the Ximenez-Fatio House, the Oldest Wooden School  House, City Walks History Mystery Murder Evening Tour and the Hotel Ponce de  Leon Legacy Tours at Flagler College. Every Thursday admission to the First Colony Exhibit at the Government House is also free to SJC residents.  The daily tours and wine tastings at the San Sebastian Winery and St. Augustine Distillery are free to everyone. Also, admission is free to everyone at the Fort Matanzas National Monument, St. Photios Chapel, the Pena-Peck House, the Father Miguel O'Reilly Museum and the Mission Nombre de Dios Museum (donations are welcomed).  Many other local attractions offer discounted admissions toSt. Johns County residents with valid ID.