Click here for links to recent emails!
SCROLL DOWN A BIT TO GET TO THE CALENDAR OF EVENTS …  
ALL  DATES ARE SUBJECT TO CHANGE … I AM NOT ALWAYS NOTIFIED OF THE CHANGES … WHEN IN DOUBT CLICK ON THE LINK OR FIND THEM ON FACEBOOK (especially when there is inclement weather).
To get my weekly email updates, email me at carnicel@bellsouth.net
Try to find the NextDoor blog for our area … very helpful info from neighbors. www.nextdoor.com  
(scroll down for Calendar events and activities – by date)  
PARKING in St Augustine – the Ancient City … how you can get the best deal!  Click here to go to the City of St Augustine official website.
Parking  On street parking is available near the Plaza and is free throughout the city after 5:00pm and national holidays and Sundays, except for the Castillo de San Marcos which is enforced seven days a week. Parking is also available in the Historic Downtown Parking Facility map (HDPF), 10 S. Castillo Dr., located at the St. Augustine Visitors Information Center, a 10-minute walk along St. George St. from the Plaza. The cost for parking in the HDPF is $15 per entry or $3 with the ParkNow app.  And the meters are just .50 vs $2.50! There is a brochure at this ParkNow site with more details.   Always check the websites – policies and fees are subject to changes.    Parking tips, click here.
ParkStAug  For St. Johns County residents, the ParkStAug app will honor a resident discount automatically, once you register online at ParkStAug. You will be asked to provide proof of residency, and within 14 business days (or less), the resident discount will be applied to your account when you log in to the app and use it to pay to park.
IMAX at WGV: OPEN  –  Click here for show times, and future shows!  Film schedule is subject to change.    Click here for more pricing info:  Adults $14, Seniors/Students/Military $13, and Children 3-12 $11. Visit the website for show times. One World Golf Place, St. Augustine. 904-940-4123  www.worldgolfimax.com  All shows and times subject to change … call or check website before going.   Movie Club Members get free admission to all documentaries.  Click here to see all the benefits of being a movie club member!  (I highly recommend this!! CC)  Enjoy the privileges of membership including 50% off Hollywood movie admissions, unlimited documentaries, priority seating and special members-only events!  All are subject to change … always go to the website for latest pricing, shows, etc. Click here for updates – this will have the most up-to-date information on hours, COVID policies, etc.
IMAX WGV: Now Playing … Spider-Man: No Way Home – last showing 1/13 (3 & 7pm) … Next up … Opening Friday, January 21 at 3:30 & 7pm: NO TIME TO DIE: THE IMAX EXPERIENCE   No Time to Die is the first 007 film to shoot with IMAX cameras. In No Time to Die, Bond has left active service and is enjoying a tranquil life in Jamaica. His peace is short-lived when his old friend Felix Leiter from the CIA turns up asking for help. The mission to rescue a kidnapped scientist turns out to be far more treacherous than expected, leading Bond onto the trail of a mysterious villain armed with dangerous new technology.
And check the IMAX WGV calendar, in between on each date you will find different documentaries — a new documentary premiered 1/14: The Arctic: Our Last Great Wilderness (free with your membership – you can be there all day!). Click here for showtimes and tickets. New movies planned: Moonfall – February; death on the Nile – February; Unchartered – February; The Batman – March. But always check back on their website for new or changing schedules.
World Golf Hall of Fame is open   Click here for the World Golf Hall of Fame website.
CaddyShack –  OPEN dine in/take out … following all guidelines for your safety and safety of their employees.  If you are in the Rosemont (Chicago) area … you can also get your CaddyShack fix there!   Golfers … if you are into some fun with your golf attire, Bill Murray's golf apparel line is available … click here to go to the William Murray Golf website.     
K9s For Warriors organization – This is the website … https://www.k9sforwarriors.org/
Beach access in St Johns County – if you plan to head to the beach, here is a link from the St Johns County Government website … click here.    This site has great info, including maps, for the beaches in St Johns County.  There is also a Reach the Beach Mobile App or website link, interactive map or PDF map of the beach access points and beach access updates.
Ancient City emails … If you would like to keep up with news from the Ancient City, go to their website: https://www.citystaug.com/
Sea Love Fishing Charters … have some family fun, fishing and a great boat ride … here is their website:  https://sealovefishing.com/
More news from Florida's Historic Coast … click here to see the 42 Free & Budget-Friendly Things To Do In St Augustine.   This website will not only provide the list but a brief description of each.  This is a great bucket list for locals and tourist visiting the Ancient City!
St Johns County Libraries Extend Hours and Open Meeting Rooms to the Public   For more information on the extended hours, or to find the meeting room policy and application packet, please visit www.sjcpls.org.    And click here to see all the special events at the St Johns County Public Library System … and there are lots!  Click here to see many of the upcoming event,
World Golf Hall of Fame Induction – Class of 2022 click here.    
PGA Tour  Learn more and contact on website – https://www.worldgolfvillage.com/pga-tour-academy/  
The First Tee ... WGV … what's happening … click here.
Emma Concerts – EMMA CONCERTS … With a brighter 2021 on the horizon, EMMA Concert Association is excited to announce their 43rd Concert Season! An updated website and ticket info is forthcoming. Proposed 2021-2022 schedule:
– Philharmonix (The Vienna Berlin Music Club) on January 30, 2022
– Vienna Boys' Choir on February 5, 2022
– Russian National Orchestra on February 12, 2022
– Siberian Virtuosi on March 19, 2022
Colonial Oak Music Park … click here …  off St George Street – country shows, comedy shows, all kinds of music and events … there's something for everyone.
A Classic Theatre … click here for upcoming shows 2021/2022 Season
Jax Business Connections – bringing wonderful fun events to the WGV … click here to see them all.  Note:  Many are being cancelled as we get closer to the dates … so be aware.  Lots of fun events
Lightner Museum  – click here for visitor times and special events at the beautiful Lightner Museum.  Cafe Alcazar – a must for lunch in the Lightner.  Lightner Museum  "Lightner After Hours"  For more information on Lightner After Hours, visit www.lightnermuseum.org.   Free on Sundays for St Johns County Residents.   Lightner Museum – $25 annual membership pass for St Johns County – the Membership page shows all levels, click here.
St Augustine Art Association … Now thru 8/28 St Augustine Art Association – Soak Up The Summer Art Sale
St. Augustine Amphitheatre — website   Now being branded as The AMP.    Farmers Market – Every Saturday From 8:30am – 12:30pm!   Free and Open to the Public! And …    The Night Market is currently postponed.  
St Augustine Aquarium … Located at 2045 State Rd 16, zip 32084.  Phone: 904-429-9777   Click here.
City of St Augustine Beach Events … click here. 
Epic Theatres of St Augustine  — Click here to find out what's playing, dates and showtimes!       Open Christmas Eve and Christmas Day
First Coast Opera schedule … click here.
Limelight Theatre — The 2022 schedule for the Limelight Theatre – click here for shows, dates, times, tickets, etc.  Box office: 825-1164    Jan 14 – Feb 6/2022  – A SHAYNA MAIDEL – click here for tickets and details for this show.
Pirate & Treasure Museum — Click here for the museum website.
St Johns County School has posted their Winter/Spring Session — give the gift of lifelong learning … click here to see their schedule. 
St Johns County Parks & Recreation – sigh up here to get on their newsletter.
St Johns County Beach Access and Parking – Listing of all the Beaches
With over 40 miles of scenic coastline, St. Johns County beaches offer some of the best recreational and wildlife viewing opportunities in the beautiful State of Florida. Learn about our many beachfront parks that provide easy access to our beaches here. To get on the mailing list from St Johns County Parks and Recreation …. email to … sjcparksandrec@sjcfl.us
Ponte Vedra Concert Hall:   check here for concert events http://www.pvconcerthall.com/ Click here to see what's happening at the
First Coast Cultural Center (was known as The Cultural Center at Ponte Vedra Beach) exhibits, contests, events and more.  Virtual Art & Music Classes and more!  … adult and children. Click here then select the program you may be interested in to see the details.
St Johns County Golf Course – at 207 off I-95 – click here to see rates, events, about the club in general.
Classic Car Museum of St. Augustine – 3rd Saturday of the Month – 5-7pm  Enjoy classic cars, music and door prizes each month at the St. Augustine Classic Car Cruise-in.
Pop Up Market at Vilano Beach The third Saturday of the month from 10 a.m. to 3 p.m.
YMCA at Murabella website https://fcymca.org/
Download the "Reach the Beach" app  For more information on the "Reach the Beach" mobile app, please visit www.sjcfl.us/Beaches, call 904.209.0331, and download the app here.
Florida Agricultural Museum – Palm Coast   http://www.oldfloridamuseum.com/  386-446-7630  Admission, exhibits, wedding events  Farm N Flea on Thursdays 8am to noon
Ximenez-Fatio Museum … https://www.ximenezfatiohouse.org/
Want St Johns County Park info, i.e., beach pavilions, youth programs, workshops, adult activities, beach passes, etc. click here.
FSJC / Artist Series … lots of great events coming up … click here. … check it out … lots of great shows!
Alhambra Dinner Theater – Jacksonville – this is great fun … food … entertainment! Their impersonator shows are also so good – "After Dark" shows Keep checking their website for what's news.  Be sure to click on the After Dark schedule also – lots of "tribute" groups, impersonators (three were scheduled, all three are sold out! sign up quickly  when you see it)  2022 schedule below.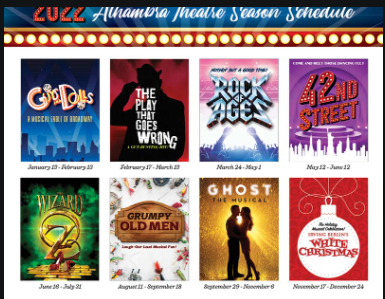 Music series … these sellout fast!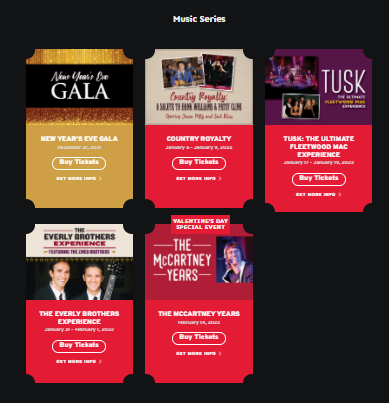 The Corazon Cinema and Cafe   Click here for Showtimes, movie prices, menus, schedule and more.  Located at 36 Granada Street, in historic downtown St. Augustine  904-679-5736   Virtual Movies right now.
Coconut Barrel … click here for details, events, dates and times.  Artisan vendors, certain dates for farmers market and other special fun events and dates.  Regular hours:  904.484.8729  Tues – Sat 10am – 6pm; Sun 12pm – 5pm; CLOSED MONDAY  3175 US Hwy 1 S. St. Augustine, FL 32086 … Farmers Market every Thursday 5-8pm
Cinemark Durbin Park and XD –   click here for general movie info  
Snake help Brian Garofalo – he lives in St Johns Forest 904 834 1084 text or call and he will be out the door withinn 5 min and on his way to help both you and the snake to protect wildlife and help his neighbors.  Popular on NextDoor helping neighbors, he said I could post his contact info.  There are others also noted on NextDoor.
St. Johns County Beaches  Visit the Reach the Beach Mobile App or click here for current beach access updates and beach driving conditions.
St. Johns County Beach Driving Passes are now on sale and make great stocking stuffers for the holiday season. St. Johns County resident passes are $50, non-resident passes are $100, and handicap passes are $40. Passes will be available for purchase during normal business hours at numerous locations through March 1, 2022. http://www.sjcfl.us/Beaches/Passes.aspx
Alligator Farm  Website – click here.
Gamble Rogers 2021 coming soon Concert Series –   www.gamblereogersfest.org 
St. Augustine Wild Reserve –  www.staugustinewildreserve.org
Womans Exchange … website:  https://penapeckhouse.com/
~ ~  ~ 2 0 2 2 ~ ~ ~   C A L E N D A R ~  ~  ~  C A L E N D A R ~ ~  ~
Dates and Events are always subject to change without notice.
Now – 1/21 St. Augustine Lighthouse & Maritime Museum – Holiday Illuminations Events
Our 1st Annual Lighthouse Illuminations event is selling out quickly! Don't miss your chance to visit the Museum during this winter season of Tides, Tidings, and Trees. For an extraordinary experience, purchase after-hours Lighthouse Illumination tickets to enjoy seasonally decorated grounds and discover 21 uniquely decorated trees, each with a distinct theme. Purchase your tickets now by clicking here. ($19.95 Adult; $17.95 12 and under)
Now – 1/31 Nights of Lights in the Ancient City – The festival typically kicks off with Light-Up! Night on November 20. Everything you need to know … click here.
Ancient City emails … If you would like to keep up with news from the Ancient City, go to their website: https://www.citystaug.com/
Now – 3/7 'Faces of the Alcazar' at Lightner Museum
The exhibit at the Lightner Museum offers a glimpse of life at Henry Flagler's Alcazar Hotel. It includes large-format photos and documents clippings from early 20th-century motion picture magazines that the Alcazar staff who lived and worked at the hotel pasted to the walls of the staff quarters. The exhibit take place until March 7.
Lightner Museum is at 75 King St., St. Augustine. For information, call 904-824-2874 or visit lightnermuseum.org for this and other events and exhibits.
Now – World Golf Hall of Fame – Special Exhibit on Display now – Explore artifacts and memorabilia from the life and careers of: Susie Maxwell Berning, Tim Finchem, Marion Hollins and Tiger Woods. Click here to read more about the 2022 Inductees.   Bonus!  Any Saint Johns resident gets 30% off their admission ticket also.
2022 Induction Ceremony – The Induction Ceremony for the World Golf Hall of Fame Class of 2022 will be held on Wednesday, March 9 in Ponte Vedra, Florida, the week of THE PLAYERS Championship. Press Release Tickets are currently not available to the public. If tickets do become available, information will be posted on this page.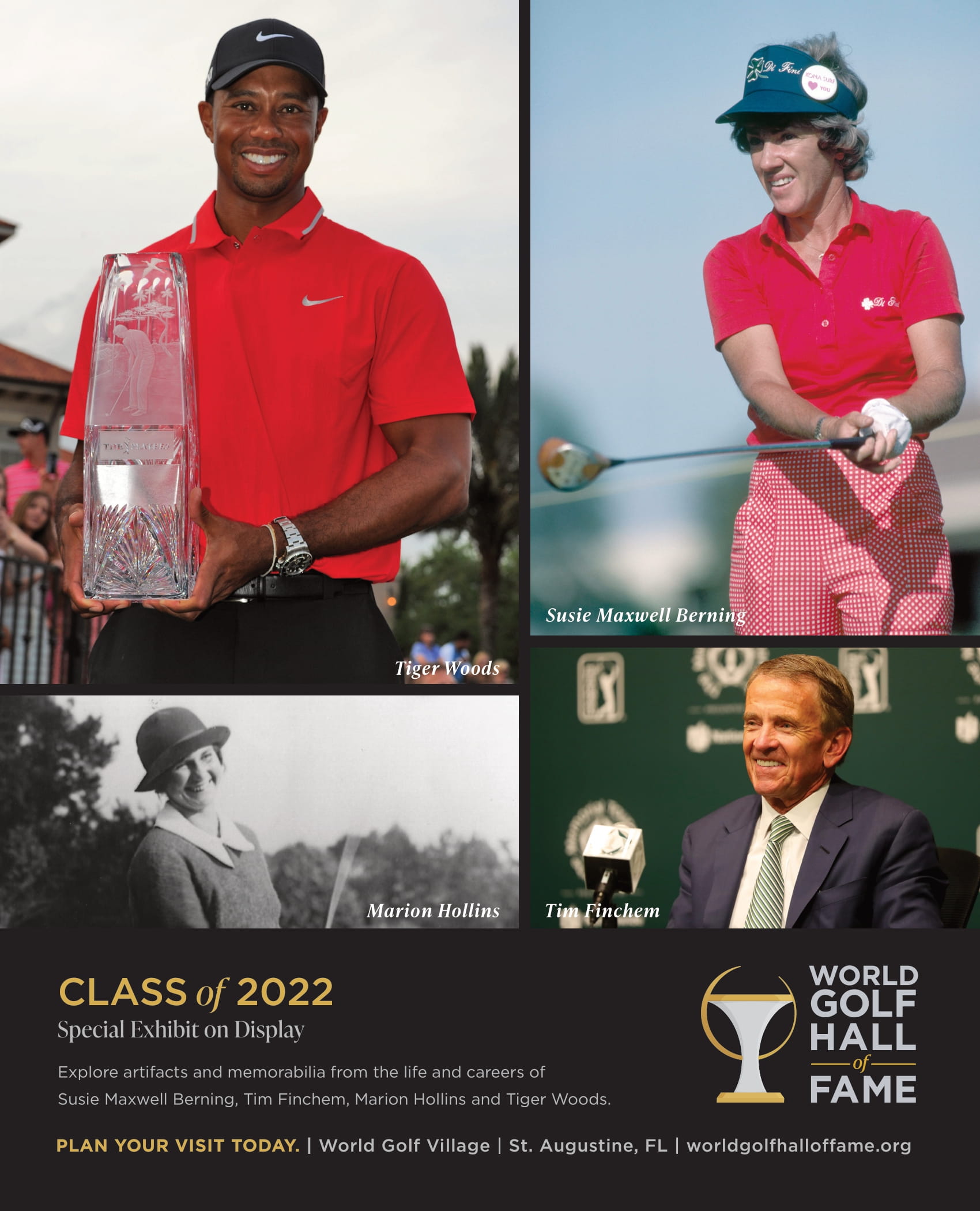 1/18 * 1/20 – 1/23 13th Annual St Augustine Film Festival
It's the mission of the film festival to provide a rich, cultural experience to audiences that offers fresh insight into different cultures through the amazing work of independent and foreign filmmakers. Enjoy great storytelling and more than 50 independent films during this annual event. Screenings take place in Lewis Auditorium and the Gamache-Koger Theatre at Flagler College, and the Alcazar Room at St. Augustine City Hall. Often, the filmmakers show up and introduce their films or talk about their work.
*ALL ACCESS PASSES $150 / Jan 18-23 (includes boat tour, open night event at Lightner, admission to all films at all venues and screenings, party at Colonial Quarter)
or
ALL FILM PASSES $90 / Jan 21-23 (access to all venues and films, screenings)
Click here for more information including ticket purchases.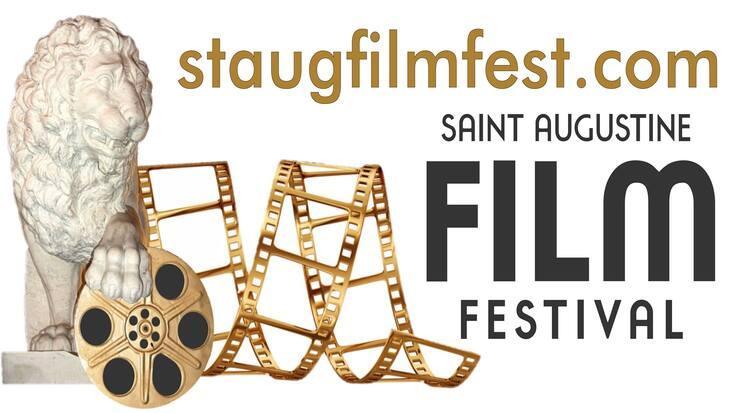 1/19  Wednesday Pier Farmers Market  8am-12 noon
Our market has re-opened, our vendors are so excited to be back to see you all! … at the St. Johns County Ocean and Fishing Pier parking lot, 350 A1A Beach Blvd., has resumed modified operations from 8 a.m. to 12 p.m. on Wednesdays. for their website.
Click here
1/20 – 2/21 Registration for:  2/26 St Johns County – Teacher Recruitment Fair – 8am-1pm @ Nease H.S.
Join the ranks of the St. Johns County School District, one of Florida's top-rated public school districts. Location: Nease High School Registration opens on January 10, 2022 and closes February 21, 2022.
Must register and have a completed online application with SJCSD. Click here to apply.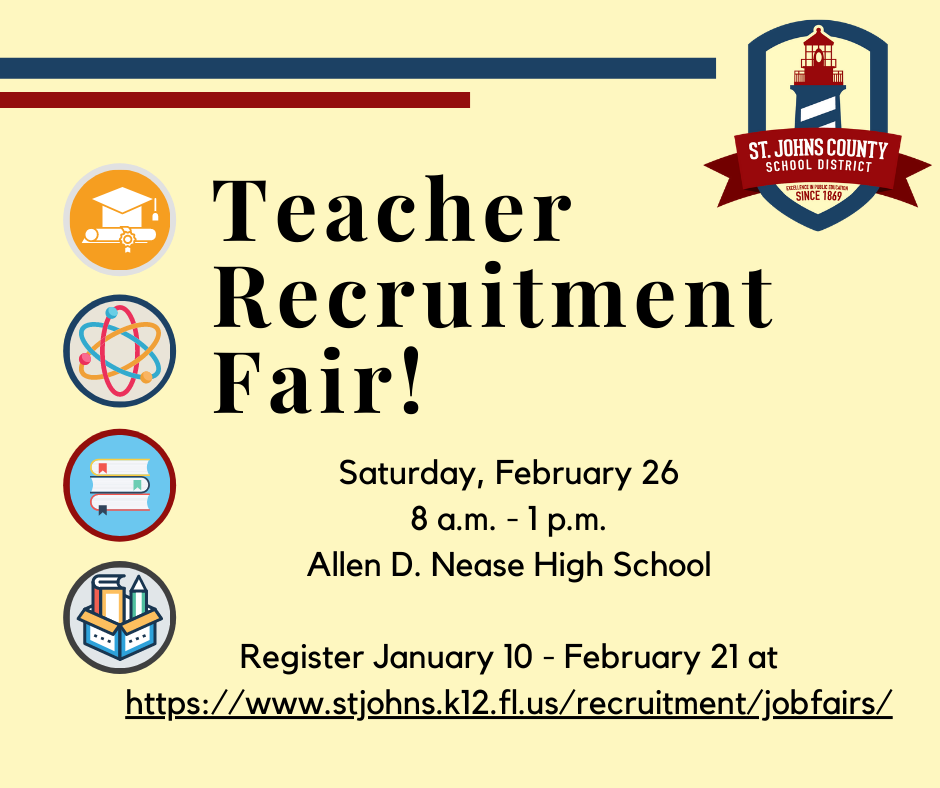 1/20, 1/27 Country Night at the Colonial Oak (Thursdays) 7-10pm Free Event St George St 7-10pm (exceptions when private parties – 1/13 private party so no show)
Join us for Country Night at the Oak on Thursday nights at 7:00pm. Enjoy listening to a hand-selected variety of musical acts bringing the best to North Florida's Country Music scene! So, if you like country music, be sure to stop in! Curated in collaboration with Jacksonville's Country WQIK.
Performances – Free of charge. Food and beverages available for purchase. Contact the Colonial Oak Music Park at 904-460-4193 or click the event website link for additional info. Doors open at 6pm. Music from 7-10pm. Davis Loose (local St. Augustine Singer/Songwriter) is our weekly MC. All ages and families welcome (dogs too – on a leash)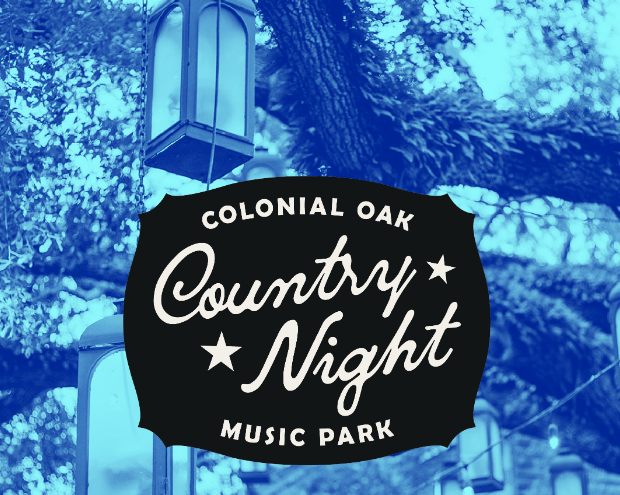 1/21 Arbor Day Tree Giveaway – 9am-12 noon – Publix/Murabella Shopping Center
A special message from a neighbor who is a master gardener – On Friday, January 21 from 9am – 12 noon there will be an Arbor Day Tree Giveaway sponsored by the St Johns County Master Gardeners. Stop by the Publix in the Murabella shopping center and select a free tree. This is location is sponsored by the St Johns County master gardeners. The types of trees available are: Buttonbush, Yaupon Holly, Southern Red Cedar, Arrowood Viburnum and Bald Cypress.
1/21, 1/28 Library Book Mobile at Murabella 1-2:30pm – Every Friday
The Bookmobile will be visiting the Publix at the Shoppes at Murabella, 1:00 – 2:30pm. Find us at 84 Tuscan Way, St. Augustine, FL 32092   Click here for the St Johns County Library, main branch/St Augustine website. (Also details in my Main-Library tab here)
1/21  Night Live – Renaissance Resort WGV – 7-9pm Free – Open to the Public  
Open to the public and is free – come out out and enjoy music, libations and a bite to eat — maybe even dance a bit!   Clay Benjamin returns on 1/21!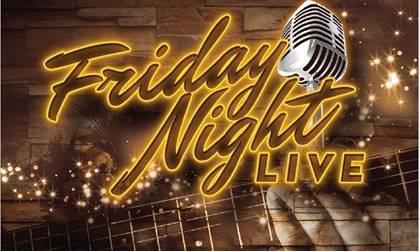 1/22, 1/29 St Augustine Amphitheatre Farmers Market – Saturdays 8:30am-12:30pm
Every Saturday, from 8:30 a.m. to 12:30 p.m., the Amphitheatre Farmers Market (click here) offers fresh local produce, baked goods, seafood, handmade arts and crafts, and flowers. Because of health guidelines, the number of vendors has been limited to accommodate CDC physical distancing guidelines, and face masks are encouraged.
Additional Market Information … Free Admission, Free Parking at The Amp and at The Elks Lodge, No pets please, We are a green market – please bring reusable bags and containers or purchase one of our reusable totes while shopping!  Note: The Tuesday Night Market is still postponed.
1/22 42nd Annual Matanzas 5000 5K & Fun Run
This race takes participants throughout downtown St. Augustine along the Matanzas River through the historic city and ends at Castillo Drive. The 5K begins at 8 a.m. and the free fun run begins at 9:15 a.m. The cost to register ranges from $30-$35. The race starts next to Francis Field. Registration and additional information is available through the website, click here. 25 W. Castillo Dr., St. Augustine
1/22 Coconut Barrell – Flea Market & Artisan Market
Visit the Flea Market vendors outside and then come inside the Artisan Market and experience local talent! Enjoy Community, Food and Great Treasures!  If you are interested in being a vendor, email us at coconutbarrelvendor@gmail.com and we will email you an application.  3175 US 1 South, #3, St. Augustine, FL 32086   Click here for their website for info on classes, workshops, events and more.  (see 2/13 below for details on second location – grand opening!)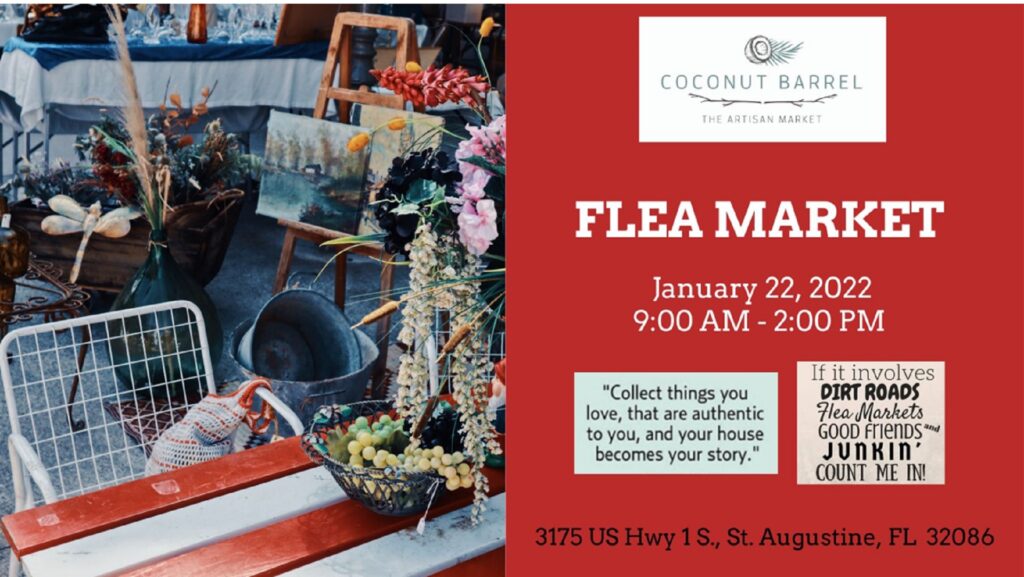 1/25 County Commission Workshop – 9am – County Auditorium
Open to the public, the county government officials have extended an invitation to the people to share their thoughts about the growth and development topics at a growth management workshop. The County Commission workshop will begin at 9 a.m. on Jan. 25 in the county auditorium at 500 San Sebastian View in St. Augustine, according to a news release from the county government.
1/27, 1/28 & 1/29 Flight to Freedom – Fort Mose – 9am – 3pm
National Landmark Fort Mose presents Flight to Freedom – Fort Mose HIstoric State Park 15 Fort Mose Trail Admission to the heritage event is free. However, there is a museum admission fee of $2. Children under 6 are free. Join us for Flight to Freedom and honor those who risked everything in search of freedom, family, and future. As you step onto the wooded Freedom Trail, you enter the year 1738. You're drawn into a dangerous world where men, women and children flee from enslavement on British plantations, hoping to find freedom at Fort Mose.  Flight to Freedom tells the story of the journey of freedom seekers beginning from 1687 through 1763. Learn about Spanish, African and Native American food traditions and culture from guest speakers and demonstrators. Musket and cannon demonstrations by the Fort Mose militia.  Click here for more details.
1/28 – 130 The Jacksonville Boat Show at The Prime F. Osborn Convention Center
The North Florida Marine Association invites you to join us at the Jacksonville Boat Show! There will be a large variety of boats on display, from skiing, fishing, cruisers, personal water-crafts and more! Vendors will be set up for all your boating needs. Special surprises for the kids as well as Seminars and Education for the Adults. DON'T MISS IT! Get out on the water and have fun! Click here for times and ticket prices, etc.
1/30 The Polish Wieniawski Philharmonic Orchestra 
Emma 2022 Concert Series starting January 30th with The Polish Wieniawski Philharmonic Orchestra (tickets) and then 3/19 with the Siberian Virtuosi (tickets) and in October-that has been rescheduled with no definite date as yet. Click here for all details including parking information or call 904-797-2800. Tickets run $45-$50 (Note: Student and children's tickets are just $10 each.)
Parking is not available at Lewis Auditorium at Flagler College for this concert. FREE parking will take place at the St. Johns County Council on Aging, 180 Marine St., St. Augustine FL 32084. Guests will then be transported to and from the concert venue by shuttle service. The complimentary shuttle will run from 6-10pm.
1/30 Music at Grace Presents Bob Milne – 3pm
Music at Grace presents Bob Milne, Master of Ragtime and Boogie-Woogie Piano ENCORE PERFORMANCE! He plays up to 250 performances a year across the United States and world and has played "command performances" for presidents, foreign dignitaries, members of congress, and more. Sunday January 30th at 3:00 pm at Grace United Methodist Church  8 Carrera St St Augustine, FL 32084 904.829.8272
Free-Will Offering (Suggested Donation $10) Parking available   For more information, contact Michael Sanflippo, Director of Music: music@gracestaugustine.org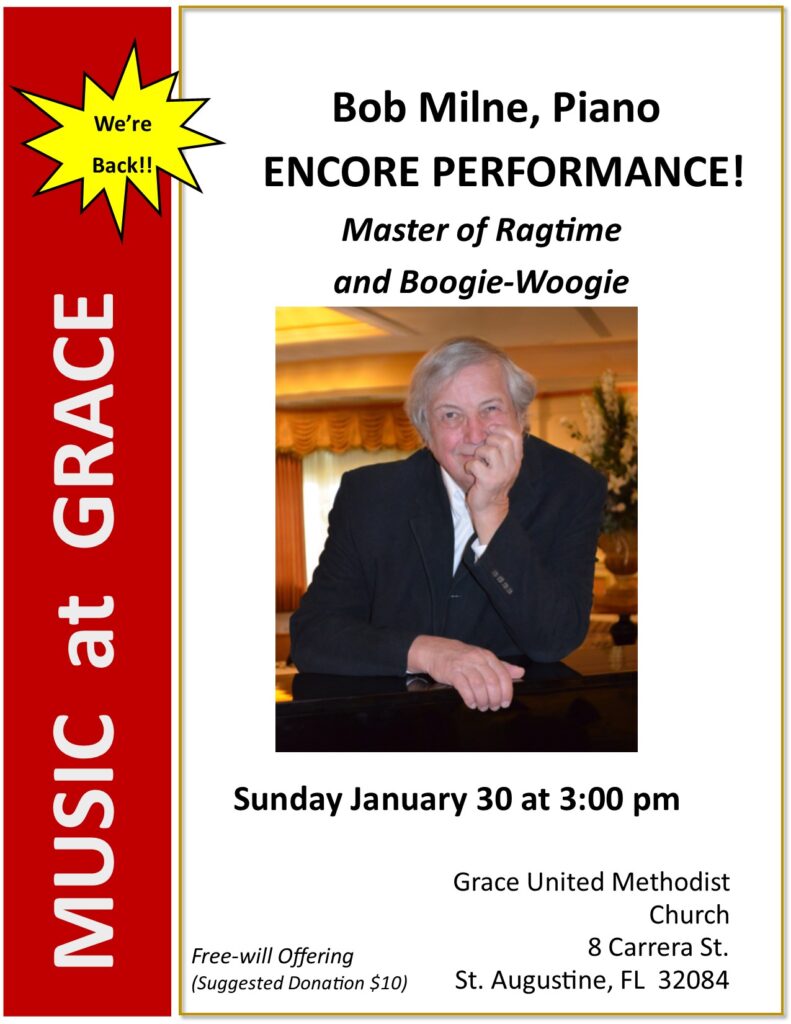 2/1 – St. Augustine Orchid Society presents – Thanh Nguyen speaking about Paphiopedilums
Thanh (from Springwater Orchidsin Melbourne, FL)always has the most unusual orchids, although his enduring favorites are the Paphiopedilums. He will talk to us about these statuesque beauties with long lasting flowers commonly known as orchid lady slippers. Thanh will also supply plants for the sales and raffle tables. Friends and guests are always welcome. Tuesday, February 1, 6:30 til 9 pm at Memorial Lutheran Church 3375 US 1 South, St. Aug 32086
The St. Augustine Orchid Society meets the first Tuesday of every month. Visit https://www.staugorchidsociety.org/.
2/4 & 2/5  OLGC Boutique – 9am-3pm
The OLGC Boutique is open the first Friday and Saturday of the month.  Come on out and see what's new.  House decor, ladies wear, jewelry, and more.    (If you have donations you can bring them that day to drop off as well)  Contact number – Monica – is 505-453-7274 for donations.   (Pacetti Road – follow the signs, 4 miles past K&B)   With so many folks moving the have lots of "NEW" inventory.  Home decor, furniture, kitchenware, dishes, toaster ovens … and more!
2/4  First Friday Artwalk – First Friday of the month 
Browse the wide variety of creative artwork exhibited at St. Augustine's fine art galleries at this festive monthly event.  Click here to read more about the galleries.  Click here for the Art Galleries of St Augustine brochure … includes info about free parking and free shuttles for the First Friday Art Walk 6-9pm. Meter parking free after 5pm.
2/4, 3/4 … Cathedral Basilica – Free First Friday Concerts 
The Cathedral Basilica of St. Augustine is proud to host free monthly concerts the first Friday of the month. Doors open at 5:30 p.m. The performance begins at 6 p.m. and is open to all, free of charge. There will be a free-will offering. 38 Cathedral Place, St. Augustine 904-824-2806  Click here for all dates-Florida Historic Coast.
2/5   Beachwalk Farmers Market – Your Farmers Market – 10am-2pm (CR210, East of I95)
This is a wonderful way to start each first Saturday of the month. The market is full of fantastic vendors bringing to the table real treats! Some you eat like Pierogis, artisan breads and pastries, fresh produce, local seafood, empanadas, dips, kettle corn, nuts, local honey, Italian ice, food trucks and more. Then there is the talented artists, seamstress, jewelers, metal art, solar lights, and much more. Please join us for a fun filled start to the day as we can't wait to see you.  Grab the family & pups for a wonderful time.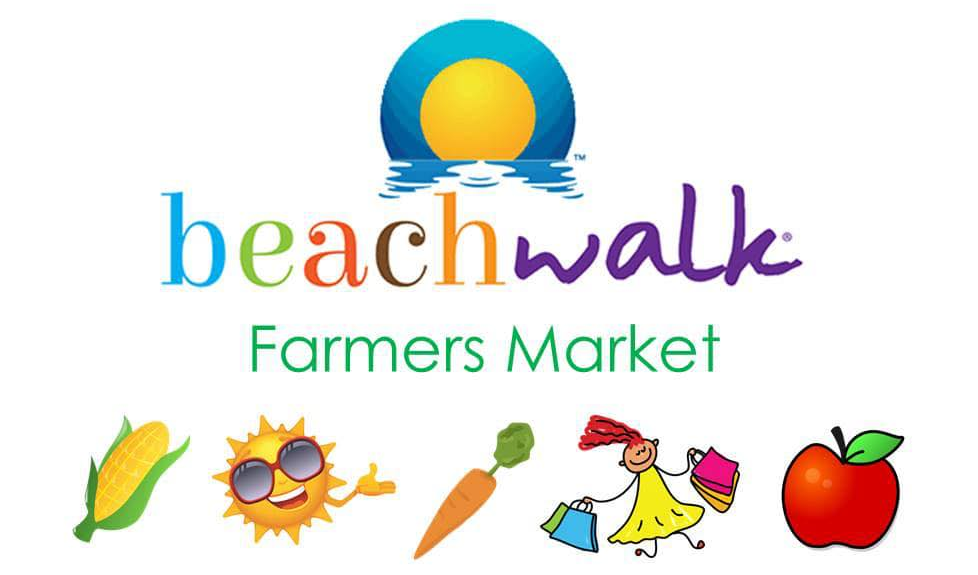 2/13 Coconut Barrel – Grand Opening of their Second Location – The Artisan Boutique
Coconut Barrel "The Artisan Market" is expanding to a second location in Historic St. Augustine. The second location will be known as Coconut Barrel "The Artisan Boutique" and will be located at 35 San Marco Ave. in the heart of downtown St. Augustine. The new location will be set up in more of a Boutique fashion rather than the Artisan Market setting of their initial location at 3175 U.S. Hwy. 1 South. The new location is to the left of the Carrara's Wine Cellar and across the street from the new hotel and the scotter rental. Also, if you are looking at the Christmas Shop we would be to the right of it. We look forward to all visiting us in our new location.
2/18 – 2/26 Fort Mose Jazz & Blues Series
Grammy Award-Winning Jazz and Blues Artists Confirmed Over the Two Week Series
From February 18 to February 26, Fort Mose State Historic State Park will host its inaugural Jazz and Blues Series featuring some of America's most well-known and accomplished performers – collectively, they have received a remarkable 20 Grammy Awards! The Series will consist of five unforgettable performances during a two-week period at the heart of Black History Month. World-class artists like Taj Mahal and Gregory Porter will grace our stages.
Proceeds of this series will support the construction of an on-site fort representation and development of additional interpretive resources. The original fort was destroyed during the Battle of Bloody Mose in 1740. To purchase tickets, visit www.discoverfortmose.com.
2/19 Holistic Living & Healing Expo – 10am-2pm – Renaissance Resort WGV
Join Jacksonville Business Connections for the Holistic Living & Healing Expo featuring over 50 like minded holistic businesses in one space! Experience the latest in natural approaches to nutrition, fitness, creative expression, personal growth, sustainable living, and so much more! Click here for FB page.
? Free to the public & Indoor event
? FREE swag bags to the first 30 guests
? Exclusive Sneak Peek into 2022: Spiritual & Healing Experience – 3 readings! – Purchase Tickets today!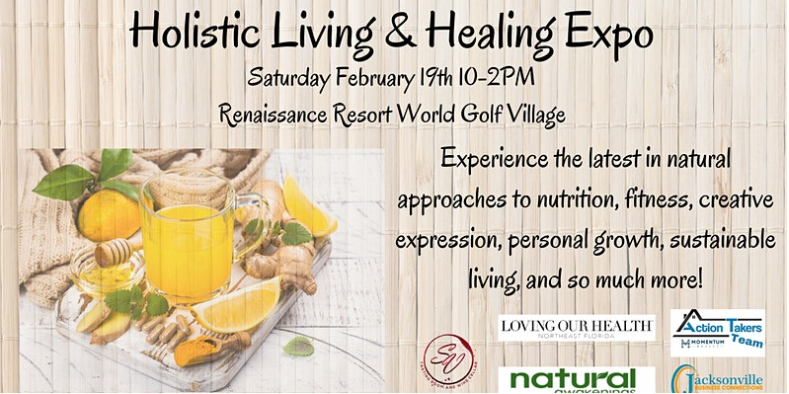 2/21 EMMA Guild Event – Upstairs Downstairs Tour & Lunch at Lightner Museum
Experience an exclusive tour of Lightner Museum and enjoy lunch at Cafe Alcazar, a restaurant that is located where the indoor pool once stood! The event will take place on February 21, 2022 at 11:45 a.m. ($35) Lunch choices include a Cranberry Turkey sandwich, a Curried Chicken Salad, a Hummus sandwich, or a Turkey Bacon and Avocado sandwich. Reserve your spot pay here on line.
2/26  St Augustine Country Festival – Francis Field – 10am-6pm … and Craft Beer Fest (separate ticket)
Featuring live country music, country food, fine crafts & country fashion exhibits, a kids corner, contests, family fun and more.  General admission is just $10 adults and $5 children 3 -12 years old. Hours are from 10 to 6pm.
Want a bit more? …. Then come to the St. Augustine Craft Beer Fest within The Country Festival.  Enjoy unlimited samples of beer, plus wine and spirits for just $29 or $39 day of the event. Hours are from 3 to 6pm. This ticket also gives you full access to the St. Augustine Country Festival which runs all day from 10am to 6pm.
VIP All Included – enjoy unlimited food samples, craft beer, fine wine & craft spirits for just $79 or $99 day of the event. Hours are from 2 – 6pm. This ticket also gives you full access to the rest of the St. Augustine Country Festival.
Tickets-click here.  Francis Field   25 W Castillo Dr, St. Augustine, FL 32084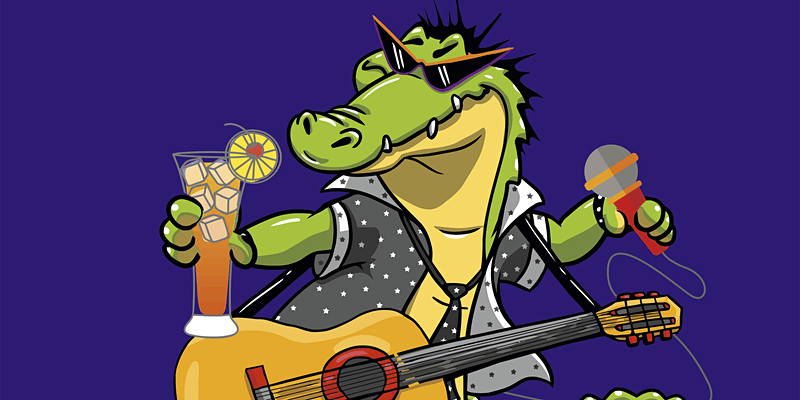 March brings us a new Downton Abbey movie, Downton Abbey: A New Era.   
3/4 – 3/13 Bike Week Daytona Beach – 81st Anniversary
We are excited to embark on our 81st Anniversary. The official dates and logo have been announced and are featured on the website. Be sure to check the Bike Week website again for Official Sponsors, Official Information, and Official Gear for this great new Bike Week Festival in 2022!
We would like to mention that Bruce Rossmeyer's Daytona Harley-Davidson is our partner in the 2022 Official Bike Week Motorcycle Drawing. This bike is so new, we won't have pictures until it rolls off the assembly line and is shipped to us. The color, Gunship Gray, is the first time it will be used by Harley-Davidson®. The creative team at Daytona Harley-Davidson is adding the 2022 logo, amazing pinstriping, and other surprises too. All proceeds from the drawing go back into supporting this world-recognized event!  Vendors and Musicians please be sure to visit our vendor section on the officialbikeweek.com website to find locations for participating in the event.
3/9/2022 World Golf Hall of Fame – Class of 2022 Induction …
The Induction Ceremony for the World Golf Hall of Fame Class of 2022 will be held on Wednesday, March 9 in Ponte Vedra, Florida, the week of THE PLAYERS Championship. Susie Maxwell Berning, Tim Finchem, Marion Hollins, and Tiger Woods. Click here to read about each one of the inductees. "Given the uncertainties of the COVID-19 pandemic, moving the ceremony back a year will give us a better opportunity to properly recognize and honor this important class," said Greg McLaughlin, chief executive officer of the World Golf Foundation.
3/11 Rhythm & Blues Celebration – Ponte Vedra Concert Hall
Don't miss the rhythm & blues celebration of The Drifters, The Platters and Cornell Gunter Coasters live at Ponte Vedra Concert Hall Friday, March 11, 2022! Two performances, 5pm and 8pm. Click here to purchase pre-sale tickets for the 5pm show or click here for the 8pm show. This show has songs to please every palate, delivered just the way you first heard them on the radio! Pre-sale tickets are available now. Pre-sale password: Friday
It's not a concert, it's a party! Spend a nostalgic evening with three of the world's most beloved musical groups who were instrumental in creating the Rock & Roll/ Doo Wop sound: Cornell Gunter Coasters (Charlie Brown, Yakety Yak), The Platters featuring four of America's premier singers performing their greatest hits (Only You, The Great Pretender) and The Drifters, One of Rock & Rolls founding vocal groups with their 50 year catalog of hits (Under The Boardwalk, This Magic Moment).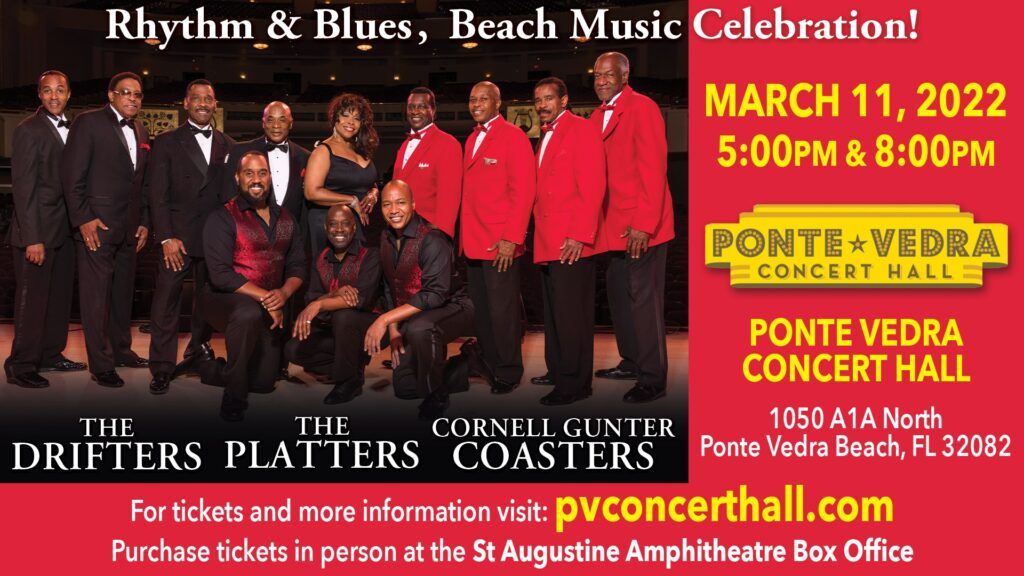 3/12 & 3/13 2022 St Augustine Celtic Music & Heritage Festival returns!
The centuries of Celtic heritage will be highlighted during the Festival's Highland Games with athletes demonstrating and testing their strength and endurance, and Celtic Clans displaying their ancestral pride. Vendors will offer Celtic cuisine and additional food and beverage, handmade and imported Celtic crafts, workshops, lectures, and more. Top touring bands from Scotland, Ireland, Canada, and around the U.S. will play traditional songs and Celtic rock throughout the two-day festival.  The St Augustine St Patrick's Day Parade will be on Saturday, March 12 at 10 am starting at Francis Field..   Click here to go to the web page with all the details, purchase tickets, the music and more!

3/12 – 3/13 The St. Augustine Balloon Festival coming March 12th & 13th 2022 to the St Johns County Fairgrounds!
Get the whole family out for a great family fun time! See incredible Hot Air Balloons, check that bucket list and get a ride on an actual Hot Air Balloon!
We will have a Kids Zone, with Games and Rides including trains, bounce house's, rock walls and much more!
DJ & Live Music for your entertainment from a variety of Artists.
Lots & Lots of Craft & Retail Vendor Booths with tons of cool and interesting stuff for sale! Food Vendors with bunches of fantastic Festival Style food to choose from!
Bucket List!! Tethered Hot air Balloon rides will be available for purchase during the event for $25 per person. While supplies last and weather dependent. Announcements on rides will be made at the event.
For the Grand Finale after 8pm we will have the fantastic Hot Air Balloon Glow & Laser show where we will light up all the balloons in unison with crowd participatory "Count Downs"! This show incorporates Music and visually stunning coordinated burns by the Hot Air Balloons & Lasers.. creating a Glow!
Bring your blankets, chairs and umbrellas and set up your own "perfect" viewing spot!
FAQ:
Tickets are limited. Purchase as soon as possible before we sellout.
Volunteers needed to work with the balloon pilots to set up.
Parking is $5 and onsite. Watch for Parking signs. VIP Parking and Handicapped Parking available.   No Coolers allowed.
Balloon inflation will take place as soon a winds are low enough to be safe. Listen for announcements during the event. More FAQs on the FB page.
St Augustine Hot Air Balloon Festival (click here for Facebook page)
Tickets:https://www.freshtix.com/events/staugustineballoonfest
~   ~   ~ Other news  ~   ~   ~   subject to change without notice
For Jax events / Time-Union Performing  Arts and more go to this website:  (Look for the Broadway in  Jacksonville lineup – http://www.jaxevents.com/timesunion.php New  Events posted to their calendar:  http://www.jaxevents.com/events-calendar/
FREE St. Augustine Activities – no charge to St. Johns County Residents (from Floridas Historic Coast): NOTE: St. Johns County  residents with a valid ID are always admitted free of charge to the Oldest  House, the Ximenez-Fatio House, the Oldest Wooden School  House, City Walks History Mystery Murder Evening Tour and the Hotel Ponce de  Leon Legacy Tours at Flagler College. Every Thursday admission to the First Colony Exhibit at the Government House is also free to SJC residents.  The daily tours and wine tastings at the San Sebastian Winery and St. Augustine Distillery are free to everyone. Also, admission is free to everyone at the Fort Matanzas National Monument, St. Photios Chapel, the Pena-Peck House, the Father Miguel O'Reilly Museum and the Mission Nombre de Dios Museum (donations are welcomed).  Many other local attractions offer discounted admissions to St. Johns County residents with valid ID. TO FIND A COMPLETE LIST OF FREE THINGS TO DO … CLICK ON THE TOTALLY ST AUGUSTINE WEBSITE,CLICK HERE.
Ripleys Believe It or Not!  Residents of St. John's County Save 50% OFF on Tickets! Just bring your local St. Johns ID and get the discount at the door!  Promotion is available for Ripley's Believe It or Not! Odditorium and Ripley's Red Train Tours.