Going forward … for sale posts will no longer be kept on this site indefinitely … many folks forget they post here and items are still listed that have sold … items will have a maximum life of 3 months before they are removed.  If you want to repost you will need to resend all the information and photos.
A really good place to post where things generally sell quickly is if you sign up to be a friend on Facebook with Swip Swap CR210.  They have lots of things for sale and it is easy to post something for sale there.  I sold my car there!  Also new — sign up for the NEXTDOOR blog … lots of for sale postings there.
Please let me know when items sell so I can remove them!  Thanks.  Just realized thanks to a neighbor my email was listed here incorrectly, so if you sent me something for sale and I didn't get back that's why … this is correct:   carnicel@bellsouth.net 
Be very careful of folks coming to your home … be sure they are a neighbor … or meet in a crowded parking lot like Publix to exchange your item with the buyer.    
Note:  These items will indicate items your neighbors are looking to sell and the asking price. Scroll down after these messages to see the for sale items.  Email me with your posts:  carnicel@bellsouth.net
This website lists items and is in no way an endorsement and is not responsible for any issues or problems arising from your purchases.   Caveat emptor — let the buyer beware.  You may also want to check into running an ad at The St. Augustine Record .. a neighbor also listed an ad there and it sold.  Folks seem to have good luck with Craig's list.  Be careful however you sell.  I hear CARMAX is a good place to sell cars also.
If you want to place an ad in the St Augustine Record  … www.staugustine.com
Online:  staugustine.com/classifieds
Email:  insideclassifieds@staugustine.com
Phone:  904-819-3434 or Toll Free 877-829-6566  Monday through Friday from 8:00 a.m to 5:00 p.m.
New Post 8/20/19  Bed  … no longer available
NewPost  8/11/19:  Like new upholstered loveseat 63" long, 39" deep (front to back) and 37" floor to top of pillows.  Purchased about a year ago and rarely used. No issues with this piece.  Asking $250.   And Dark brown wood bistro table and two matching stools.  36" in diameter and 36" high.  Small surface scratch on top. Asking $125.  If interested, please call Christine at 203-430-1587.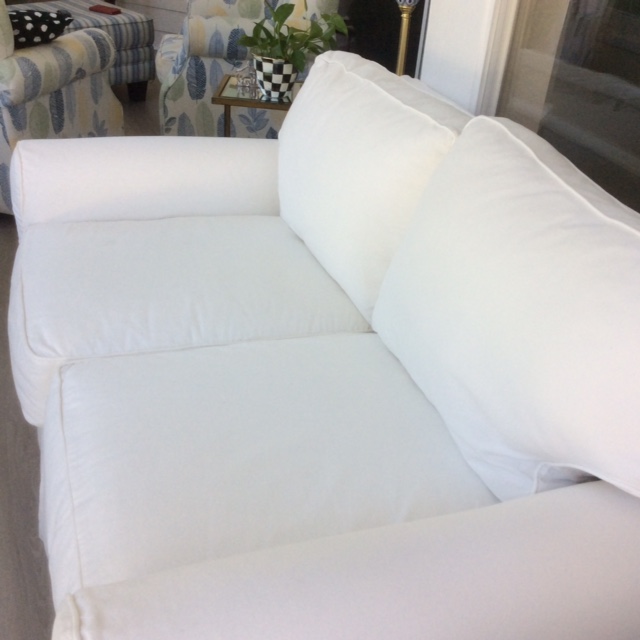 New Post 6/19/19  Contact Bob at 203 710 4972 – House contents for sale, many items.  Royal Pines in World Golf Village.
Breakfast table and 4 chairs. $50
Patio table and 4 chairs, with umbrella $50
4 drawer dresser. $25
Double bed and frame. $50
New Post 6/11/19  32′ Aluminum extension ladder.
The price is $80.  See photos below.  You can pick it up in the Royal Pines subdivision in the Neighborhoods   Contact Jim Morris 864-884-7636 or email jim.carole5@gmail.com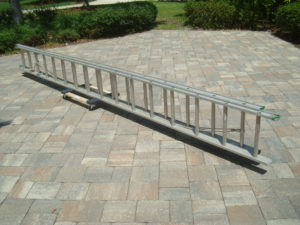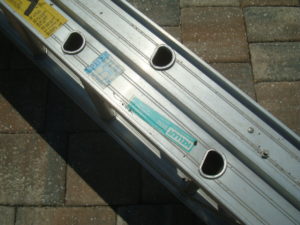 New Post 6/4/19  
Custom kitchen island featuring a bi-level, 2 sided island with Formica countertop. Lower level is counter height. Upper level is bar height. Interior side has two, three shelf cabinets with a wine rack in the center. Exterior side has a center, double glass door with 3 shelves and designated space for 2 barstools. Excellent condition. $500. Call 904 770-7815.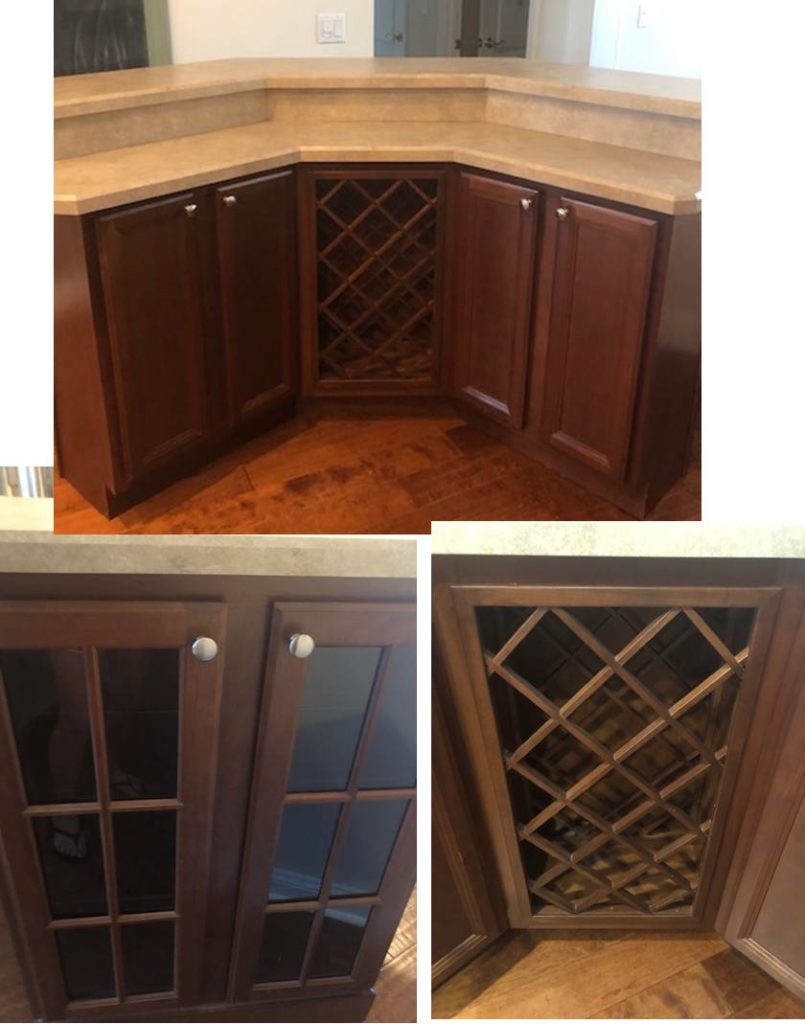 New Post 5/25/19  Tufted storage bench. Light brown color, microfiber. 22" x 43"  Excellent condition. $50  Contact Sharon, WGV Cascades, leasharon@yahoo.com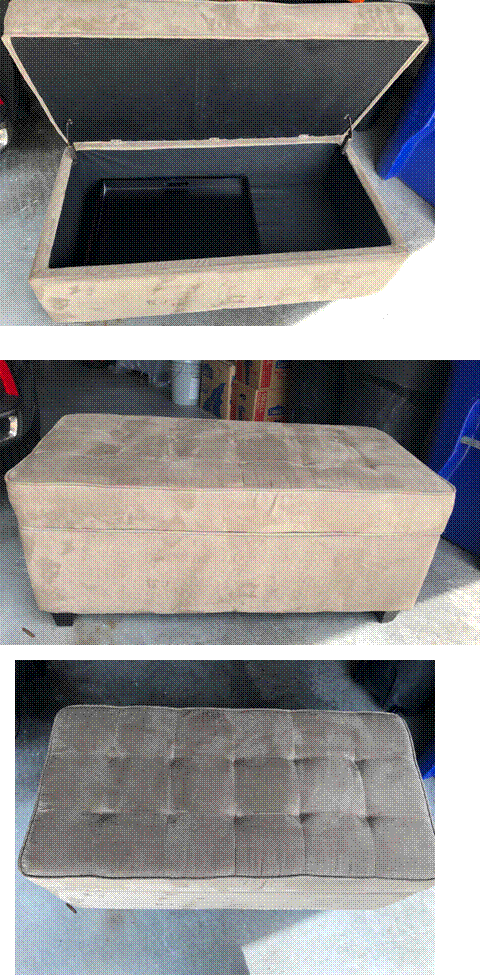 New Post 5/20/19:  Misc items; downsizing … call 940-1381
Set of 8  $35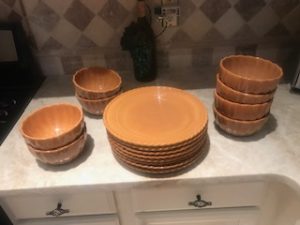 Beautiful Tuscan Canister Set   $30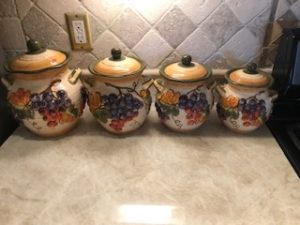 If you have high ceilings, the Christmas decoration makes a statement   $35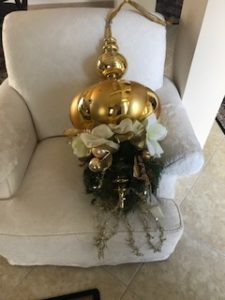 Beautiful sterling silver ice bucket for wine.  $40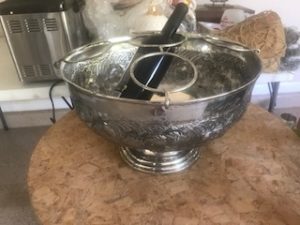 New Post 1/21/19:  Round Table Pads
84 inch round table pads for a dining room table.  Ordered the wrong size and cannot return them.  Purchased them from Burgers Table Pads in Indianapolis.  Paid over $200.  Asking $50.  They are still in the original box. 940-1381
Note:  please email me directly at:  carnicel@bellsouth.net.  You must include your name, WGV neighborhood, website, and how you want to be contacted: email and/or phone. List the category, i.e., home business such as jewelry, services such as painter, pet sitter, etc., description and price.