Haven't posted this page in a while … I am reintroducing this page and if you are a small, independent local business or if a neighbor can recommend a small local business with services they received, this may be a place to share it.  I will keep the info posted for one year, if I am not contacted with a request to keep it posted I will remove it – this should help in keeping info current.           I do not endorse these companies and service, I am just helping to add info requested and most times recommended by a neighbor.  
Posted 9/26/22 – Beck Mediation
Becket Mediation – Adrienne Cwiak Psy.D – Florida State Supreme Court Approved Mediator.  Specializing in LGBTQ+ Uncoupling and Pro Se Pre Suit Divorce. Contact information: becketmediation@gmail.com; www.becketmediation.com and phone: 904-793-0073
Posted 9/9/22 – Licensed Massage Therapist
With 15 yrs experience I provide customized massage therapy in the comfort of your own home. Treatments are based on your needs and preference, ranging from Swedish, Sports, Trigger Point, Myofascial, and Body Mobilization.  I supply all equipment. Minimum 9×9 space needed. The areas covered are in the WGV, CR210 and Julington Creek neighborhoods.  $75 – Sixty Minute Treatment. Katherine Guyer, LMT License # MA89741 323-675-4538 klguyer@me.com
Posted 8/2/22 UpFresh Kitchen St. Augustine- Home Delivery Healthy Meal Prep
There are many meal prep delivery options these days – here's one I heard about with a healthy twist – convenient, healthy and delicious. A neighbor recommended – UpFresh Kitchen? They are located at 232 State Road 312, next to Hobby Lobby – however, they deliver to the WGV and surrounding areas and are working on delivery of their weekly meal preps at local sites for grab and go pick up. "Our UpFresh Kitchen St. Augustine location meal prep services are designed to help people lead healthier lifestyles, one meal at a time. And if preparing and delivering meals for you takes some of the stress out of your day, well that's even better!" said CJ Tatum, Owner of UpFresh Kitchen. Headed towards the beach? Stop on by our café for lunch and try out some of our amazing signature styles made fresh and built custom just for you. Click here to view the menu with the option to order online weekly for meal prep options to be delivered right to your door step. (I noticed on their website most meals take just one minute thirty seconds in the microwave – The meals come fully cooked and refrigerated in a microwave safe container. Menu changes weekly.)
Posted 9/7/21 — A Mindful Journey – sign up for her six week course starting 9/12  — contact her about other dates.  Website click here.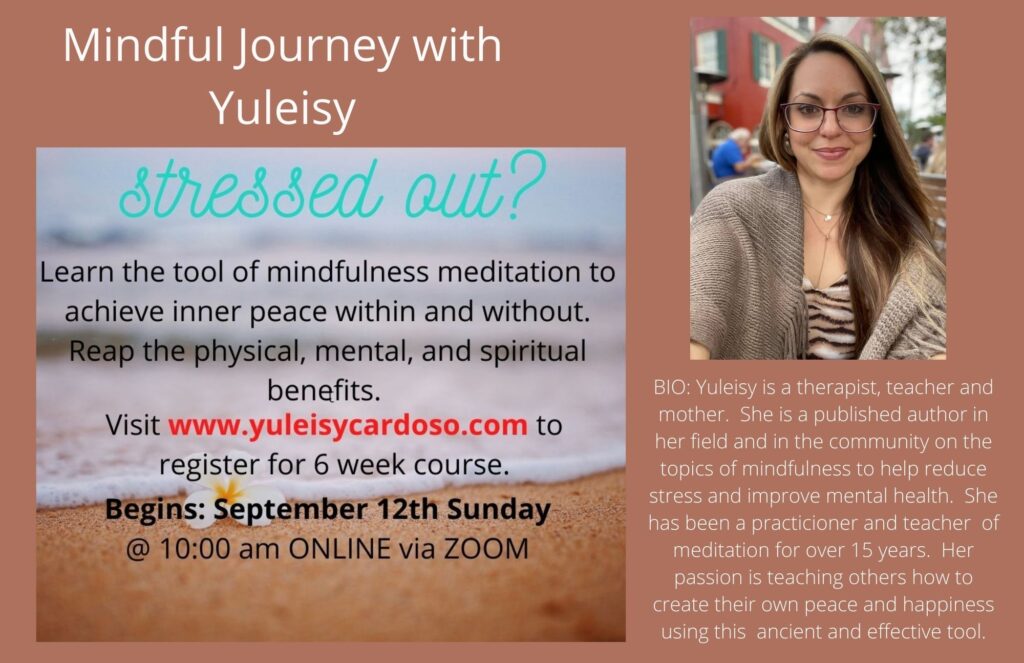 Posted 8/5/21 – A Cascade neighbor recommended BDC (By Design Catering) Meals. The owners, Tasha and Marshall Peters gave me some info about their service. BDC is a ready to eat meal prep service delivering to the Cascade on Sunday afternoons and to other clients all across St Johns County. When we deliver we see other boxes of frozen food that have been delivered to some neighbors. Those services are great, if you want frozen food or to follow recipes and cook, but ours is different. BDC Meals are ready to eat. We cook, cool, package, label, and deliver all on Sundays. The meals are produced from our licensed commercial kitchen in St Augustine. By Design Catering – full service corporate, private, and wedding catering www.bydesigncatering.com
Posted 5/22/21  – Small Business Funding from $2500-$25000 
Francisco Q. Vazquez —  St. Augustine (Heritage Landing Resident)
Independent Agent with David Allen Capital — Business Funding for small businesses. I want to continue to help grow our neighborhood businesses.
EM: fqv01@yahoo.com
PH: 6468245102