Neighbor recommendation:
(If you've got a great suggestion for neighbors, email me and I'll be glad to share it! carnicel@bellsouth.net)
New Post:  11//2  House Cleaning and some handyman jobs … contact Kenny via phone or text: 727-204-4058 … been helping neighbors in the WGV/Palencia area for many years.
New Post: 10/25 Plumber
Corie Johnson from David Gray — I got his name from the NextDoor app and he did a great job installing my water conditioner.  Professional and gets back to you when you call and will set up an appointment to get the job done.  He may be reached directly at: 904.236.1595. 
New Post: 10/21/17 GriefShare
A community GriefShare program is available at The Village Church. When you lose a loved one, you do not have to go through the grieving process alone. GriefShare is a friendly, caring, support group who will walk alongside of you through one of life's most difficult experiences. Weekly classes are available on Thursdays 10:00AM-Noon. Everyone is welcome. Bring adult family, friends, and neighbors. To register or for more information call the church office 940-6768 or Jack Tarr 826-1062.
New Post: 10/21/17 … Hair Stylist … Connie Taylor – Colee Cove on CR13 North
I would like to let community members of Connie Taylor). Connie is a friend and neighbor who brings 40 years of professional expertise in the cosmetology industry.  Connie has spent her career in various salons in Jax & is now in our back yard at Patty's Place in Colee Cove on CR 13 North.
Connie brings artistic techniques to color, cuts, hair styles and up do's. She does high lights, low lights, umbre' color just to name a few as well as perms, up do's, wedding and special events hair & make-up application and so much more.
Connie can be reached on 904 248-2778. She usually works on Tue., Thurs., Fri.., and Sat. Appointments are highly recommended.
Many Thanks,  Diann
New Post:  10/17/17   … if you like BBQ sauce and dry rubs your neighbors have some finger-licking good stuff.  You can check out their website for Facebook page to read all about them.  Click here for locations … I see they are available at Kyle's Seafood market on Ponce De Leon Blvd. in St Augustine and at our local Fresh Start Hydroponic Farms off  Pacetti Rd.  
https://www.facebook.com/RippleMans/  ,,,, RippleMan's BBQ sauce and dry rubs are made with all natural ingredients, free of artificial flavoring, MSG,
High Fructose Corn Syrup, and anti-caking agents. Our Rib-N-Dippin' Sauce is commercially produced at Endorphin Farms co-packing facility in St. Augustine, Florida.
New Post:  8/15/17:  First Coast Scoopers
New Neighborhood Service – www.FirstCoastScoopers.com  "Spend more time enjoying your pet and your family by allowing First Coast Scoopers to remove all those little "gifts" in your yard."   I will attach their flyer here with a special coupon.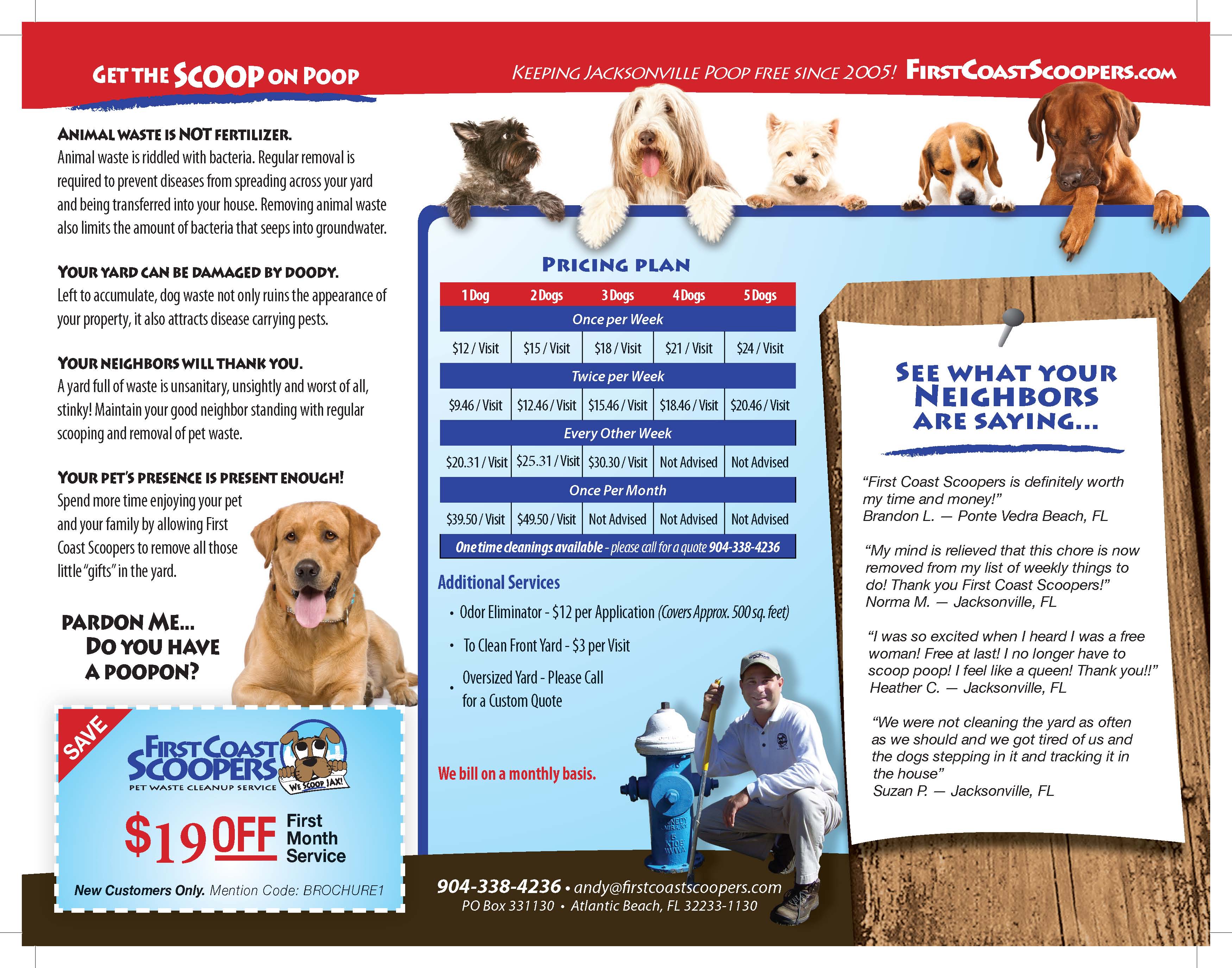 New Post:  6/27/17  Produce Delivered to your door – from Sevilla neighbor
I found the most amazing produce that is delivered weekly to my door in Sevilla at WGV. I added the website and information below. I thought my neighbors would like to hear about this service.
You can view our weekly sourcing list on our website at http://www.localfarefarmbagsouth.com/#!about_us/c1a73
*Please send your substitutions by email to localfarefarmbag@yahoo.com by Sunday at midnight.
Our web store is open from Friday morning through Sunday at midnight at http://www.localfarefarmbagsouth.com/ – !about_us/c1a73http://csa.farmigo.com/store/localfare
From here you can add farm fresh eggs, locally raised meats, cheeses, honey, grits, seasonal items and our all natural skin care products to your farm bag delivery.
Don't forget to leave out your cooler to keep your produce fresh and your empty farm bag so that we can reuse it!
We post our weekly newsletter on our website at http://www.localfarefarmbagsouth.com/#!about_us/c1a73
Chef Bryant works hard to bring you the best weekly recipes featuring the items in your farm bag. Just look for the recipe button!
 New Post: 5/30/17  Heating & AC (from Sophie, Turnberry)
I would like to recommend GIBSON'S HEATING AND AIR CONDITIONING LLC for all air conditioning issues. Brett Gibson started out on his own a year ago. I got in touch with him while he was working for A/C Designs, where I always asked for him to do our service and repair, due to his professionalism. I was lucky to see his ad and get back in touch with him recently. He is courteous, on time, reasonable in price and will give the best advice with solutions that can save money.
He charges $55 for a yearly maintenance visit and $25 for a diagnostic service call. I highly recommend him and believe he deserves the business.
Brett Gibson, Master Technician, Owner, Operator  904 229 8131  b.gibson0829@gmail.com.
New Post 3/14/17  Bookkeeping/Payroll/Taxes "Raising Cents" 475 W. Town Place St. Augustine, Fl  32092 904-257-6767 josh@raisingcents.com
I used Josh for the first time this year and was very pleased with his
service.  My taxes were done quickly and correctly.  I had a couple
questions I emailed to him and he responded professionally in a very short
time.  His fees are fair and reasonable.  I will use him again and
recommend him to others in WGV.   Thanks!  Gloria Marcantoni  (Royal Pines)
New Post 7/21/16  House Cleaning … a neighbor at the Legends wants to recommend her cleaning service that she has had for two years now … it is not a large company just one person … Jen Hughes. person, local.  "She's awesome and trustworthy too." Here's her cell phone number : 1-252-452-0983.
 New Post 4/19/16:  Mobile Technician
Gregg Jarvis – Mobile Technician —  provides an array of unique services for all St Johns residents and has many customers in the WGV area.  As a mobile technician, he is able to provide service, maintenance,  repairs and upgrades to  Cycles/Scooters/Bikes, Golf Carts, ATV's, Cars, Trucks, Boats RV's and generators. His family are WGV neighbors.   www.volt-life.com    12voltlife@gmail.com
New Post 3/16/16:   Local Carpenter
I love to recommend vendors who do a great job, are prompt and reasonably priced. This is the case with Rick Murphy a local carpenter. The wooden frame and cabinet of my outdoor hot tub needed to be refurbished entirely.  I have a brand new spa thanks to Rick's excellent work.  Call him for a free quote.  Rick Murphy Tel: 904 540 6251  Sophie from Tuurnberry
New Post 9/27/15  London bound?   The Guide features some of the less commonly known places to visit in London from a flat where Jimi Hendrix lived, but was evicted for painting the walls black to the location of the final victim of Jack the Ripper.   Click here to go to the site.   If you scroll down to the map and click on individual icons it will tell you a little bit about each location.   Thanks Bobby for the recommendation.  Hope to go some day!
New Post 8/20/15:  Air Conditioner Company
A neighbor in Turnberry provided this reference:  had our air conditioner replaced yesterday by the best vendor we have ever used – Wilson Heating and Air Conditioning, Inc., 100 Masters Drive, St. Augustine 32084, (904) 827-1216.  Todd Wilson, the owner, also gave us the best price.  Audrey and Allan – Turnberry.
New Post 7/23/15  Handyan  William Mote  591-3278
I got William Mote's name off of your newsletter with your recommendation.   He cleaned my dryer vents and also a friend of mine used him as well. He did a very good job.   I needed stucco repair work and again I called Will. He came out the next day and one week later the job is finished.     
It is so nice to be able to have a handyman that you can trust, does a great job, very personable and fees are very reasonable and fair. Someone who actually returns your call in a timely manner.   He does additions onto homes & porches. He has his own construction company and lives close by to do small jobs in the evenings and on the weekends.     I highly recommend him.   Thanks  Judy Baker 
New Post 7/12/15  Tile Installer
Raphael Pereira did a beautiful job on a tub surround.  He works with precision and takes pride in the finished product.  I should add that he came into a situation that needed salvaging due to some shoddy work done by someone else and did an awesome job!  He's polite and well spoken.  I'd be happy to let any prospective clients see his work.  Raphael's number is 904 536 3956   Leslie Cheron       cherchez1@gmail.com
New Post 6/28/15  Tile Work Recomendation
Here is a really good recommendation to put on your web site.
This is a tile installer, he just redid my master shower tile and was absolutely excellent.  Cleaned up after working every day, and was very meticulous with his work.  Extremely detailed oriented and really exceeded my expectations. My shower is now gorgeous.  The only thing is, he has many jobs at one time and has projects with builders, so he will only work a few hours a day.  Therefore, if someone has the patience he is definitely worth it.
Toby Parsons – cell phone is 904-228-0170    Thanks   Kathy V
New Post 11/25/14   Free Introductory Pole Walking Fitness Class
The class is taught by Sheila Vidamour, Certified Pole Walking Instructor.  We need 8-12 people to sign up for the class.  Sheila has enough poles to accommodate this many people.  This is an amazing way to walk.  It doesn't matter what your fitness level is, or how fast or slow you walk.  Strengthen your body, increase your energy and sleep better.  Check it out at www.keenfit.co/406.  If you are interested call Lee Petersen at 720-299-6666.
New Post: 11/17/14 Yoga and Tai Chi Classes … recommended by a Turnberry neighbor
Yoga classes:     Saturday @ 10:30 am.  Tuesday at 9:00 am
Neighbor recommendation
Free Introductory Pole Walking Fitness Class
The class is taught by Sheila Vidamour, Certified Pole Waling Instructor.  We need 8-12 people to sign up for the class.  Sheila has enough poles to accommodate this many people.  This is an amazing way to walk.  It doesn't matter what your fitness level is, or how fast or slow you walk.  Strengthen your body, increase your energy and sleep better.  Check it out at www.keenfit.co/406.  If you are interested call Lee Petersen at 720-299-6666.
Tai Chi classes:   Tuesday @ 10:30 am.   Friday @ 10:00 am Monday @ 6 pm
Prices are $12 walk ins  $45 for 4 classes $80 for 8 classes
319 Town Pl Ste 4  St. Augustine Tel  904 342 5262  Debra Jackson
New Post:  9/8/14  Ken Humphrey Tile and Stone 904-251-4637  ken_humphrey1@yahoo.com
Ken gives free estimates and is insured.  His work is of very high
quality.  He's polite, courteous, and picks up after the job is done.  Very reliable, very reasonable, and his work is beautiful.  I have had Ken replace my tile in the master bathroom around the oval garden tub with travertine and replaced all the tile in the kitchen, entryway, and both bathrooms and they are all gorgeous.  I give him high marks and would recommend him with a score of 10 out of 10.  I plan to use him again when I need the backsplash after I purchase and install new cabinets and counters.
New Post:  9/3/14
Handyman and Cleaning Lint from Dryer's Exhaust
I contacted William Motes for a couple odd jobs around the house as per your recommendation, and was very satisfied with his work.  One of the jobs he did was cleaning out the lint from my dryer's exhaust and my dryer works so much better. He asked if you would add that as one of the jobs he does to his recommendation on the site. I think many people don't realize how important it is to do that, as it is a fire hazard.

Flooring
Also, we had our floors redone, all previous laminate taken out and replaced with engineered wood throughout the house. The floor contractor we used had done my daughter's townhouse including stairs to our complete satisfaction last year.. I would like to have him added to your site as a recommendation for all flooring including tile. His workmanship is excellent, cleaned up every day, was on time and his pricing is competitive. His name is Patrick Ortiz Flooring LLC master installer 904 814 9367. He deserves the mention.
Thank you for your hard work, we very much appreciate the site.
Sophie from Turnberry.
New Post: 5/15/14
I would like to refer a painting contractor for our site, who did an excellent job painting the indoor and exterior of our house. Their quote was reasonable and the job was excellent as well as the paints used. We highly recommend them.

They are :    Billy and Cindy's Painting and Pressure Washing & more
                     Cindy Baker. Tel 904 307 7455
 Submitted by:   Turnberry Neighbors
New Post:  3/27/14
Neighbor recommendation:  "We recently had our garage floor refinished by Rhino Pro Floors and the outcome is magnificent.  We highly recommend their service.  Gary DiStefano is the owner and he is very professional and knowledgeable about garage surfaces and refinishing.  They also do inside tile and floor work." 
Rhino Pro Floors
 Ultimate Garage Floor Coating
 15 Year guarantee against peeling, staining and cracking!
 904-742-5481
mail@rhinoprofloors.com
www.rhinoprofloors.com
 Mention code FW213 for up to $100.00 off!
Regards,  Fred Williams   Turnberry
New Post 11/2/13  Tile Installer and Pressure Washing
I found a good, reliable and reasonable tile installer. His name is Benny White and he can do lots of different handyman jobs,especially tile work. He's between jobs right
now so he has time to work,he's very polite,neat as he works . His number is 806-8853.  Also I found a good pressure washer guy.He gave me a free estimate and even negotiated price.He did a very thorough job and showed up when he said he would.He is also very polite and happened to advertise in our Resident Directory 2011-2012.His company is Clear View Pressure Washing and Auto Detail.His name is Adam Commodore, number is 309-1289.Thanks.                        Mary Ann Bell,    Turnberry
New Post 2/7/13:  Wildflower Cafe & the Conch House
First an addition to the note about the restaurant…Wildflower Cafe.  I went there this past Saturday, Feb. 1st. I arrived a half an hour early (3:30) for dinner and instead of being told to come back I was given a newspaper, a drink and the appetizer menu so I could have a snack while I waited for dinner to start at4:00. The surroundings are squeaky clean, the waitress friendly and attentive and the food (the German fare) was super! I ate the fish chowder w/blue crab meat and had the pork schnitzel (garnished w/pickeled red cabbage, smashed potatoes and sauted french cut stringbeans), followed by lemon cake for dessert. Yum! The meal was scrumptious and the service so good I felt like a princess. When I left at5 pmit was getting busy and I found out why…it was prime rib night. Everyone was loving it. I am definately returning to try other selections.
The decor of the restaurant was like a german cafe with a southern twist.  The owners are World Golf residents as well, what a plus for our community.
Second restaurant find, the Conch House complete with a marina and hotel on the intercoastal. Their sign is located 4-5 blocks on the left after you cross the Bridgeof Lions
(east) out of Old St.Augustine. Water-front dining for lunch and dinner. The conch chowder, smothered calamari and creamy cheese grits were to die for! They have an extensive menu with desserts, wine/beer lists.
After your meal you can enjoy a strol down the docks to see the sun set with pelicans, seagulls, Note: When you make your left turn at their billboard sign,
look for
the hotel down on the right about 1/2 to 3/4 mile and turn
into the
parking lot.
Eat and enjoy,
Danna Lowe
Donald Ross Way
Post 9/26  Painter — recommended by a neighbor in St. Andrews Place:  Gary's Painting 495-4406
9/2 Computer Consultation – help with …
Brian Fiori was recommended to me from two neighbors … he was very helpful and reasonable (compared to some of those other specialty computer people out there!).  His card states "Personal service the other geeks can only dream of".  Slow Computer? Riddled by Pop-Ups? Need new software?  Just want help?  Give Brian a call:  904-540-8705 or email fioriconsulting@gmail.com  … helping to make your computer safer and faster.
Post 9/1 Air Conditioning – All HVAC Needs
I have not used yet — but was highly recommended by a good source … Air-Masters.  Contact Tim Fredrickson 904-887-9444.  All your HVAC needs!
LAB WORK – CONVENIENT LOCATION IN PUBLIX SHOPPING CENTER/MURABELLA
There is now a place right next to our Publix which does blood work and other lab tests.  It's so much easier than driving all the way to Quest orFlaglerHospital, etc.  It's located in the Flagler After Hours Care clinic at52 Tuscan Way, Suite 203.  The office hours for blood work and lab tests are Monday, Wednesday and Friday from 7:00 to 10:00 AM.  Their phone number is 904-940-7750.  I've gone there twice for blood work, and I've never had to wait.  They haven't been open that long, and I hope enough people will use it to justify their having an office there.  It's so convenient for all of us in the WGV area.