To leave room on the Calendar … details on the extended dates will be posted here … these subjects will still be noted on the Calendar.
Click on this link to go to a brochure with details of the Calendar Events from Florida's Historic Coast – Nights of Lights Calendar of Events – November 2022-Januyary 2023.
Brochure … click here.  
Florida-s Historic Coast Calendar of Events Nights of LIghts Nov 2022- January 2023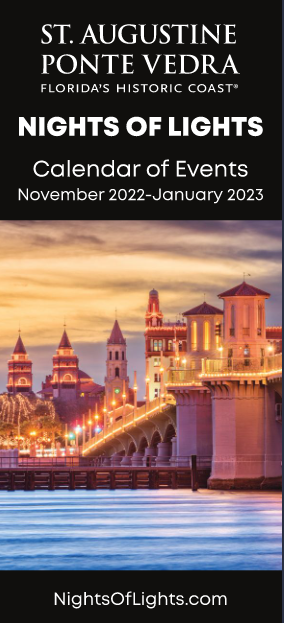 Now – 1/31/23  Nights of Lights
The dates are in: 11/19/22 – 1/31/23. And it all begins with Light-Up! Night on Saturday, November 19 at 6pm. Click here for details. The City of St. Augustine may be offering a Free Park & Ride Shuttle on select days during the Nights of Lights Season; more details as we get closer. Click here for Light-Up! Night events, times, etc.  Click here for some questions answered.  City of St Augustine info, click here.
Now – 11/19 EPCOT International Food & Wine Festival 8:30am – 9pm
Take a Taste Tour Across 6 Continents and More. Click here for more details on the EPCOT F&W Festival. Click here to see what the food choices are in the Global Marketplaces.  (If you read about these food choices you will want to eat there! Looks delish!)  A theme park reservation and valid EPCOT admission is required.  
Now through 12/31 Cirque Du Soleil – Disney "Drawn to Life" – have Grandkids coming for a visit? Disney Springs – Orlando, will be presenting this new show. Drawn to Life invites you into an astounding world where the art of Walt Disney Animation is experienced like never before. Gather your whole family for an unforgettable leap into this amazing new show—a live acrobatic journey where the stage is transformed into a giant animation table. For tickets and more details about this show, click here. This love letter to the art of Disney animation is the first-ever collaboration between Cirque du Soleil and Disney. See it live – only at Disney Springs.